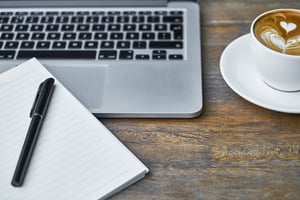 January is the month for reflection and self-assessment. We encourage one another to look back on the year and set new goals for the year ahead. Best of all: it's a fresh, 365-day start.
Since you've probably already set your personal goals, what about your professional ones? How will you make your marketing program even savvier in 2019?
For a little inspiration, we pulled PR 20/20's most-shared blog posts from 2018. We used Buzzsumo's Content Analyzer to curate the top posts across Facebook, Twitter, Pinterest, Reddit, as well as links from other websites. Catch up on what you missed before you set your marketing intentions.
Best of luck in 2019! 🙌
During a HubSpot User Group (HUG) meeting, PR 20/20's VP of Strategic Growth, Keith Moehring (@keithmoehring), discussed how marketers can unlock the true potential of marketing data. For those who missed it, we recapped 12 takeaways, like how to define goals, scrub your data, take advantage of HubSpot features and more.
At our agency, we live by the 80/20 rule when it comes to content: spend 80% of your time on promotion and 20% on creation. After all, what's the point of your efforts if no one ever sees it? This post includes nine quick ways to amplify your existing content.
The largest content event there is, our team always sends a lucky few to Content Marketing World. In 2018, top speakers including Tina Fey, traveled to Cleveland to network with the best and brightest in content marketing. See what our team took away from the event.
Gaining executive buy-in for new ideas continues to be a top pain point for many of our clients and peers. So we asked top marketing experts for their best piece of advice. In this post, see what Bob Ruffolo (@bobruffolo), Ellie Mirman (@ellieeille), Mark Roberge (@markroberge), Michael Brenner (@brennermichael), Paul Roetzer (@paulroezter) and Robert Rose (@robert_rose) have to say.
We partnered with Influence & Co to host a webinar on the future of content. PR 20/20's Paul Roetzer and Influence & Co.'s Brittni Kinney talked about content trends and what they'll mean for our industry in 2019. You can read this post or listen to the full webinar here.
Let's face it: if you're a writer, you've experienced writer's block at some point. In this post, we featured four tips to get your creativity flowing.
More and more marketers continue to take advantage of video marketing. That's why we felt it was critical to spotlight the power of video during one of our 2018 HUG meetings. A local video production company, Pritt Entertainment Group, co-hosted the event and showed attendees how to integrate video into a 2019 strategy. You can view the whole SlideShare presentation here.
Your website might be beautiful, but can visitors easily find what they're looking for? Streamline your website's user experience with these three tips.
Social media platforms were constantly evolving and updating in 2018. And there were a few model brands that leveraged each feature to its maximum potential—all the while entertaining us. See which brands kept us on our toes and why.
Looking to master new marketing skills this year? You're in luck. This post features five of our favorite free courses.
If your promotional tactics are feeling tired, this post includes ten tactics to distribute your offer, and hopefully, capture more leads. A few ideas include pitching target influencers, mapping out related blog content and utilizing gated content in the sales cycle.
This post is part of our Book Clubbin' series, which recaps business and marketing related books read by the PR 20/20 team each quarter as part of the agency book club. This particular book, Manage Your Day-to-Day: Build Your Routine, Find Your Focus, and Sharpen Your Creative Mind, by 99U (@99u), was among our favorite reads in 2018.
How often should you report on (and adjust) campaign performance? In the wise words of Pete Caputa (@pc4media), "According to our data, the most successful marketers monitor their metrics on a daily basis." In this post, other top marketing minds weigh in on the topic.
Thanks to Content Marketing Institute and MarketingProfs, we have a wealth of B2B content marketing information from this year's B2B Content Marketing Benchmarks, Budgets and Trends Report. If you don't have time to read the whole report, check out this post for five actionable lessons.
This post features an infographic from Bubblegum Search on the evolution of SEO—starting in 1945.
If you're like us, you love learning about new features and tools available in the HubSpot platform. A few new features in 2018 included an auto-audit of your content for recommended topic clusters, a built-in solution for site search, as well as new integrations with SEMrush and Typeform, among other new tools.
Save time on manual tasks and strengthen your marketing toolbox with AI-powered technology. This post features a few of our team's favorite intelligent content tools, including MarketMuse, Automated Insights, Scripted, Curata and Persado.
Are you using new social media features to bolster your marketing? See how you can easily apply newer tools, like Instagram Polls and AI-powered chat bots.

Sandie Young
Sandie Young started at the agency during the summer of 2012, with experience in magazine journalism and a passion for content marketing. Sandie is a graduate of Ohio University, with a Bachelor of Science from the E.W. Scripps School of Journalism. Full bio.