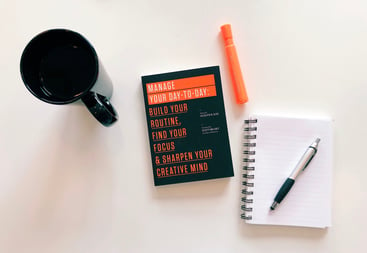 Editor's Note: The Book Clubbin' series recaps business and marketing related books read by the PR 20/20 team each quarter as part of the agency book club. This series will highlight key takeaways and top tips directly from each book club book.
As a marketer, it's easy to get caught up in the mix of your day-to-day responsibilities. But, as our most recent book club book asks, how often do we stop and ask ourselves, "Am I creating busywork or my best work?"
In the marketing world, there will always be many moving pieces at once, making it sometimes difficult to distinguish between what's a priority and what isn't. For our most recent book club, the PR 20/20 team read, Manage Your Day-to-Day: Build Your Routine, Find Your Focus, and Sharpen Your Creative Mind, by 99U (@99u), to help understand how we can alleviate pain points related to this challenge.
Below, I overview four key tips and tactics directly from the book that play a vital role in how marketers can better manage day-to-day activities for a more successful career.
1. Build a routine.
Having a routine in place is key to making sure your day as a marketer runs smoothly. Without a routine, you run the risk of feeling disorganized or unable to complete your daily tasks.
The key to routine is frequency. Frequency is important because it:
Makes starting easier.

Keeps ideas fresh.

Keeps pressure off. 


Sparks creativity.

Nurtures frequency.

Fosters productivity.

Enables a realistic approach.


No two marketers will have the same routine. Find what works best for you and stick with it. In the book the authors mention, "Every single day will end up mattering more than what you do once in awhile."
Practice your routine and the results will come.
2. Find your focus.
Not only finding your focus, but keeping it can be tricky when many moving pieces are in play. However, making sure you take the time to hone in and focus on the task at hand is critical for any marketer's success.
While we will never be able to truly eliminate distraction, especially in a digital world, there are ways to block it out in times of need. One way to tackle this is by creating daily focus blocks.
The PR 20/20 team has practiced this approach for many years, encouraging our marketers to truly block down twice a day between 9 a.m. - 11: 00 a.m. and 1 p.m. - 3 p.m. During this time, employees are encouraged to reduce the number of emails being read/answered, eliminate the use of internal messaging, and avoid distractions from personal devices and internal conversations with coworkers. This allows our team to focus on the task(s) at hand from start to finish with limited disruptions.
According to the authors, some key tips to utilize daily focus blocks include:
Start with small blocks of focused time and then gradually work yourself up to a longer duration.

Tackle a clearly identified and isolated risk (i.e. do your research prior to writing a blog post so you can focus on blocking down and writing the actual content)
.

Consider using a different location to increase productivity.
3. Tame your tools.
As technology continues to evolve, so will the need to learn how and when is the right time to consume media and utilize various tools. The authors of Day-to-Day say, "A healthy relationship with your devices is all about taking ownership of your time and making an investment in your life."
In order to effectively and efficiently utilize technology each and every day, you must understand how each technology and/or platforms will be beneficial to improve your workforce and overall productivity throughout your marketing career.
While the expectation to always be connected continues to grow, this is not always the best motto to live by. Consider "resetting" by only using technology when it makes the most sense instead of because it's simply there.
4. Unleash your creative mind.
The final piece to effectively manage your day-to-day activities is to take the time to find your creative mind. According to a study from Adobe, 75% of workers in the U.S., U.K., Germany, France and Japan feel they aren't living up to their potential— which is many times measured as creativity in marketing.
Marketers thrive on creativity, but what happens when you can't push through the creative block to find the spark you need to complete your tasks? What many may not realize is that creativity is not a talent, but rather a way of operating. All individuals have the opportunity to be creative if they focus on how they can fuel their mind.
One way marketers can explore and enhance creativity is by practicing Unnecessary Creation. Unnecessary Creation is the practice of "using personal projects to explore new obsessions, skills or ways of working in low-pressure environments." By exploring ideas you are passionate about, you are not only fulfilling goals outside of your career, but opening a door to fuel creativity in the workplace, too.
Unnecessary Creation also allows you to:
Explore new possibilities and follow impractical curiosities.

Take risks and develop new skills that can later be applied to your on-demand creations.

Provide a forum for the pursuit of voice, and a reminder that you are not the sum of what you make.
Take the time to nurture the creative fire within to empower success in all your day-to-day activities.
Fuel knowledge through the power of reading.
Each quarter, the PR 20/20 team reads a business and/or marketing related book to keep up with the latest industry trends and spark creativity. Check out our most recent post from the Book Clubbin' series to discover key takeaways from our book club book, Radical Candor™.
Be the first to know about the latest marketing news, tips and best practices. Subscribe to our blog today.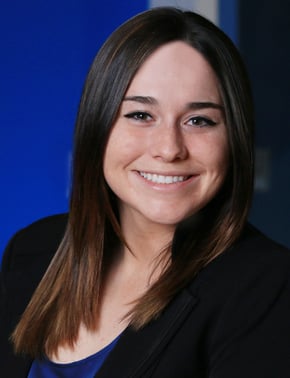 Allison Melnik
Allison Melnik is a consultant at PR 20/20. She is a 2014 graduate of Kent State University with a concentration in organizational communications and public relations. Full bio.