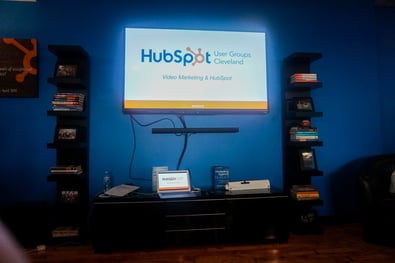 It's that time of year again. Before we know it, it'll be time to wrap the year's marketing campaigns, report on performance and write the plan for what will bring next year's successes.
It's important that marketers constantly iterate strategies throughout the year based on performance. However, the end of the year presents the perfect opportunity to evaluate what worked and what didn't— including which marketing mediums were successful.
While we're on the subject of marketing mediums, have you leveraged the power of video? If not, you should.
According to Wyzowl's State of Video Marketing Survey, 81% of businesses use video as a marketing tool— up 18 points from 2017. In addition, the average respondent consumes 1.5 hours of video a day, and 72% would rather use video to learn about a product or service, if both video and text are available.
At our recent Cleveland HubSpot User Group (HUG) meeting, we partnered with video production company Pritt Entertainment Group (PEG) to discuss how to creatively layer video into marketing.
Check out the SlideShare presentation above (including an overview of HubSpot's latest video feature!), or read on as we highlight four trending tactics PEG presented during the HUG event that marketers should incorporate into their 2019 video marketing strategy.
1. Square Format
Incorporating videos into your social media feeds certainly isn't a new idea. But, did you know that the size and shape of the video you post can affect overall performance?
According to Buffer, square video (versus landscape) resulted in 30-35% higher video views and an 80-100% increase in engagement (likes, comments and shares) and completion rate.
During the HUG event, PEG also went on explain that square videos take up more of a user's screen, especially when it comes to mobile. It's common sense: When your video takes up more space on a user's screen, that means competitor content directly above or below yours becomes less distracting.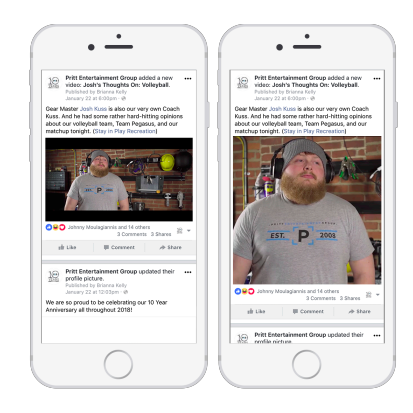 Image credit: PEG
2. Live Streaming
Whether it be on Facebook, Instagram, YouTube or Snapchat, live streaming video content is becoming more popular for both marketers and social media users. And by no surprise, it's growing. In 2016, the live streaming market was a $30 billion dollar industry— by 2021, it's projected to grow to a whopping $70 billion.
As Allison Melnik (@allisonmelnik) stated in this PR 20/20 blog post:
"[Live streaming] provides businesses with the opportunity to show instead of tell. For example, if a company is unveiling a new, never-before-seen product, they could utilize Facebook Live to give consumers a 'first-look exclusive.' Another example would be to demonstrate how a product or service is created, giving audiences a behind-the-scenes look at what goes into the products and services they love."
During your next live event, product launch, Q&A or as a way to show company culture, consider live streaming. PEG even said during the HUG event that the average live stream watch time is three times higher than other videos.
3. Drones
Think drones are only used as a hobby? Think again. Drones are lightweight, easy to maneuver, can fit into tight spaces and are less expensive than helicopters (an old aerial video tactic), making them more accessible for videographers and marketers.
Drones can be used to capture aerial footage for:
Construction (planning, building or progress)

Sweeping landscape shots

Tours (campus, facilities)

Special occasions (events, launches, weddings)
Keep in mind that drones come with regulations. Be sure you (or the videographer / agency you're working with) have the correct credentials to capture this type of video.
4. 360 Degrees
Imagine if you could immerse your viewers in a video that makes them feel like they were actually there when you filmed it. This may not seem too far off based on the proliferation of virtual reality (VR) technology, but it's also possible with the power of 360-degree cameras and video.
By definition, a 360-degree video is an immersive experience where the viewer has control of the direction or perspective. Think of it as an interactive panorama photo. Check out this example from PEG:
This type of video is watchable via a VR headset, but your viewers don't necessarily have to have that type of technology. YouTube and Facebook both offer 360-degree functionality for viewers.
While a 360-degree video won't work for every application, PEG recommends tapping into this tactic for:
Live events

Timelapses

Tours (ex: facility, office, real estate walkthrough)
Make Your Marketing Strategies More Meaningful
Your 2019 marketing strategy may be built around long-term goals, but you don't have delay kicking off tactics like video. Get access to more marketing tips and tricks and industry best practices at our Cleveland HubSpot User Group (HUG) meetings.
Learn what's possible with top-notch marketing automation solutions that layer in video functionality like HubSpot. Let's discuss what's possible for your business.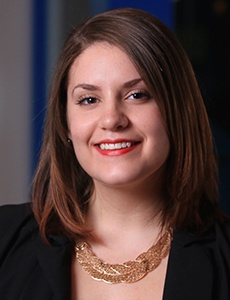 Shannen Laur
Shannen Laur is Ready North's director of growth and services. She joined the agency in December 2014 with a background in corporate communications and marketing. Shannen is a 2014 graduate of Kent State University's School of Journalism and Mass Communication.