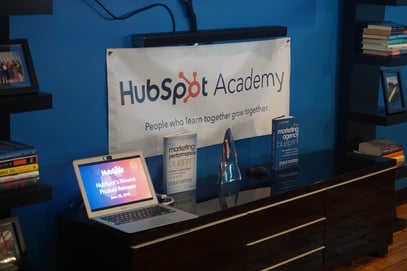 HubSpotters have been busy. Over the course of the second quarter, HubSpot released significant product updates across marketing and sales—and (in case you missed it) unveiled Service Hub.
If you're like our team, we eagerly geek out over new tools. So we decided to feature the product updates at our latest HubSpot User Group (HUG) event in June. Maggie Bomze (@Maggbomze) joined us from Boston to give our guest the inside scoop on what's new and exciting in your portal.
Below, we've featured five of our favorite new features and tools. View the full SlideShare at the end of this post to catch up on everything you missed.
1. Auto-Audit Your Content for Topic Clusters
If you haven't gotten started with topic clusters yet—and want to—this update is for you.
To begin: Go to Content Strategy in HubSpot and simply click "start website content audit." HubSpot will analyze your site pages and provide recommended core topics based on existing content. You can, of course, take it or leave it. From there, you can click into your selected clusters to continue building out your related subtopics. Here's a link for step-by-step instructions.
Not sure what this all means? HubSpot's new approach to content strategy better organizes your site content, and makes it easier for Google to rank multiple pages on your site. To create topic clusters, you'll need to create a piece of pillar content with hyperlinks to related cluster content. For a more in-depth look at what it means to your search authority, read What Is a Pillar Page? (And Why It Matters For Your SEO Strategy).
2. Update Your Site Search Module
As you probably know, many have been looking for other options since Google sunsetted Google Site Search in 2017, and subsequently its Customer Search Engine in 2018. Going without a site search module isn't an option; in fact, roughly 30% of site visitors know what they are looking for and use the tool.
Luckily, if you use HubSpot, there's an easy, built-in solution. Enter HubSpot's new site search module. Released in May, users can now take advantage of the native site search feature as part of their existing package. If you're curious how it works, we use it on our site so you can test it out above!
3. Integrate Your Portal with SEMrush and Typeform
Two of our favorite tools, SEMrush and Typeform, now integrate seamlessly with HubSpot. If you're not familiar, here's a quick breakdown on both:
SEMrush

is the "world's leading competitive research service for online marketing." It offers a 360 view of domain and traffic analytics, how you compare to competitors and more. You can setup a free dashboard or upgrade to a

paid plan

.

Typeform

enables you to easily build surveys, forms, quizzes, landing pages, etc. A great tool for interactive content, you can use the free version or choose a

pro plan

.
With the SEMrush integration, you can now seamlessly transfer tracked keywords in HubSpot into your SEM dashboard, among other perks. And with Typeform integrated, automatically move new leads from your interactive content offers into HubSpot. If you use either of these tools, this one is a no brainer.
4. Customize Your Conversations
Live chat is a must have for any site. Inc says, "92% of customers feel satisfied when they use the live chat feature."
Conversations (i.e. live chat) is available on all versions of HubSpot—even free. And now, you can easily upgrade the experience with a few simple, easy-to-do updates:
Add your company's

office hours

to let site visitors know when you're usually available.

In the chat box, under your name, auto-add your

average reply time.

The new

availability toggle

gives reps the power to quickly change their status (away, available).

Integrate your conversations with

Slack

to get a notification for new chats.
For more details and instructions, see this article from HubSpot.
5. Put More Emphasis on Customer Service with Service Hub
It's proven: customer experience (CX) is mounting in importance for brands in any trade. According to Econsultancy, "A study by Forrester found that CX leaders delivered compound annual revenue growth rates (CAGR) of 17% compared to just 3% for CX laggards in the period of 2010 to 2015."
It's no wonder that HubSpot decided to zero in on customer service with the release of Service Hub. While the Hub is an add-on product line, it offers a closed-loop approach from marketing to sales to service and loyalty. Key features include conversations, tickets, feedback, knowledge base and more. Read more about Service Hub here.
Did you miss the last HUG event? View the full SlideShare to catch up on what you missed.
Interested in learning more about HubSpot?
Not sure if you're using HubSpot to its full potential? Our team of HubSpot product certified experts can help. We'd be happy to discuss what's possible for your business in more depth.

Sandie Young
Sandie Young started at the agency during the summer of 2012, with experience in magazine journalism and a passion for content marketing. Sandie is a graduate of Ohio University, with a Bachelor of Science from the E.W. Scripps School of Journalism. Full bio.