Editor's note: This article was submitted by Natalie Slyman, the director of content and social media at Influence & Co. Natalie loves telling stories, cooking, and her two cats, Roxanne and Priscilla.

Wouldn't it be wonderful to have the gift of seeing into the future? There'd be no surprises, no "gotcha" moments. You'd know exactly what to expect, and you'd be able to completely prepare yourself and your team for whatever's next in the world of content marketing.
While we can't know the future, we can look to the trends and technologies that are shaping the marketing industry today and predict what they could mean for brands and content marketers in 2019.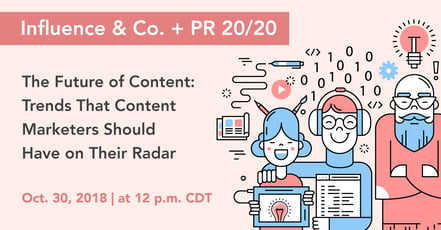 From artificial intelligence to changes to the traditional marketing funnel and everything in between, the marketing world is evolving.
Your audiences are exposed to more content from brands in a day than they could probably consume in a week, and competition for their attention grows stronger every day. To stay competitive, cut through the noise and truly engage your audience with your content, you need to know what's ahead for content marketing.
That's why, on October 30, PR 20/20's Paul Roetzer and Influence & Co.'s Brittni Kinney will be hosting a webinar to discuss key content trends and what they'll mean for the industry. If you're someone who likes being prepared, then you won't want to miss out.

They'll examine what defines content marketing today and discuss findings from Influence & Co.'s report "The State of Digital Media 2018." They'll also identify five key trends that should be on every content marketer's radar, as well as some valuable resources that will help listeners prepare for the future.

Make sure you register and join us on October 30 at 12 p.m. CDT. Seats are limited. We hope to see you there!