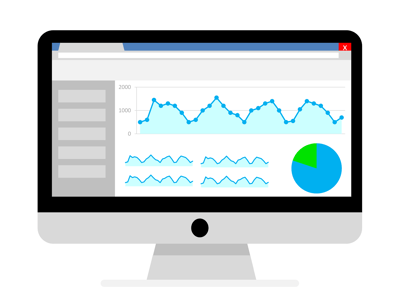 Picture this: you've just launched the most robust, creative lead generation campaign yet. The gated asset is evergreen and useful, and the promotion is creative and clickable. You're probably feeling pretty good (rightfully so); but, the work is far from done.
The most successful performance-driven marketers are always tracking, reporting and adjusting in real time. They let the data tell a story, and if need be, change the narrative as quickly as possible. In fact, regular reporting may be the most critical piece of a marketing strategy.
Taking a step back (and in case you missed the first two posts in this series), top marketing minds weighed in on building truly performance-driven strategies. The first step is gaining executive buy-in and the second step is more intelligent goal setting. In this final installment, the experts address the importance of campaign reporting. Read on to see what they have to say.
How Often Should I Report On (and Adjust) Campaign Performance?
As with any business metrics, you should measure your results on a regular basis. For digital businesses, this can be as often as daily.

Compare your results not only to your budget, but also to past results. Track important outside events that have an impact on your results. Many businesses overlook this step. It explains key changes in results.

Further, monitor various elements of your campaign to put the results in context relative to your past performance. Don't make modifications.

Where possible, use A-B testing to determine how to improve results.
Jessica Miller (@jessica_joellen), VP of Services at PR 20/20
To truly embrace a data-driven culture, you've got to "speak data" regularly across the team. And mastering any new language requires daily study and conversation. For performance-driven marketers, this means monitoring data daily, keeping a pulse on where you're tracking against prime goals (and why), regularly reporting to key stakeholders, and adjusting strategies according to insights.
When reporting on campaign performance, align results with the organization's bottom-line goals and adjust marketing data-speak for your audience.
For example, if your current campaigns are focused on a specific vertical market, check in with that segment or division with data on some of the more popular traffic and lead-generation drivers, ask about the process for lead handoff, and look into (and track) the quality of conversations and results for these specific campaign leads. Bring data to the table, ask thoughtful questions, then partner with your internal stakeholders to adjust as needed.
If you're speaking to management, alter data-speak to start with results that have impact on the bottom line. Articulate specific example wins and challenges to show trends and alter strategy as needed. Then always follow-up with any results of that conversation.
Performance-driven marketing strategy relentlessly analyzes what works and what didn't work. You stop doing those tactics that didn't perform. Double-down on the tactics that do. And then you measure and optimize with testing at every stage of the strategy.
We often forget that ROI is a math calculation (Revenue - Investment / Investment) and the most obvious part of the equation is that investment shows up twice. The best way to increase ROI is the stop investing in activities that don't produce return. We need to incentivize marketers based on the results not the activities.
According to our data, the most successful marketers monitor their metrics on a daily basis. They are monitoring the impact of the work they're doing that day on key metrics and goals. When a new blog post performs well on social media, they promote it more. When an older article has proven to help close customers, we update it and promote that content more so that it helps convert more future leads into sales too.
However, also according to our usage data, most marketers only check their statistics once per week. Since our users are probably on the savvier side of data-driven marketing, I'd guess that most marketers check data less frequently than weekly.
Unlock the True Potential of Your Marketing Data
Not sure how to bring structure and meaning to your campaign data?
In a recent webinar, PR 20/20's VP of strategic growth, Keith Moehring, discussed 12 actionable tips and tricks to interpret and understand data trends. Watch the recording for more information.

Sandie Young
Sandie Young started at the agency during the summer of 2012, with experience in magazine journalism and a passion for content marketing. Sandie is a graduate of Ohio University, with a Bachelor of Science from the E.W. Scripps School of Journalism. Full bio.