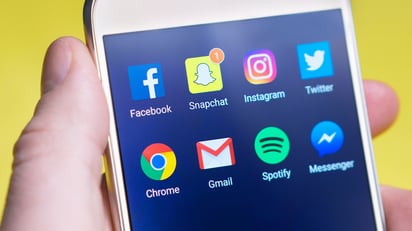 From changes in algorithms to new features, social media is constantly evolving. It can be a full-time job staying up to date with Facebook, Instagram, Twitter and the like.

However, with these challenges come opportunities for brands to grow their fan base and leverage audiences like never before.

The key to keeping up? Agility—being able to move quickly, nimbly and easily.

Below we highlight four brands that are taking their social media presence to the next level through agile marketing. Marketers, these tips can breathe life into your company's social media strategy.
1. Wendy's
If you haven't heard of #NuggsforCarter, you're in for a treat.

In April of 2017, 16-year-old Carter Wilkerson broke a Twitter record with his tweet to Wendy's (@wendys) asking for free nuggets for an entire year. Initially, Wendy's said he had to receive 18 million retweets in order to grant his wish. But, they gave in after Wilkerson surpassed Ellen DeGeneres' famous Oscars selfie as the most-retweeted tweet (more than 3.3 million!) and rallied support from celebrities and brands such as Google, Amazon and Microsoft.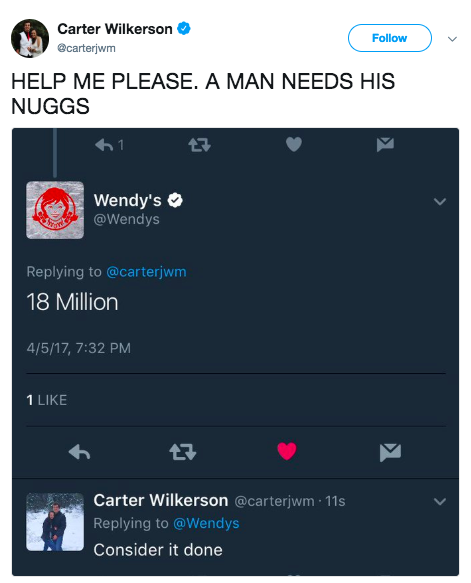 @carterjwm
Wendy's quick and clever response to Wilkerson is just one of the many frank and witty conversations the fast-food restaurant has with its followers every day. Here are a few of their other popular tweets: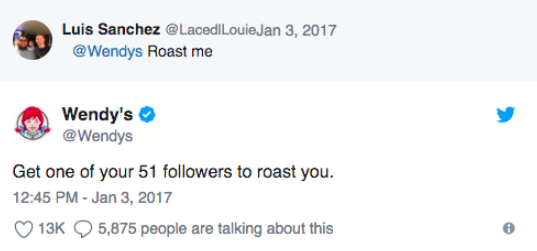 @wendys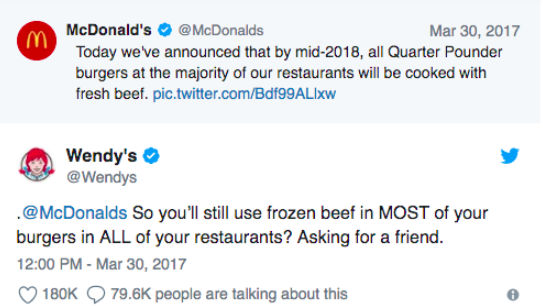 @wendys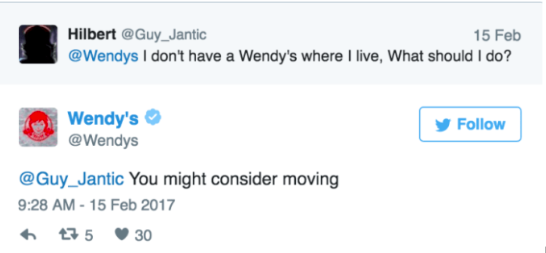 Brands that can interact with users in a fun and timely fashion win big because according to the Sprout Social Index, 89% of social media messages to brands are ignored. When one in three consumers will mention a brand on social media to share a personal accomplishment and 41% of millennials will include a brand on a life milestone just to say thanks, acknowledging that mention goes a long way.

Pro tip: As more companies join the world of social media, it's not enough to just have an account. Brands need to showcase a personality and interact with users on a regular basis. On Twitter, Wendy's quickly responds to tweets with a tone that is witty and down-to-earth, encouraging all users to interact with them, while further increasing their brand visibility.

>>>Related Read: 7 Social Media Features You Should Be Using… But Probably Aren't
2. Glossier
Being agile on social media doesn't always mean a quick response time. It can also mean listening, which is exactly how cult beauty brand Glossier invented a few of their top-selling products.
Glossier, an affordable skin-care and beauty brand (originally available only online), wanted to create the perfect face wash–one that was gentle, but did really hard work. After years of trying face washes and not finding one she loved, Glossier CEO and founder, Emily Weiss, took to social media and asked Glossier's followers for feedback.

The result? Over 400 comments on Instagram and their blog with users' likes, dislikes and wishes, that were all sent back to Glossier chemists to later create the Milky Jelly Cleanser face wash. The product was such a hit, it sold 12-months worth of orders in just three months. Currently, Milky Jelly Cleanser has a 4.3 star review (out of five) and more than 1,000 customer reviews on their website.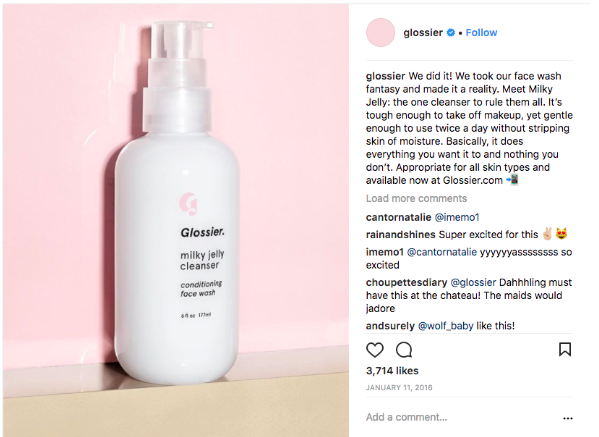 @glossier
In 2017, Glossier did the same thing to create their Priming Moisturizer Rich face cream. This time, the request for opinions had 1,000+ comments on social media.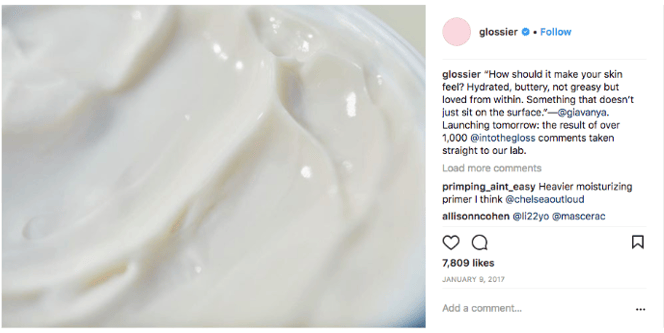 @glossier
Pro tip: Relying on customer feedback to build your business can seem like a big risk, especially considering how impossible it is to appease everyone. However, if executed correctly, it could also be the reason you're having to hire another supplier or more staff to meet your product demand. Social listening takes time and patience, but it encourages brand transparency and gives your fans a voice.
3. Patagonia
The United States is currently witnessing one of the most politically charged environments of its time, and social media is one of the top places for Americans to share their political views. But should brands follow suit?

Taking a stance one way may alienate part of a brand's audience. However, brands that choose not to have an opinion at all could be accused of having no integrity. Which is better?

It's a question every company needs to ask internally before tweeting out support one way or another. For the socially-responsible, outdoor-clothing retailer Patagonia, it was a no-brainer.

Following President Trump's order that more than one-million acres of land would be cut from Bears Ears and Grand Staircase–Escalante national monuments in Utah, Patagonia took a very extreme stance. Instead of landing on a homepage filled with fleece jackets, visitors were greeted with a black screen that read, "The president stole your land." Further down the page, Patagonia explains what land would be affected by the order and how to take action.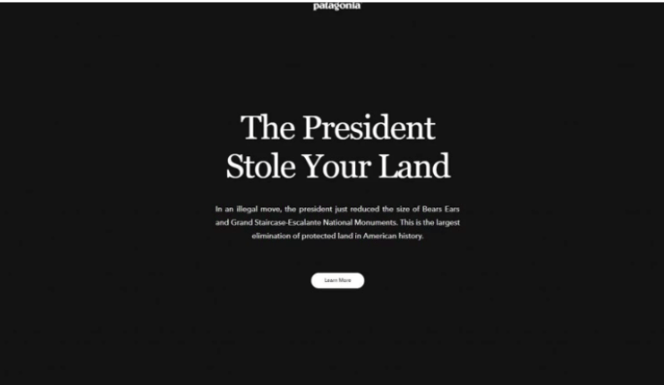 Patagonia
Patagonia shared this message and the announcement that they would be taking the Trump administration to court across all of its social media accounts ... and it spread like wildfire.

While some audiences may have scoffed at a brand's political involvement, Patagonia's fans fully embraced it.

Pro tip: Being a model of corporate responsibility and civic engagement definitely has its risks. Patagonia knows its customers and knows what they expect from the brand—a company that stands up for their beliefs, no matter the consequences. So far, this position has helped quadruple Patagonia's revenue over the last ten years. CEO Rose Marcario explains, "Doing good work for the planet creates new markets and makes [us] more money. That's the Patagonia way."
4. Halo Top
Admitting you were wrong is hard, especially to hundreds of thousands of followers on Instagram. However, the way in which a brand turns failure into opportunity on social media says a lot.

In May of 2017, popular low-calorie ice cream brand Halo Top Creamery announced a Willy Wonka-esque contest, "Golden Seals." Five lucky consumers who found golden seals in their pints of ice cream would win a trip to Maui, $5,000 to their local grocery store and a sponsorship in their name to the Make-a-Wish foundation.
As the contest reached its final day, only one winner had come forward. Halo Top couldn't find the four other winners–the remaining golden seals had been lost. So Halo Top took matters into their own hands and transferred the contest to Facebook. They called it "#HaloFlop."

For the next four weeks, Halo Top gave away the prize packs to random winners drawn from comments on their post. Users simply had to like Halo Top's Facebook post and tag a friend in the comments to be entered to win.To hype up the contest, they shared promotional content spotlighting their mistake.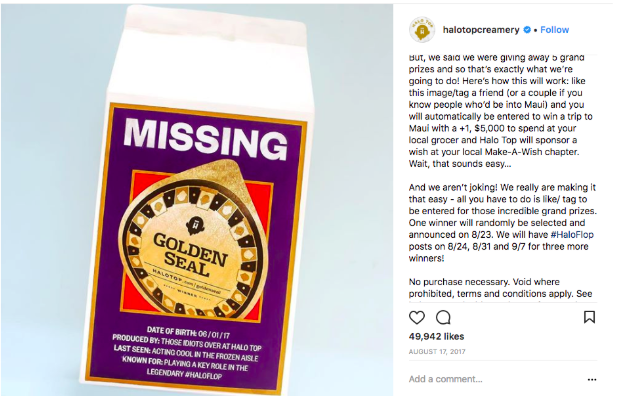 @halotopcreamery
By proactively admitting their wrong, Halo Top was able to leverage social sharing to boost their brand awareness across multiple platforms. Their Facebook post received more than 53,000 likes and 56,000 comments. On Instagram, their three posts received more 102,000 likes and 100,000 comments combined.

Pro tip: Every brand has made a mistake, big or small. The difference between them is what they do next. Deleting the post/comment/blog won't fix the matter and usually just makes things worse. Instead, take ownership of the "flop" and focus on damage control. Your audience will appreciate the honesty.
Who does it best?
Are there any other brands that practice agile marketing on social media? How has your business used social media similarly? Share with us in the comments below.
Image credit: Pexels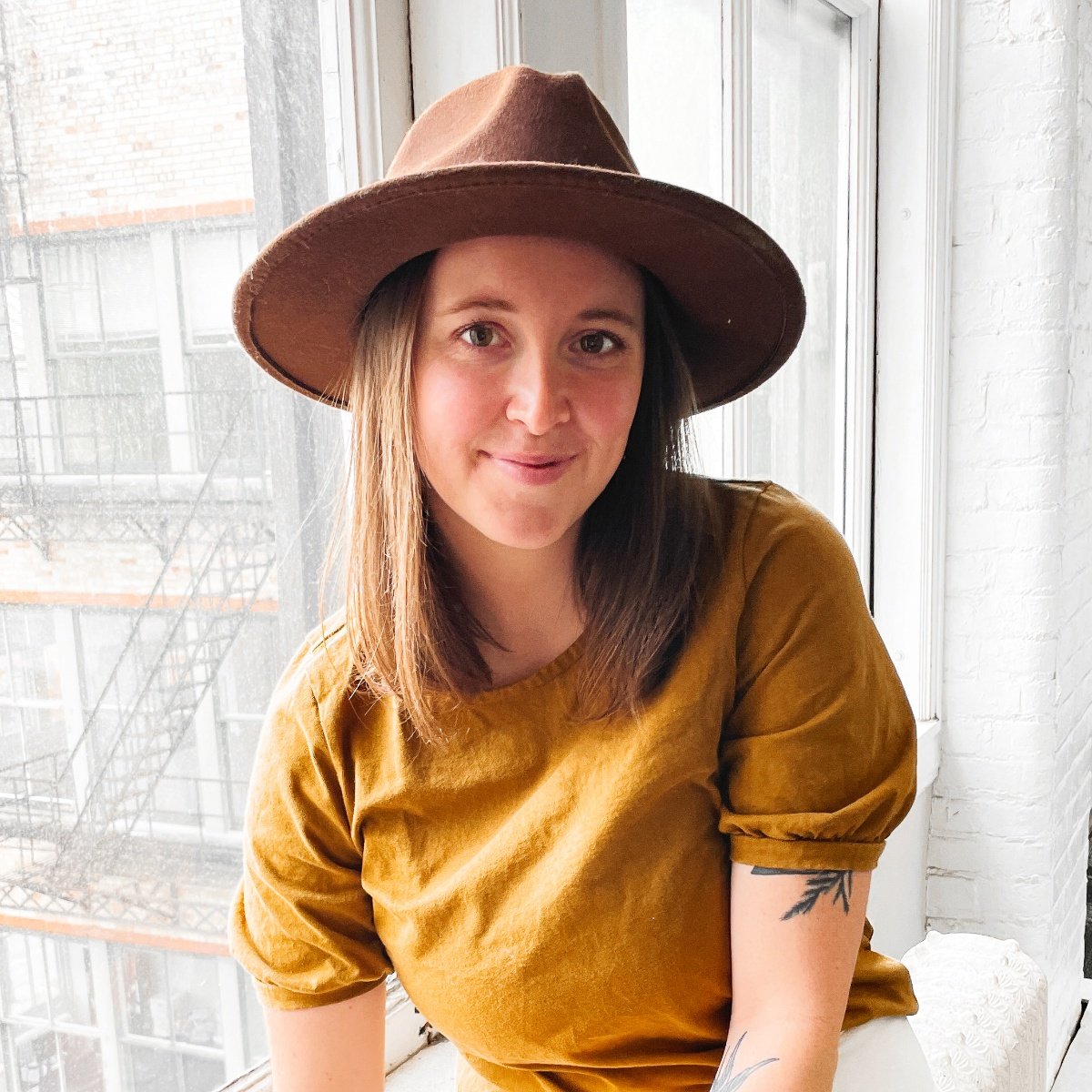 Ashley Sams
Ashley Sams is the director of marketing and communications at Ready North and is passionate about storytelling. In her free time, she enjoys hiking, trail running, cross-country skiing, and camping in the wild Adirondack Park with her two dogs.