In today's fast-paced business landscape, associations and organizations face the constant challenge of maximizing their marketing and sales efforts while operating within limited resources.
Time is a precious commodity, and finding ways to save time without sacrificing results is essential.
Whether your association represents professionals in a specific industry or aims to foster a sense of community among like-minded individuals, streamlining your marketing and sales processes can lead to significant time savings and increased productivity.
In this post, we'll explore five effective strategies associations can implement to optimize their marketing and sales efforts. By adopting these tactics, your association can allocate more time to focus on critical tasks, enhance member engagement, attract new prospects, and, ultimately, achieve your goals more efficiently.
Let's dive in and discover how you can revolutionize your association's marketing and sales approach, saving valuable time along the way.
1. Make Your Efforts Count
In an environment where time and resources are scarce, ensuring that every moment spent and resource utilized has the highest potential for positively impacting your organization's bottom line is paramount.
Instead of spreading yourself thin, focus your efforts on activities and audiences with a proven track record of driving revenue.
How do you determine those? With personas and performance data.
Create Your Association Personas
Personas are semi-fictional representations of your ideal target audiences. They combine actual data, such as job title and historical engagement with your organization, with speculation, such as pain points and goals.
Personas are crucial to inform your marketing and sales team about the following:
What motivates them, personally and professionally?

What issues, problems, or challenges are they having?

What are their most common FAQs?
How do they consume information?

Who influences their decisions?
A foundational step for your marketing and sales teams to achieve more with less is creating personas for your association's primary target audiences. A quick and easy way to get started is using HubSpot's free Make My Persona tool.
We recommend building out a few (2-4) personas that represent your core audiences. If you're strapped for time, prioritize creating the personas that have the greatest impact on revenue.
Use Reports to Identify Gaps and Opportunities
Leveraging your past performance data is one of the simplest ways to make intelligent marketing and sales decisions.
Using a tool like HubSpot Reports, you can examine performance on individual assets, website pages, email campaigns, social channels, and—once created and set up in HubSpot—your personas. Example performance insights that HubSpot can provide marketing and sales teams include:
Persona-segmented reports

Sources and content that drive MQLs (marketing qualified leads) and SQLs (sales qualified leads)

Content that drives leads and converts customers

Actions your website visitors are taking
By directing your attention towards those key target audiences, assets, and channels, you can make significant strides in fueling the activities that already generate leads rather than expending energy on avenues that yield minimal returns.
2. Meet Your Target Audiences Where They Are
Attention has never been at a higher premium. With endless sources of noise coming from your competitors, social media, the news, and more, your association's communications need to be laser-focused.
How? With one essential tactic: Delivering the right message at the right time and in the right place.
Using your newly developed personas, you can map your ideal constituents' lifecycle journey (their path to a desired action) from lead to brand evangelist for each persona. See the diagram below for the range of lifecycle stages a user can identify with along their journey.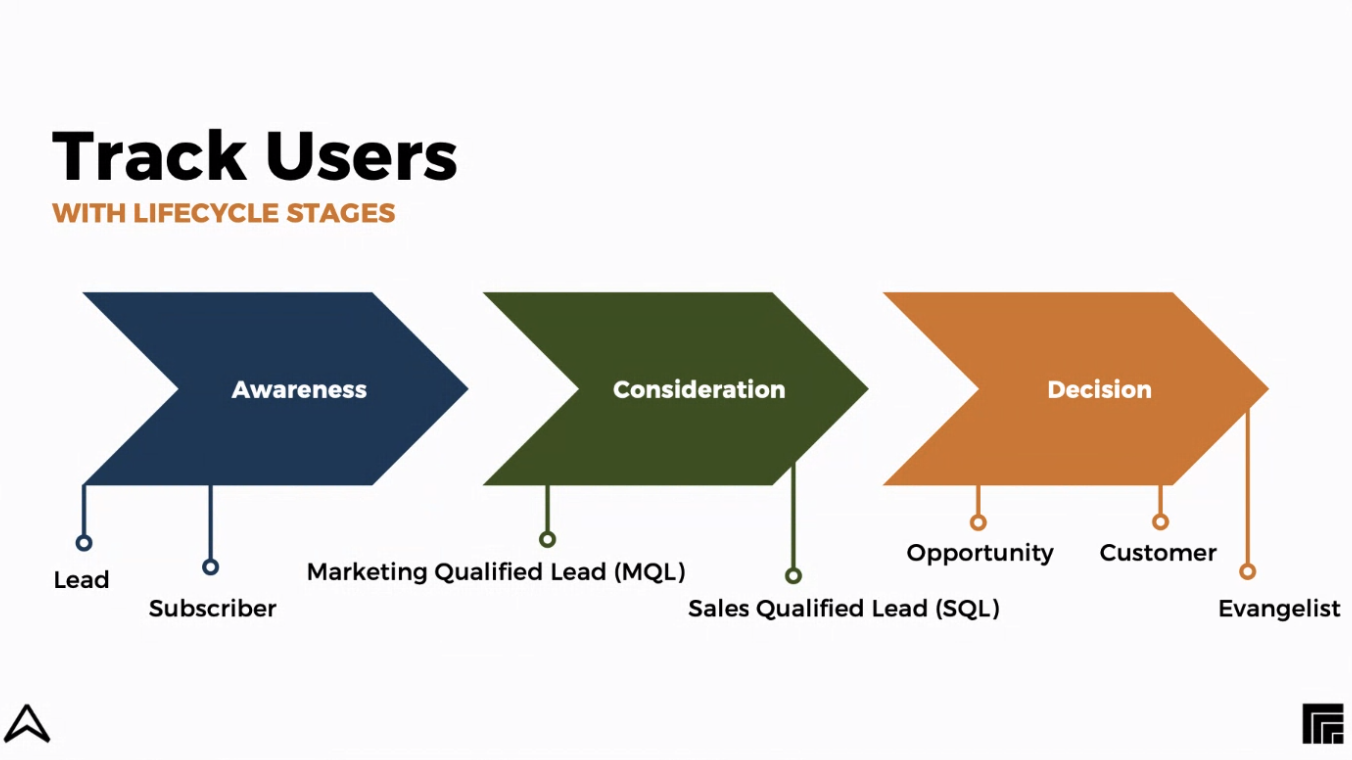 Former AIIM CMO Tony Paille believes that "Defining your lifecycle stages and mapping your leads against them is one of the most powerful things associations can do in marketing."

You can execute this strategy efficiently using HubSpot's automation features. Specifically, you can:
Adjust default lifecycle stage settings

Set and sync lifecycle stages between objects

Automatically set lifecycle stage through form settings

Bulk edit lifecycle stage using a workflow (example image below)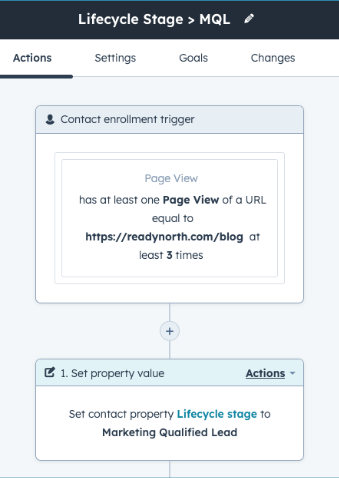 Once you better understand where your contacts fall along your lifecycle journey, you can identify opportunities for personalization as well as gaps and bottlenecks.
For example, with your lifecycle stages defined and your database sorted, you may notice you have many MQLs but only a few SQLs. You might ask yourself: "Why are MQLs not converting to SQLs?" A few potential reasons:
You need content to nurture them into the next lifecycle stage. Try activating an automated workflow to nurture MQLs.

You need more frequent conversion opportunities. Add more

CTAs (call to action buttons)

and forms to your site to encourage MQLs to make contact with you.

Your marketing-to-sales handoff could be more fruitful. Align your sales and marketing teams to ensure expectations and responsibilities are met. Also, consider automation to improve efficiency in reaching out to prospects.
Another perk of sorting your database by lifecycle stage is the direction it provides your marketing and sales teams. For example, you can use HubSpot reports to identify which sources drive the most leads or revenue. From there, if you have limited resources, consider focusing your activities on the channels already driving leads instead of on the ones that don't.
3. Create Content Across the Entire User's Journey
Before you freak out about how you will accomplish this with finite time and team resources (we've got a tip for that, too!), you need to understand why this step is so important.
As mentioned above, different audiences have different needs, and different users have different preferences. To ensure your association's content resonates with every potential lead, you must create content across an entire user's journey. In fact, 25 percent of associations say that creating targeted communication has boosted member engagement.

The three widely accepted stages of a user's journey are:
Awareness

of a problem or pain point.

Consideration

of their unique possible solutions/options

Decision

to move forward with a desired action (sign up for membership, donate money to a cause, select a partner organization, etc.)
With insights into your different personas' unique needs, desires, and preferences, you can brainstorm ideas for targeted, valuable content at every stage.

For example, a potential new member in the awareness stage will be attracted to different content than a potential event sponsor in the decision stage. Blog posts and shares on LinkedIn featuring content about the benefits of joining a professional organization to expand a professional network may resonate with the former individual. Conversely, a consultative call or presentation deck showcasing ROI statistics of sponsoring a specific event may appeal more to the latter user.
As you'll see in the image below, Paille recommends a three-prong approach to creating content for each stage of the user journey. It includes:
A thank you page (to nurture them to the next stage)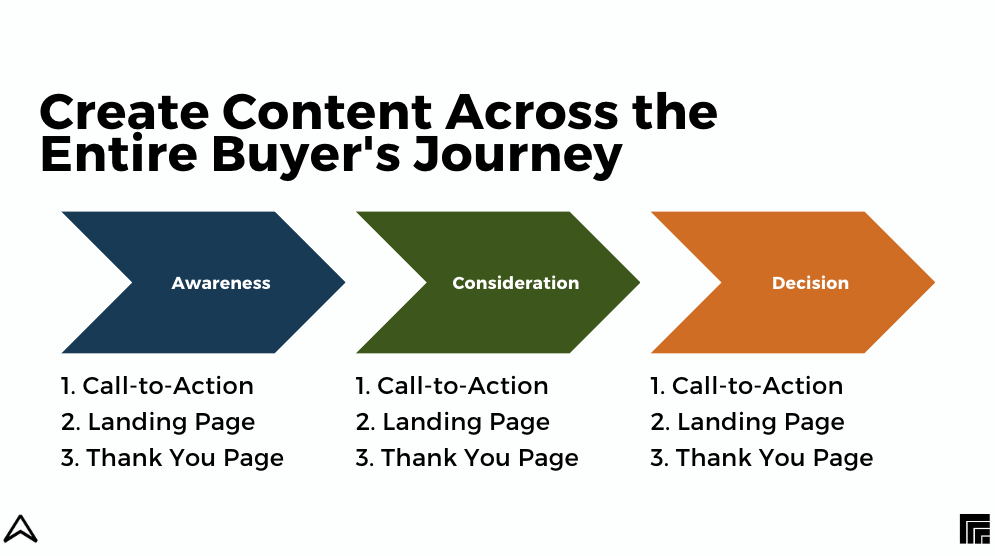 The strategy behind this approach is to give your persona a clear opportunity to convert at each stage and move through the user's journey. The more interconnected these conversions are, the easier it will be for your prospect to navigate.
The better you understand your different audiences, the more specific your messaging, touchpoints, and content can be. This targeted approach will help your association make the most of every interaction with potential members, partners, and sponsors and build valuable trust—even with limited resources.
4. Get the Most Mileage from Your Created Content
This might be the most helpful tip in the whole article as it relates to doing more with less because it makes activating on the other strategies more feasible for a small or one-person marketing team
Use the iceberg method to get the most mileage from your association's created content.
Instead of spending the majority of your time creating numerous time-consuming assets, the iceberg method enables you to work smarter—not harder. Here's how.
First, identify one meaningful

lead gen asset

to create that addresses your persona's needs, such as an ebook. Gate it behind a landing page with a form and use HubSpot's marketing tools (email, social media, ads) to promote it.

Next, create a teaser of that content in a different format. This might be an article recapping insights from one of the ebook's chapters and/or an infographic of takeaways. Consider how your audience prefers to digest information and use those insights to guide your content. Ensure this asset includes a CTA to download the full ebook.

From there, consider hosting a live/pre-recorded event that covers content from the ebook, such as a webinar. Preparation would be minimal as all the content and talking points have already been created.
Lastly, repurpose that event by hosting the recording on YouTube and sharing short clips on social media—all pointing back to the ebook landing page.



Be sure to tag all your newly created content to a campaign in HubSpot. This tool makes it super easy to check the performance of each campaign element (forms, emails, assets, etc.) and measure the effectiveness of your collective marketing efforts.
5. Take Advantage of HubSpot's Automation and Time-Saving Tools
With a little upfront effort, you can automate repetitive tasks, streamline your association's processes, personalize at scale, and make data-driven decisions using automation.
Here are our favorite time-saving tools in HubSpot.
Workflows
Workflows make tasks more manageable and help you deliver content to your leads and members at the right time. They can be as simple as updating lifecycle stages based on user engagements or more complex to fit your association's specific needs. Example workflows we recommend setting up include:
Lifecycle nurturing stream

On-demand event nurturing

Lead assignment for your sales team
Event promotion emails

Internal notifications for marketing and sales alignment
Sequences
Similar to workflows, sequences use automation to send a series of targeted, timed emails to contacts. When set up strategically, they can help nurture users without your sales reps needing to lift a finger. Sequences to consider implementing include:
Upcoming membership renewals
New donor thank you emails

Annual giving day donation encouragement
Templates and Snippets
Stop typing the same email over and over again. Save repetitive email content as a template with areas for personalization to be quickly added to an email. Your organization might have templates for the following:
New member introduction emails
Membership renewal emails

Event sponsor/speaker welcome emails
Snippets are shorter pieces of text that your team can use in emails, notes, and conversations. Your organization could save time by creating snippets for the following:
About your association

Upcoming events
Membership types and sponsorship opportunities

Answers to frequently asked questions
Work Smarter, Not Harder
Associations must recognize the importance of optimizing their marketing and sales efforts to save time and resources. Overcoming the challenges of limited time and staff, competition for attention, and evolving user preferences is possible by implementing the five strategies outlined in this post.
For more time-saving tips and best practices, watch our recent webinar with AIIM's former CMO and Sidecar, Work Smarter, Not Harder: How to Scale Your Association's Marketing and Sales Efforts with Less, on-demand here.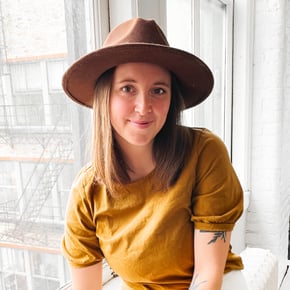 Ashley Dulaney
Ashley is the director of marketing and communications at Ready North and is passionate about storytelling. In her free time, she enjoys hiking, trail running, cross-country skiing, and camping in the wild Adirondack Park with her two dogs.