HubSpot's lifecycle stages help you to categorize your contacts and companies based on where they are in your marketing and sales processes. For associations, lifecycle stages can paint a clear picture of where your contacts are in their journey to becoming a member.
With the right strategy, lifecycle stages can also be used to generate more members.
Continue reading for ways to leverage lifecycle stages to improve your marketing and recruitment efforts.
Define Your Lifecycle Stages
Before you can use lifecycle stages in HubSpot, it's critical to first understand the different default stages and define them as they relate to your specific association.
"Deciding on the definition of each stage together can do wonders for getting leads from marketing to sales faster, and aligning on what a 'quality' lead looks like for the business! A little strategy at the front end can go a really long way!" — Shane Wiley, HubSpot GTM Enablement Facilitator
Here's a quick breakdown of each default lifecycle stage and how you might choose to define them within your organization.
>> If you've already defined the lifecycle stages in your portal, skip to here.
Lead
A Lead is a contact or company who has converted on your website or through some other interaction with your organization beyond a subscription sign-up.
Oftentimes, organizations will set Lead as the default stage for any new contact or company entering their portal. Any qualifying actions taken after that point will move the Lead on to another lifecycle stage.
Subscriber
A Subscriber is someone who has opted in to hear more from you by signing up for your blog or newsletter. This is often done through a form on your site.
Marketing Qualified Lead (MQL)
A Marketing Qualified Lead, or MQL, is a lead that the marketing team has deemed more likely to become a member compared to others. Associations may mark contacts as MQLs after they've downloaded a piece of content, like an ebook or whitepaper, frequently engaged on their forum, or registered for an event, such as a webinar.
Sales Qualified Lead (SQL)
A Sales Qualified Lead, or SQL, is a lead who is ready to become a member of your association. Normally, contacts are marked as SQLs once they've filled out a contact form or reached out to someone on your team for membership information.
Opportunity
An Opportunity is a contact or company that is associated with a potential or confirmed deal in your HubSpot portal.
Customer
A Customer is a contact or company with at least one closed-won deal in your HubSpot portal. Tip: You may want to rename this lifecycle stage to "Member" if appropriate for your association.
Evangelist
An Evangelist is a member who has advocated for your organization. Evangelists are typically loyal members of your association who are likely to refer other members, with or without an incentive.
Other
The Other lifecycle stage is used to categorize a contact or company that does not fit into any of the above categories. Oftentimes, contacts marked as Other would be partner associations or vendors that will never become a member of your association.
Nurture Contacts With the Right Messaging
Once your contacts are categorized in the appropriate lifecycle stage, you can enroll them into different nurturing workflows that include emails geared toward those contacts' unique interests and goals.
For example, brand-new Leads or Subscribers likely don't know a lot about your association. Consider enrolling them in a workflow that sends top-of-the-funnel content, like blogs and checklists. The goal of this workflow would be for these contacts to become MQLs by downloading a larger piece of content or registering for an event.

Contacts who are already labeled as an MQL (aka event registrants and attendees or ebook downloaders) should be enrolled in a separate workflow to receive more bottom-of-the-funnel messages, like member success stories and top benefits of becoming a member of your association. The goal of this workflow would be for these contacts to reach out to someone on your team and/or become a member.

Prioritize Direct Mail Efforts
Direct mail can be a costly, but effective way to recruit members to your association. If you have contacts' addresses in your portal, consider sending direct mail only to contacts who are most likely to become members. With lifecycle stages set up, you should be able to easily create a list of the marketing qualified and sales qualified leads before sending. This smarter approach to direct mail saves you money and should yield a higher return on your investment.
Create a Referral Program
One of the most effective ways to boost membership is through referrals from existing members. Use the Evangelist lifecycle stage to mark any members who are actively involved in your association and would be more likely to refer others. Then, reach out to these individuals, encouraging them to participate in your referral program. You could also offer an incentive for those who successfully recruit new members.
Optimize Your Website To Drive New Memberships
Website visitors discover your site at all different stages of their membership journey, and your site's content should reflect this.
With HubSpot smart content and smart calls-to-action (CTAs), you can personalize the messaging that appears to users based on their lifecycle stage. Here's how it works:
Create a new smart block of text or CTA button.
Set the rules to show different messages based on the contact's lifecycle stage.
Draft unique messages that make sense for each lifecycle stage.
Draft a default message that will show to any unknown visitors. Monitor any change in site conversion rates (newsletter subscriptions, membership signups, etc.)
When drafting messages for each lifecycle stage, consider what actions they've already taken to be in that stage and which action you want them to take next. For example, a Subscriber has already signed up for your newsletter, so the next logical message may be for them to download your ebook or sign up for your next webinar.
Send Membership Renewal Reminders to the Right Contacts
If you aren't already tracking existing members in your HubSpot portal, the Customer lifecycle stage can be enormously helpful. Use a workflow or form settings to automatically mark members as the Customer lifecycle stage (or the Member stage, if you rename it). Then, use automation to remind members of their upcoming membership renewals via email.
Plan New Content and Events
HubSpot's analytics tools and custom reports give you a behind-the-scenes look at what's working and what's not. When planning new marketing initiatives, take a look at which channels are driving the most qualified leads for your association. In the example below, we can see that the majority of MQLs, SQLs, and Opportunities come from Organic Search and Paid Search. With this information, it would be smart to allocate future resources to activities like blogging or paid ad campaigns.

Source: Cleveland HubSpot User Group (HUG) presentation
You can also use reports to identify gaps in your existing efforts. In the example below, there are a significant number of MQLs, but few SQLs. In other words, contacts have downloaded larger pieces of content or attended events, but aren't reaching out to your team to become a member. Why is that? Perhaps you need better or more nurturing messages to your MQLs, or your larger marketing assets aren't attracting quality potential members.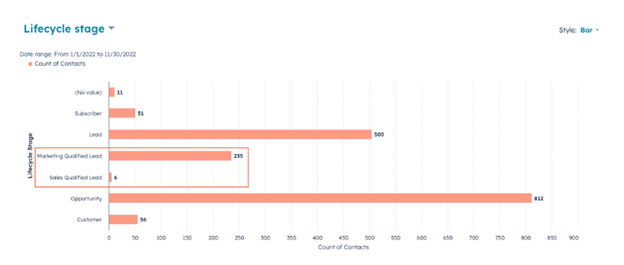 Source: Cleveland HubSpot User Group (HUG) presentation
Need Help With Your HubSpot Portal?
As HubSpot's first partner agency, Ready North has worked with associations to onboard, optimize, and strategically manage their HubSpot portals for comprehensive marketing campaigns, sophisticated potential member handoffs, and full-circle CRM tracking. Looking for something similar? Reach out to get started!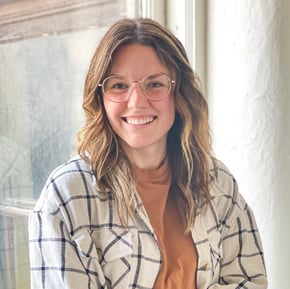 Madison Filipiak
Madison Filipiak is a senior consultant at Ready North. She joined the agency in January 2021 with a background in content marketing. Madison is a 2018 graduate of the University of Mount Union, where she earned her degree in marketing and communications.