Would you believe us if we told you that nearly one in ten people who make it to a landing page become potential customers or leads? Well, you should!
If you are looking for an effective lead conversion tool, landing pages will be your best friend.
This post explores what a landing page is, what it's used for, and the most significant benefits of implementing landing pages across your site. Let's dive in.
First, what is a landing page?
According to HubSpot, a landing page is a specific page on your website where you collect a visitor's contact information in exchange for a resource, like an ebook or guide. Its primary purpose is to drive conversions and turn prospects into customers.
You can think of a landing page as the catcher in a baseball game—it's there to catch the traffic your marketing team is pitching to your targeted audiences. This is why creating a landing page with content specific to the traffic it will collect is so essential.
Below is an example of one of Ready North's landing pages that includes all the necessary elements to help drive conversions. These elements include:
An attention-grabbing headline.

Creative body copy that explains what the offering is.

A sneak peek into what visitors will get when they fill out the form.

A call to action (e.g., download, sign up, subscribe).
When you implement all of the above into your landing page, you're making the conversion path for a visitor simpler. To increase your chances of a visitor "landing" on your landing page, you will want to incorporate calls to action throughout your website—for example, CTA buttons or pop-up forms.
🔥 Hot Tip: If you use a marketing automation tool like HubSpot, you'll be able to see which offer a new lead converted on, when they converted, and what other interactions they've had on your site. This information allows you to nurture this lead in a more targeted way by helping you decide which marketing actions are best.
What is the purpose of a landing page?
Research shows that approximately 68% of B2B businesses use landing pages to generate leads for future conversion. And according to HubSpot, that's the primary purpose of a landing page.
The goal of a landing page is to convert and build a database of leads that can be nurtured with more personalized marketing campaigns. There are several different types of marketing campaigns that can benefit from a landing page, including:
Ebooks or whitepapers
Email newsletter subscriptions
Online course enrollment
Event registration
Free trial
Community membership
App download
There are endless possibilities and benefits when it comes to landing pages. Outside of its main purpose of increasing conversions, landing pages can:
Grow your email subscriber list.
Add context to your offer.
Build your buyer personas.
Increase brand value.
Help make a good first impression.
Tips For Creating High-Performing Landing Pages
If you've never created a landing page, we outline a few best practices to help you get started below.
Use only one call-to-action (CTA). Your landing page should be optimized for one goal. Too many CTAs or links to other pages may distract the visitor from the main goal—downloading, signing up, or subscribing.
Make your CTA button appealing. The design of your CTA buttons should excite and encourage viewers to take action. Consider using one of your brand's side colors to make it stand out from the landing page background and ensure it's not too big or too small.
Implement your keyword research. As you draft copy for your landing page, ensure you're optimizing for the right keywords so your offer shows up in visitor's searches.
Provide social proof. Tapping into someone's FOMO (fear of missing out) is a powerful persuasion tool. Add testimonials and reviews from other users to your landing page to boost conversions.
If you're interested in more ways you can increase conversions on your website, subscribe to our blog, which delivers actionable marketing tips and best practices directly to your inbox.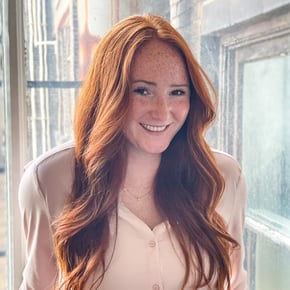 Macy Kittelberger
Macy Kittelberger is an associate consultant at Ready North. She joined the agency in January 2021 with a background in public relations and marketing. Macy graduated magna cum laude in May 2020 from Kent State University with her Bachelor of Science degree.