Most marketing teams have the same goal in mind: Generate interested and qualified leads to hand off to sales.
The idea of it sounds simple. But what's more challenging is actually getting those anonymous website visitors to raise their hands and fork over their coveted contact information.
That's where a smart, targeted lead generation campaign comes in.
Lead Generation Defined
If you do a quick Google search around "lead generation," you won't be left without ideas. You might also notice there are often two schools of thought around lead generation:
Outbound lead generation, which is generally a way of finding and contacting leads directly through tactics like cold calls or direct mail.

And inbound lead generation, or attracting leads via a variety of marketing offers and smart,

targeted nurturing

.
In this resource, we'll talk about inbound lead generation.
HubSpot does a great job of explaining why inbound lead generation works:
"It's a way of warming up potential customers to your business and getting them on the path to eventually making a purchase… When a stranger initiates a relationship with you by showing an organic interest in your business, the transition from stranger to customer is much more natural."
Inbound lead generation doesn't necessarily replace traditional outbound methods. Many businesses use inbound in tandem with traditional outbound strategies, and might even use marketing assets created for inbound for sales reps to use as "hooks" when doing cold calling or emailing.
How Does Inbound Lead Generation Work?
You might hear a lead generation asset defined as a "lead magnet" or a "hook." Either way, think of a lead generator as a resource that a lead raises their hand to receive to help them in their buying journey.
The process of gaining the lead usually looks like this:
A lead magnet is gated behind a form (i.e., the resource cannot be accessed without filling out a form).

A lead finds the gated form that is housed on a

landing page

.

The lead fills out the form, which generally asks for basic contact information like name and email, and perhaps some supplementary questions about their industry, job title, etc.

Once the form is submitted, you've generated a lead. The lead gets access to the helpful lead magnet in exchange for entering basic contact info.

You now have information to continue nurturing that new lead into a sales opportunity or customer. And with the information they gave you, you can better personalize ongoing communications.
Lead generation assets can be created for any stage of the buyer's journey. A lead is generally anyone who expressly displays interest in a company, meaning a lead generation campaign can drum up marketing qualified leads in the middle of the funnel, or even sales-qualified leads or opportunities at the bottom of the funnel.
Inbound Lead Generation Asset Examples
So we've talked about what inbound lead generation is and why it's important. Now, let's dive into what exactly these assets are that will generate said leads.
1. Resource downloads
One of the most traditional lead generation assets is a downloadable resource, in the form of an ebook, guide, whitepaper, or one-sheeter. These assets can be created to target vertical markets, specific product / service lines, or personas. Downloadable assets are often static PDFs, but can also be built on an interactive content experience platform like Ion Interactive, which allows users to incorporate dynamic elements (think: polls or quizzes, dynamic graphics, clickable elements).
When creating a downloadable asset, consider the following questions to help you pinpoint the theme and resource type:
What are my target personas' top pain points?

What challenges are target markets facing that my product / service solves?

What content do I already have that could be repackaged into a downloadable asset?
❗️Example asset: For inspiration, download our ebook 15 Proven Marketing Strategies for Manufacturers To Win New Customers. This is an example of a vertical market downloadable asset—and even if you're not in the manufacturing space, we're willing to bet you'll still find valuable insights.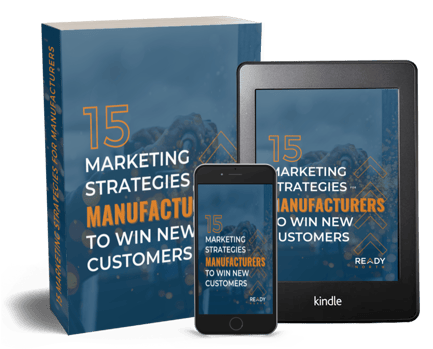 2. Webinars
A webinar is a double whammy when it comes to lead generation. First, you can generate leads during a live event through event registration. Then, you can use a recorded, on-demand version as a lead generation asset long after the live event wraps.
When thinking through the topic of a webinar, consider:
What service / product line is our top sales focus right now?

What questions are prospects asking our sales team around our top service / product line?

What are internet users searching most often around your products / services?

Could we partner with a service / tech provider that has a similar audience?
❗️Example asset: Check out how Ready North joined forces with a partner with a similar audience to present: How To Establish a Full-Funnel Marketing Approach With an Established ERP.

3. ROI calculator
How often do you hear in the sales process, "What results can I expect?" If your sales reps are hearing it, then it's safe to assume qualified prospects online are searching for the same answer. The ability to quantify the ROI to prospects can make the sales cycle easier and faster, and also set you apart from competitors (especially if you have higher ROI!).
It can be difficult to quantify your service or products ROI. Simplify by starting with a key differentiator:
Does your product increase internal efficiency?

Does your service eliminate downtime or better optimize team member resources?

Which metrics can you quantify that are important to your customers?
❗️Example asset: Ready North works with clients on or considering HubSpot. If you're currently vetting CRM or marketing automation solutions, make sure to use our HubSpot ROI calculator to see how your website users, conversion rates, leads, and overall return can skyrocket with HubSpot.
4. Survey
Surveys work in several ways:
They help you clean up a dormant or outdated database. Shoot your database a survey to help re-engage old contacts, and then pinpoint those who may be ready to delete to clean up your CRM.

Gain proprietary data based on survey responses. This data can then be used to generate an exclusive report as a downloadable, gated resource.
A good starting point for a survey theme might be around the state of your industry (ex: the state of a tech platform's usage). Then, after gaining survey responses, you can slice and dice your data to get a better understanding of the state of the industry to easily create that exclusive, proprietary report.
❗️Example asset: Check out HubSpot's annual State of Marketing Trends Report.

5. Assessments
An assessment is a great way to get your leads thinking critically about their needs, and then use that information to have a super-informed sales conversation. Keep in mind that assessments should always yield value at the end—and more value than just a simple conversation with a sales rep.
Consider the following when building out an assessment:
What are the top questions your sales team asks in every single prospect conversation?

What resources do you already have that you could map to a respondent's needs?

How can you train your sales team to utilize a lead's assessment to target their sales conversations better?
❗️Example asset: Our Marketing Score Assessment asks users to think critically about their current marketing program and rank it across several factors. Ultimately, they're given a personalized report with suggestions to improve their marketing strategy immediately.

Ready To Start Generating Inbound Leads….Immediately?
Ready North has worked with hundreds of companies across the manufacturing, professional services, and other industries to generate massive amounts of qualified leads that turn into customers using smart inbound marketing strategies.
Ready to start on your inbound lead generation journey? Reach out to see how we can help.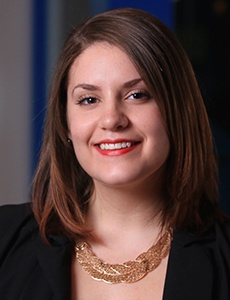 Shannen Laur
Shannen Laur is Ready North's director of growth and services. She joined the agency in December 2014 with a background in corporate communications and marketing. Shannen is a 2014 graduate of Kent State University's School of Journalism and Mass Communication.