What is a CTA? We'll start by sharing what it isn't. The CTA we are referring to is not a computed tomography angiography, otherwise known as a diagnostic technique in the medical industry. Instead, this clever acronym is short for "call to action."
As a marketer or business owner, CTAs play a vital role in your marketing strategy. CTAs should be sprinkled throughout your blogs, webpages, and social media posts like chocolate chips in a warm loaf of pumpkin bread—personal preference? Maybe. But we promise your marketing campaign will improve, just like that loaf of bread.
What is a CTA?
A call to action summons the reader to click a button, which sometimes leads to a new window, ultimately completing a task. The call to action you include in your web copy depends on the action you want your readers to take. So, for example, if my goal were to share another wildly helpful Ready North blog post, I'd ask you to click here.
See what I did there? Each action provides a specific purpose to support your marketing campaign. The best part about CTAs is that you can make them as creative as you wish.
Let's say you're hosting a free webinar and hope to get 50 registrations. To begin, your campaign call to action might be, "Save Me a Seat!" This phrase, paired with a button on your site, would prompt users to click and complete the registration form in the next window.
Or, maybe you've started blogging and want more people to subscribe to your monthly email. Instead of saying, "Sign Up For My Newsletter," you could say, "Keep Me in the Loop." Both accomplish the same task but adding a creative spin can help your company's personality shine through.
Here are a few everyday actions you may recognize:
Be the first to know
Get my free demo
Shop the look
Keep in mind that however you craft your call to action, it should be simple and effective. Try A/B testing your buttons to see which directive your users respond to better.
What different designs can a CTA have?
There are many different call-to-action staples that you can incorporate into your marketing campaign. Alongside being creative with your copy, you can also get creative with the execution. For instance, you could try an overlay technique that appears after a user begins scrolling on a webpage. A CTA that almost every online shopper has witnessed (and appreciates) is the coupon.
Today, when you visit Rothys.com, you're greeted with a large pop-up. "Happy Holidays!" it reads, followed by, "Enjoy a gift of $20 off." Now, as a shopper, you're feeling eager. So how do you take advantage of this generous gift? The following line reads, "Plus, we send really great emails." See the visual below.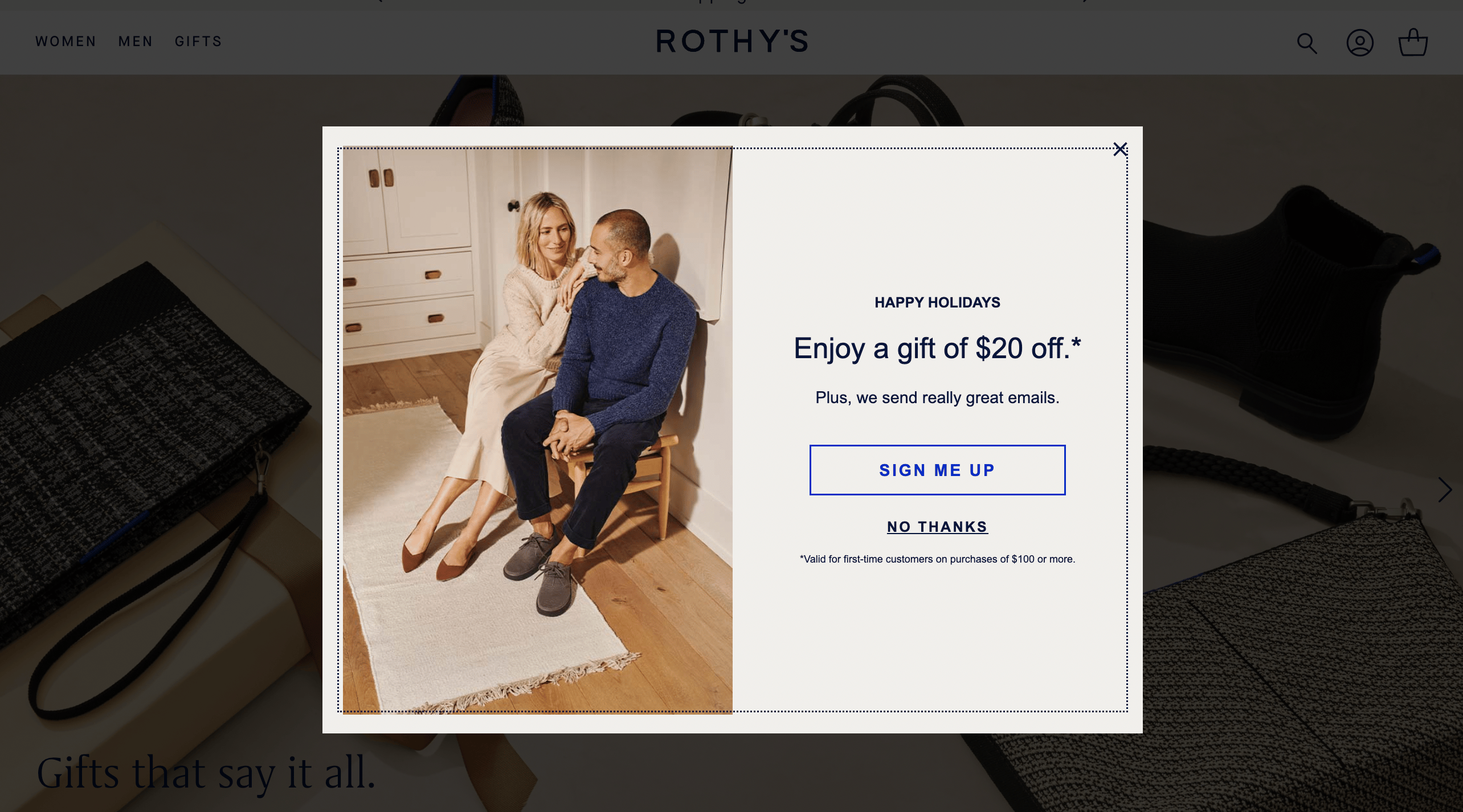 What you may not realize right off the bat is that the" SIGN ME UP" in big, bold letters is an excellent way of saying, "In exchange for this holiday coupon, you agree to receive our emails moving forward."
In addition to being disguised as a gift, some CTAs double dip on the action. Take, for example, Hulu. The streaming service is now paired with Disney+ and ESPN+. They offer you two options when you visit their site: "Sign Up for Hulu Only" or "Get the Disney Bundle." You have a choice: follow one call to action for the service you likely came here for, or follow their suggestion to upgrade to get the entire kit and kaboodle. Hence, the double dip: a sign-up and upsell—two birds, one stone!

How to Set Up a CTA
Now that you've got a feel for CTAs, it's time to put them to work. CTAs often take the form of a button to click, a visually appealing image, or a hyperlink within the copy. Because they are so universal, there are a handful of key places you'll want to incorporate your call to action.
Be sure to include them in the following:
Blogs
Email marketing
Social media posts
Lead generation campaigns with downloadable content
Ebooks and presentations
Webinars or videos
Your email signature
Online ads
Using CTAs will not only generate leads but will also make all of your hard work pay off. Every landing page you design, every social media post you craft, and every ebook you put together will work for you.
This all boils down to properly promoting the projects you work so tirelessly on! CTAs fall into the 80 percent portion of the 80/20 rule, which states that you should only spend 20 percent of your time creating content and the remaining 80 percent on promoting that content.
If crafting CTAs and implementing them within your marketing campaigns feels out of your wheelhouse, drop us a note— we'd be happy to support you!
Unlock Your Website's Full Potential
Does your website need to be optimized, but you're not sure where to start? Our team can help! Through our conversion rate optimization services, we'll work with you to identify why users aren't converting, why conversions have dropped, and solutions to fix the issue(s)—so that you can worry about securing more business.