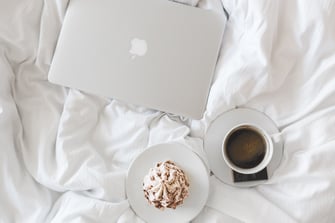 The marketing industry reached a tipping point in 2017.
New, artificially intelligent tools are working to make our campaigns smarter than ever before. Increased access to consumer data enables more contextual, relevant content. And, more and more manual tasks are being left to automation.
But, we are just scraping the surface of disruption to come.
In the words of ChiefMartec.com's Scott Brinker (@chiefmartec), "...the truth is that AI is already having a significant impact on marketing. And over the next several years, it will dramatically reshape the nature of business and marketing — no hype."
Before we push on into 2018, we'd like to take this time to reflect on the best of 2017—PR 20/20 style.
Below, we've curated our top 17 blog posts from 2017. We ranked posts in order of pageviews, and excluded any with an average time on page that fell below two minutes.
Cheers to our blog readers in 2017. Enjoy a bit of marketing know-how over a hot cocoa!
The Most Viewed Blog Posts of 2017
We hope these posts inspired your new and improved marketing strategy. Best of luck to you and your team in 2018!
Photo credit: Pexels

Sandie Young
Sandie Young started at the agency during the summer of 2012, with experience in magazine journalism and a passion for content marketing. Sandie is a graduate of Ohio University, with a Bachelor of Science from the E.W. Scripps School of Journalism. Full bio.