On Aug. 8, 2015, I put on a white dress and walked down the aisle to marry the man of my dreams.
It was wedding bliss! But it wasn't without a lot of planning, organization and preparing. For the 18 months leading up to the big day, we covered everything from flowers to cake flavors to changing my name.
It was all magazine photos and cake tastings until I realized what it really meant to change my name, both legally and digitally.
My husband was in full support of me changing or keeping my name. So I thought long and hard about it, and in the end, I decided to take his last name.
I was excited! I assumed I would get a new driver's license and Social Security card, change my name on Facebook, Twitter, Instagram and LinkedIn profiles, and I'd be all set, right?
Wrong. It's not as easy as you might think. And obviously your name—online and offline—is a big part of your personal brand.
I started to worry I'd have to recreate all the work I'd done over the years to establish my online identity. And to make things more interesting, I was also looking for a new job while planning a wedding and changing my name.
It was a little complicated, and there were definitely ups and downs along the way, but it all worked out.
Based on my own experiences, this post rounds up a channel-by-channel process for changing your name on Facebook, Twitter, Instagram and LinkedIn. I also offer up a few tips for applying to jobs with a new name.
How To Change Your Name on Social Media
Facebook
Log into Facebook and click "settings" on the dropdown menu located in the upper right corner of your profile.
Next, select "Name" under General Account Settings and update your name.
Caution: be sure to double check spelling and capitalization of your new name because Facebook won't let you change it for another 60 days.

You can also add other names—like your maiden name—in this section. This may help friends and family find your page while they get used to the change.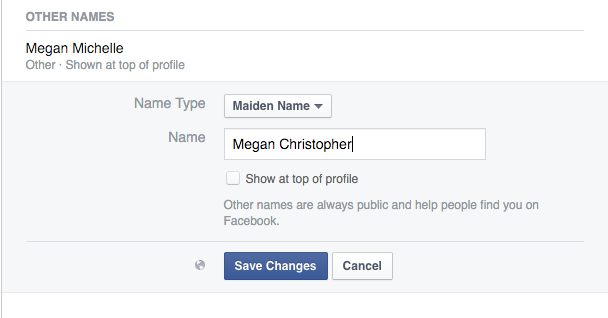 You'll also need to update your username. This updates the URL associated with your Facebook page

Here's what the changes will look like immediately after you hit save: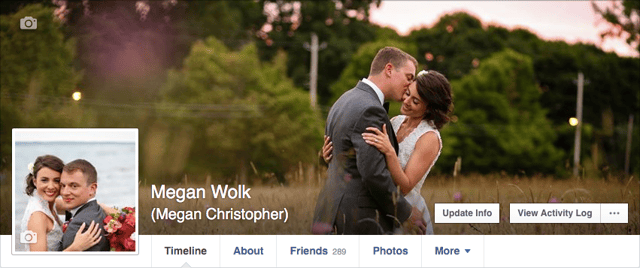 Twitter
To change your display name (the name associated with your account), simply log into your account, click "Edit Profile" on your profile home page and update your name.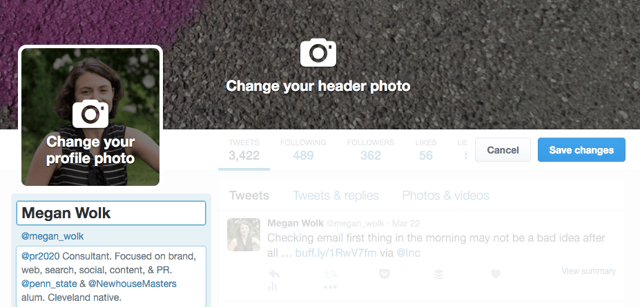 To change your username (also known as your handle) you have to be willing to give up your current username and URL. Depending on the user, this can be a big deal!
You will retain all followers, tweets, direct messages and other settings, but your username will be forever changed. And as soon as you change it, your old username becomes immediately available for someone else to take.
I wasn't too worried about this. At the time, I didn't have a big following on Twitter and my handle wasn't associated with much outside of the profile itself.
If you're looking for a way to update your username and keep the branding power associated with the original, check out how my colleague Tracy Lewis (@Tracy_J_Lewis) managed to do both >> My Online Journey into Married Life: Changing My Name on Social Profiles.
But, if you aren't worried about losing your original handle, click "settings" from the dropdown menu located in the upper right corner of your profile and update your handle with your married name.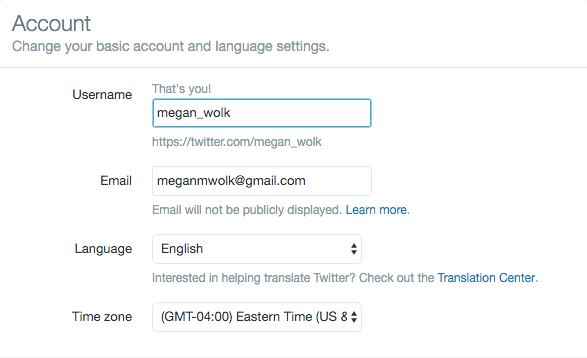 Instagram
Changing your name on Instagram is pretty easy. However, be aware that like Twitter, when you change your username you lose the original but retain all photos, followers and other profile settings.
Simply log into your profile, click "Edit Profile" and update both your name and username.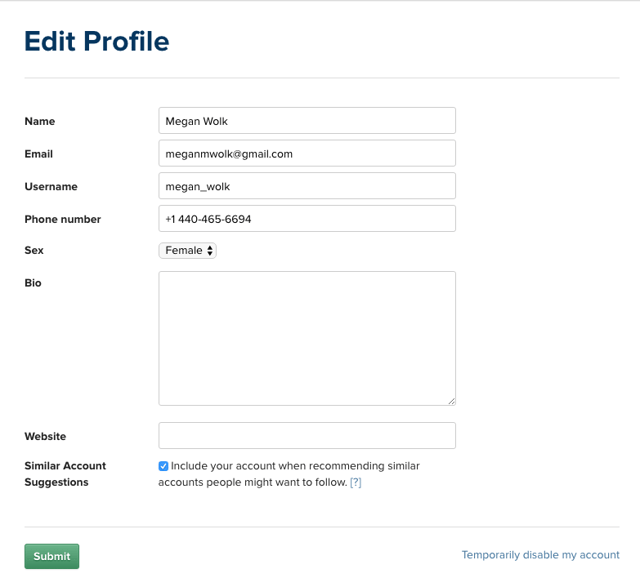 LinkedIn
Log into your account and select "Privacy & Settings" from the dropdown menu located in the upper right corner. Once there, click "Edit your name, location & industry." Then, update the last and maiden name sections. It's important to include your maiden name so that you still show up in searches for it within LinkedIn.

Note: Public profiles don't display the "Former Name" field. So your profile may not show up in searches on Google, Bing or other search engines.
You'll also need to edit your profile URL. To do this, select click "Edit your public profile " under the Settings section of "Privacy & Settings." In the upper right corner, you'll be able to select the edit (pencil) icon and update the URL to reflect your new name.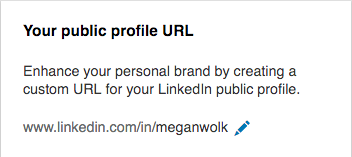 Bonus: Tips For Applying to Jobs with a New Name
Here are a few tips to follow online and offline when applying to jobs shortly after changing your name.
Make sure all social profiles and URLs are updated consistently with your new name.

We all have a number of social media profiles to keep track of and update in the event of a name change. When making changes, it's important to make sure they're as consistent as possible. This can be challenging, since certain usernames will be available on some is and unavailable on others. It gets even harder if you're new name is common, like Smith or Johnson. My advice: Choose a username that uses special characters (but don't get too crazy). For example,

@megan_wolk.
Have different versions of your resume.

A few weeks before I got married, I started to apply to jobs. (It sounds crazy, but we had a plan to move back to my hometown shortly after our wedding date, so I couldn't postpone my search.) Planning ahead, I created three versions of my resume—one with my maiden name, one with my married name, and one with both. This way, I was able to apply to jobs before, during and after my name change.

Let potential employers know about your recent name change.

If you recently changed your name, and know potential employers will be doing their due diligence on you, make their job a little easier by telling them you recently changed your name. Give them a list of your previous usernames so they know what to search.
There is so much to do when planning a wedding—from selecting flowers to signing the dotted line on your marriage license and everything in between. Be sure to pencil in time to change your name in all the necessary places.
Have you recently gotten married and changed (or kept) your name? I'd love to hear about your experiences or tips!
Photo credit: Clark+Walker Studio.