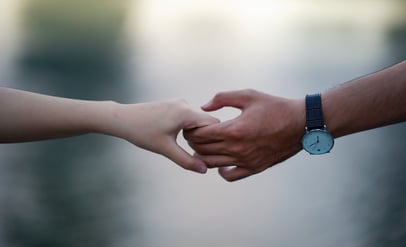 Editor's note: This post was originally published in 2011 and has been updated to be more current and comprehensive.
The goal of most marketing activities is to drive leads, which will convert to new customers and grow the business. To do this effectively, however, a deep integration between marketing and sales is needed, and it starts with shared information and processes.
While marketing and sales integration is seamless in a perfect world, the scary truth is that too many companies aren't there. In Kapost's B2B Marketing and Sales Alignment Benchmark report, it was uncovered that more than half of all marketing teams have no idea what content assets sales use most often— and within in sales, team members don't know what's used across their department. What's worse than the clear lack of visibility is that marketing and sales teams admit they don't meet together frequently, resulting in a loss of feedback and unused content.
So, are you ready to dive into a better relationship between marketing and sales? Below are three steps to ensure that marketing best supports the sales process and vise versa.
1. Get everybody on the same page.
In the wise words of HubSpot:
"Smart sales and marketing leaders know how important it is to collaborate with cross-functional teams. In a perfect world, the two teams would be working in tandem and complete harmony with one another."
If you haven't already, identify clear responsibilities, processes and goals to sync your marketing and sales efforts. To accomplish this, we recommend holding a meeting with key players from both marketing and sales to discuss:
What does your existing lead database look like? What customer relationship management (CRM) system is used, and how is lead information updated within it?
What are the core components of your marketing technology stack?
What does an ideal customer look like to you?
What is the standard or average length of buying process from first interest to close?
What current processes are in place to follow up with new leads? Can you walk us through the sales process?
How do customers find your company, or do you find them?
What drives initial conversations? What problems are buyers facing?
What are common questions and roadblocks that your buyers face at different stages of the sales cycle?
What language do prospects use to describe their challenges and possible solutions?
How qualified are existing and target leads?
At what point does a lead get turned over from marketing to sales? Will there be any overlap?
Do the marketing KPIs clearly affect the achievement of overall business goals?
Use the insight gained from these discussions to align lead-outreach efforts, determine messaging, establish common tracking and reporting systems, and identify areas for improvement in the marketing-sales handoff. By working together, you'll be better equipped to move interested, qualified leads through the sales funnel.
2. Align content marketing with the buying cycle.
Based on industry research and discussions with your sales team, marketing can create content for common stages that answers frequent questions along the buying cycle.
As HubSpot explains, prospective customers are entering the buying cycle at different points, and it's up to marketers to create the right content at the right time to funnel them towards a purchase.
For example, thought-leadership pieces on industry trends are often successful for creating awareness and bringing users into the sales funnel, while case studies or solution-specific content are better for leads toward the middle/bottom of the funnel. With the right content, you can guide prospects from initial touchpoint to close by giving them the exact information they need at each stage of the process.
Content distribution can be handled by marketing, sales or a combination thereof, depending on what makes the most sense for your organization and what marketing/sales software you have access to. Just be sure that both parties are aware of their responsibilities, and the actions of the other department to ensure a seamless, consistent experience for your leads.
3. Develop a process for shared data and reporting.
Another key way that marketing can arm its sales team is by providing lead intelligence gathered during the qualification stage. This includes everything from contact and demographic information, to areas of interest and level of engagement. Insight can be captured and tracked using marketing software and/or CRM systems.
Lead behaviors like form completions, content downloads, event attendance, viewed web pages and more can help the sales team get a clearer picture of each prospect's individual interests and challenges. As a result, sales is able to better tailor their conversations and prioritize follow up, spending time on the most qualified leads for more closes.
That being said, it's important to establish a process for sales to give marketing feedback as well. With insight into sales data—such as conversions, customer lifetime value, revenue generated and more—marketing can refine its strategies to continually deliver the most qualified leads.
Want more marketing and sales resources? Check out these posts:
Keep up with the latest industry trends.
Receive helpful marketing advice that moves your business forward by subscribing to our blog.
What steps have your marketing and sales teams taken to sync activities and drive leads through the buying process? Share your strategies below.