It's time to change the game.
You have a choice. Stick to the traditional, safe marketing strategies that you have always known, or employ the inbound marketing tools and strategies that are giving organizations the power and agility to overtake the competition.
If you'd like to go the conservative route, you can stop reading now. For the underdogs and innovators, now is your time. Introducing the Inbound Marketing GamePlan (click here to download the free PDF eBook).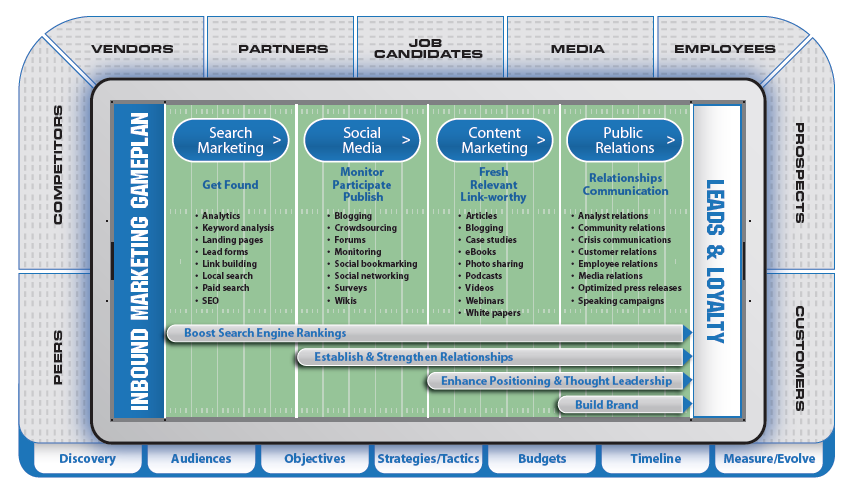 In early 2007, Brian Halligan and Dharmesh Shah, co-founders of HubSpot and authors of Inbound Marketing, set out to level the playing field. Their vision and business model have given organizations of all sizes the ability to grow smarter and faster by outthinking, not outspending, the competition.
Around that same time, David Meerman Scott published The New Rules of Marketing & PR, which remains highly relevant today as a revolutionary book for organizations stuck in traditional, outbound marketing activities. (EDITOR NOTE: The second edition of "New Rules" was released in paperback Jan. 12, 2010)
The work of Halligan, Shah and Meerman Scott, along with the collective knowledge of the social Web, have inspired us to build and publish the Inbound Marketing GamePlan.
The GamePlan follows a standard marketing-strategy methodology, but concentrates on shifting budgets and resources to more effective and measurable inbound marketing strategies.
Our hope is that this eBook serves as a resource for organizations of all sizes to take a more strategic approach to marketing, and tap into the full potential of inbound marketing to connect with all relevant audiences, generate leads and build loyalty.
The GamePlan in Action
STEP 1: Clearly define and differentiate your brand.
STEP 2: Design and deploy a content-driven Website.
STEP 3: Go beyond prospects, and consider the impact of your inbound marketing efforts on all audiences.
STEP 4: Establish measurable and meaningful campaign objectives designed to achieve the primary goals of leads and loyalty.
STEP 5: Build an integrated campaign fueled by the four core inbound marketing strategies: Search Marketing, Social Media, Content Marketing and Public Relations. The success of each strategy creates momentum that drives your organization forward.
STEP 6: Establish dynamic budgets that can be easily shifted based on campaign performance and analytics.
STEP 7: Define campaign timelines with milestones, tasks and responsibilities.
STEP 8: Measure everything, and be willing to adapt and evolve.
It's Time . . .
The social Web and inbound marketing have leveled the playing field. Underdogs and innovators now have the power to grow faster and smarter than their competitors. They have the ability to control their destiny.
Don't be afraid to completely evolve what you have spent years building. Listen to the markets, adapt to demand and move where others aren't willing or able to go.
It's time to differentiate your brand and build a powerful, lead-generating Website.
It's time to consider the needs and goals of all audiences and connect with them in more meaningful and personal ways.
It's time to stop hiding behind arbitrary measurements, and start building integrated marketing campaigns around metrics that directly affect the bottom line.
It's time to stop paying for placement and start publishing relevant, link-worthy content.
It's time to participate and bring real value to online communities.
It's time to set dynamic, performance-based budgets that constantly shift and adapt based on analytics, consumer behavior and market forces.
It's time to tap into the endless resources of the social Web.
It's time to "get found" when audiences are searching for knowledge, products and services.
It's time to generate leads and build loyalty.
It's time to look beyond traditional wisdom and conventional solutions.
It's time to innovate and lead.
It's time to build and activate your Inbound Marketing GamePlan (click here to download the free PDF eBook).
Inbound Marketing GamePlan eBook Table of Contents

Chapter 1> Intro: The Shift to Inbound Marketing
Chapter 2> Discovery: Define, Differentiate & Design
Chapter 3> Audiences: Segment & Prioritize
Chapter 4> Objectives: Set Your Success Factors
Chapter 5> Strategies & Tactics: Take an Integrated Approach
Chapter 6> Budgets: Calculate Time & Money Investments
Chapter 7> Timeline: Track Activities & Milestones
Chapter 8> Measure & Evolve: Use Analytics to Adapt
Chapter 9> Resource Center: Tap into the Social Web
Chapter 10> The Beginning: Look Beyond
Your Feedback
We welcome your feedback, and encourage you to share this eBook with any professionals and communities that you believe may benefit from its content and resources.
Thank You!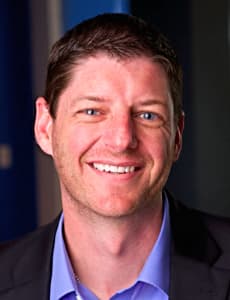 Paul Roetzer
Paul Roetzer is Ready North's (formerly PR 20/20) founder and senior advisor, as well as the founder and CEO of Marketing AI Institute. He is the author of Marketing Artificial Intelligence (Matt Holt Books, 2022) The Marketing Performance Blueprint (Wiley, 2014), and The Marketing Agency Blueprint (Wiley, 2012); and the creator of the Marketing AI Conference (MAICON). Full bio.