Editor's note: This post was originally published in 2015 and has been updated to be more current and comprehensive.
"High performers differentiate by doing, not planning. Do your homework, put strategies in place, and then start testing and revising."
— The Marketing Performance Blueprint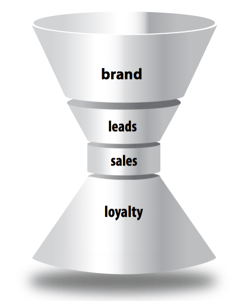 Consider this scenario . . .
A B2B SaaS company with $10M in funding and aggressive growth goals is struggling to meet lead generation targets. The CMO fears they're going to fall short of Q4 goals.
The marketing team is blogging 2x per week, and producing a high-quality ebook with an accompanying webinar each month. But, not enough people are organically finding the content.
What do they do?
Do they need a paid media strategy?
Are there opportunities to amplify the content via earned media with bloggers, journalists and analysts?
Should they hire an agency and double down on number of blogs posts?
Maybe. Maybe. And maybe.
The Universal Marketing Performance Struggle
While this example is specific to a SaaS company, the struggle is universal. As I wrote in The Marketing Performance Blueprint:
"The future of your business and your marketing career depend on your ability to meet increasing ROI demands and continually adapt to new marketing tools, philosophies, and channels. But the rate of change in the marketing industry is accelerating, and the challenges for marketers seem to be multiplying."
There have never been more choices for marketers. There has never been more noise. There has never been more demand for performance.
And yet, there has never been a better time to be a marketer.
Everyone faces the same obstacles. Competitive advantage belongs to marketers and brands that can plan faster, experiment more efficiently and adapt constantly to accelerate success.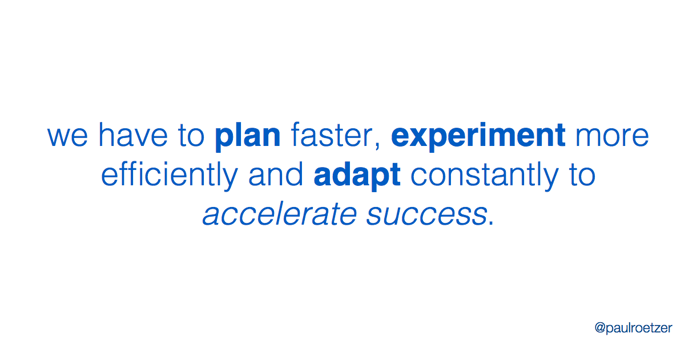 Introducing the Marketing Growth Hackathon

TM
Computer programmers hold hackathons to quickly build and improve software, so why can't marketers do the same to unlock potential and drive performance?
The Marketing Growth Hackathon is a strategic planning model I first presented at INBOUND 2015. The hackathon concept was born from three simple questions:
What if we could accelerate success?
What if we could transform marketing performance in 30, 60, 90 days?
What if we could spend less time planning, and more time doing?
We define a marketing hackathon as an interactive event in which marketers, executives and/or entrepreneurs come together to solve business growth challenges.
Hackathons are designed to be executed as workshops in as little as one hour, and ideally no longer than a full day. The key is to gather a group of creative people with shared interests who want to collaborate, and learn from each other (e.g. internal marketing team, executive team, chamber of commerce, trade organizations, non-profit boards).
The idea is to take one SMART goal (e.g. generate 100 sales qualified leads in Q4) and come away from the workshop with a minimum of three campaign ideas that can be activated within 30 days and fully executed within 90 days.
SMART goals are:
Specific: Clearly establishes what is to be achieved.
Measurable: Quantifiable, and a strong indicator of progress.
Attainable: Realistic given your foundation, reach, resources and potential.
Relevant: Connect to achievement of overall business goals.
Timely: Has a target date.
Want to host your own hackathon? Watch our free webinar on-demand, which features the step-by-step approach to plan faster and experiment more.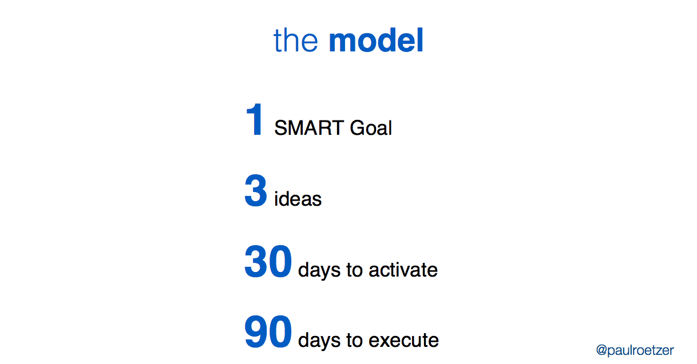 >>>Related resource: Learn why a Marketing Growth Hackathon precedes strong strategy creation.
The 6-Step Marketing Planning Process
Hackathons follow a simple six-step planning process:
Establish a SMART goal. (pre-event)
Define and segment audiences. (pre-event)
Profile personas. (pre-event)
Catalog accelerators. (pre-event)
Establish milestones. (pre-event)
Construct a campaign sandbox. (event)
Pre-event, the hackathon leader defines the SMART goal that will guide planning, and completes audience, persona, accelerator and milestone worksheets. Download the hackathon worksheet templates (Excel file) to get started.
>>>Related resource: 6 Steps to Prepare for Your First Marketing Growth Hackathon
How It Works: Event Day
Event Day (Based on a 4-5 hour workshop)
Intro: hackathon leader presents the SMART goal and provides an overview of audiences, personas, accelerators and milestones. (30 minutes)
Breakout: participants split in small groups to brainstorm ideas. (30 minutes)
Collaboration: the full event team comes back together to share and debate ideas. (60 minutes)
Vetting: in-depth discussions to vet A-list campaign concepts, including preliminary scoping with time and budget (2 - 3 hours)
Activation: the highest-rated ideas are moved into planning stages.
A key differentiator to the model from traditional brainstorms is that every campaign concept is identified visually as paid, owned, earned or integrated; and then rated (1-5) and charted based on two variables:
Ability to Execute (ATE): Ability to execute on a campaign concept based on the available tech, team, time and budget.
Impact Probability Rating (IPR): The probability that the campaign concept will impact the organization's ability to reach its goal.
In essence, hackathons provide the framework and focus to help organizations prioritize their goals, and put measurable and realistic (within their available resource limits) activities in place that have the greatest probability of impacting their businesses in the next three months.
Our free webinar is available on-demand, "How to Hold a Marketing Growth Hackathon."
Below, visually walk through the hackathon process, starting with color-coated sticky notes, which differentiate ideas by paid, earned, owned and integrated.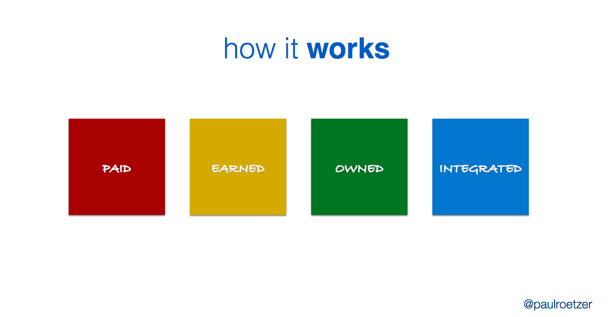 Next, ideas are charted based on ability to execute and impact probability rating, all on a scale of 1 to 5 (lowest to highest).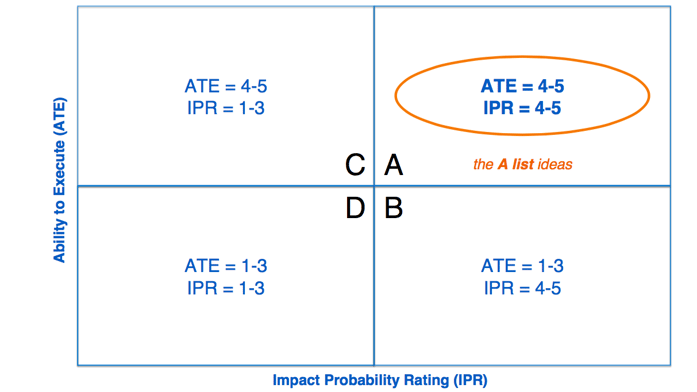 After ideas have been assigned the appropriate rating, they are placed in the corresponding quadrant and vetted by the team.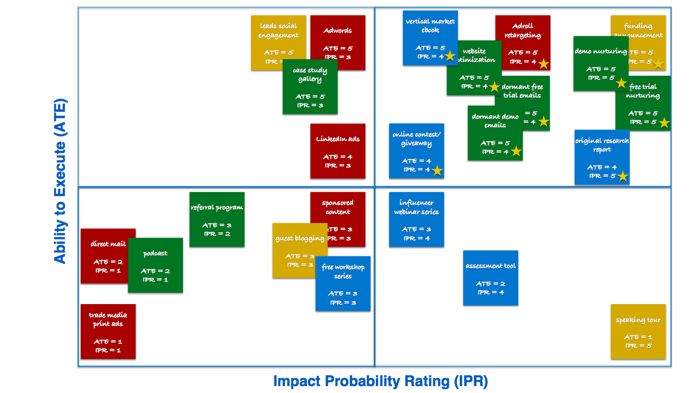 Your end result: Ideas with the highest ATE and IPR make your hackathon A-list.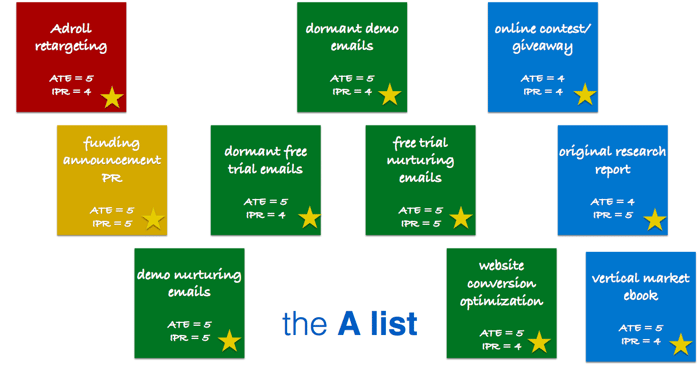 It's 2020 Marketing Planning Season
Supplement your 2020 planning with a Marketing Growth Hackathon. You can get started by downloading the hackathon worksheet templates here. Or, learn how you can team up with PR 20/20 consultants to accelerate your 2020 performance.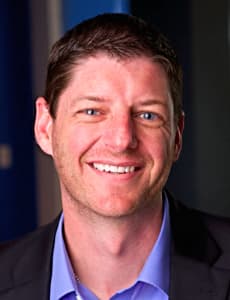 Paul Roetzer
Paul Roetzer is Ready North's (formerly PR 20/20) founder and senior advisor, as well as the founder and CEO of Marketing AI Institute. He is the author of Marketing Artificial Intelligence (Matt Holt Books, 2022) The Marketing Performance Blueprint (Wiley, 2014), and The Marketing Agency Blueprint (Wiley, 2012); and the creator of the Marketing AI Conference (MAICON). Full bio.