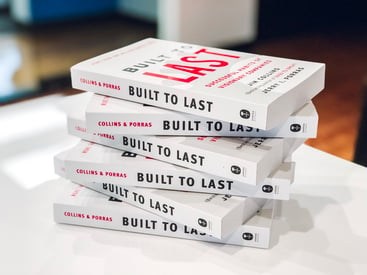 Editor's Note: The Book Clubbin' series recaps business and marketing related books read by the PR 20/20 team each quarter as part of the agency book club. This series will highlight key takeaways and top tips directly from each book club book.
All businesses want to succeed and sustain themselves for many years to come. But, what makes a business grow from a startup to an enterprise success story?
Marketers play a vital role in this journey by bringing in new leads and nurturing them into customers, which in turn helps expand a business over time.
For our most recent book club, the PR 20/20 team read Built to Last: Successful Habits of Visionary Companies by Jim Collins (@level5leaders) and Jerry I. Porras. Throughout the book, our team learned how marketers can utilize tips from visionary companies like 3M (@3M), IBM (@IBM), Ford (@Ford) and more, and apply them to our own companies to help grow leads, customers and overall business.
Below, you'll find key takeaways from Collins and Porras that marketers can use to set their company up for greatness.
1. Learn the criteria for visionary companies.
What makes a visionary company a true visionary? While all companies have their own unique way of conducting business, there are some commonalities shared between front-runners that marketers should not ignore.
In the book, Collins and Porras encourage readers to think of five to 10 companies that meet the below criteria list:
Premier institution in its industry
Widely admired by knowledgeable businesspeople
Made an indelible imprint on the world in which we live
Had multiple generations of chief executives
Been through multiple product (or service) life cycles
Founded before 1950
When creating your list, think of why these companies have found the success they have today—especially from a marketing standpoint. What campaigns have they run that made them a household name? How have they differentiated themselves from the competition using the freshest marketing tactics or utilizing top-notch technology? You may start to notice that these companies have become not only business thought leaders but also marketing visionaries.
2. Debunk myths.
Everyone wants to know what the secret ingredient is to creating a successful company. But, how many know how to make this become a reality?
First, marketers must understand what is and isn't true about building and sustaining a successful company. Having in-depth knowledge about your own company's success story can help fuel marketing campaigns that truly highlight what your company has to offer and how it differentiates from competitors.
According to the authors, these are some of the top myths that should be kicked to the curb:
One great idea starts a company. Visionary companies are built on much more than a "great idea" and often take awhile before they take off. The same can be said about the most successful marketing campaigns, too.
Charismatic leaders are the key to company success. This characteristic is not a requirement of a visionary leader, and often high-profile leaders shy away from this trait.
Successful companies exist only to create profits. Successful companies often focus on a dominant force or driving object, that in turn, fuel profits and success.
Change is the only way to succeed. Instead of change being the constant, successful business must preserve their original ideology, straying away from major change.
Companies should solely focus on beating their competition. Instead, companies should focus on beating themselves.
3. Create a core ideology.
What is your company and what does it stand for? As a marketer, these answers should come easily to you, especially as you add these types of tidbits to your website or other marketing collateral related to your company's vision, mission statement or brand story.
What your company believes in and what it is trying to accomplish sets the foundation, also known as your core ideology.
A company's ideology should be built to withstand time and industry changes to easily adapt in the years to come. This concept is designed to hold your company together through thick and thin. Collins and Porras explain how your company's core ideology will fuel:
Core values, also known as general guiding principles.
Purpose, which is the company's fundamental reason for existing.
Marketers should live by their company's ideology every single day to distinguish between success factors and failure. By having a better understanding of your company as a whole, you can better market and tailor messaging to target potential prospects and build loyalty with current customers.
4. Avoid leadership gaps.
While successful leadership is not the only component of a thriving company, it's a key player in the game. Strong leaders that have individual and company goals in mind can help set their company up for success. However, this is not the only critical factor to keep in mind.
To truly fuel success at a company, the gap between management and team members must be closed. The authors focus on how businesses should create a "Leadership Continuity Loop." This concept consists of: management development and succession planning → strong internal candidates → continuity of leadership excellence from within → preserve the core /stimulate progress.
Once the chain has been completed, start from the beginning to keep the flow going.
Creating a good leader is not a one person show. Marketers should work together with individual team members to create a constant feedback loop and inspire open communication to fuel success. Learn how to to address setbacks or issues before they become full blown habits to drive happiness and a well-oiled workplace.
5. Never settle for anything less than great.
Even when your company is excelling, there is always room for growth and opportunity. As a marketer, never settle for just the goals you've set for your company. Whether it's goals around lead generation, website performance or marketing ROI, look beyond, and ask how you can do better every single day.
While it's important to celebrate wins, it's also critical to avoid complacency. Continue to build towards the future, not just the now. Work to stay ahead of your industry's curve through continuous education and professional development to sharpen and grow skills.
Fuel knowledge through the power of reading.
Each quarter, the PR 20/20 team reads a business and/or marketing-related book to keep up with the latest industry trends and spark creativity. Check out our most recent posts from the Book Clubbin' series to discover key takeaways from our selected books:
For even more marketing best practices and tips, subscribe to our blog. Be the first to know about the latest marketing news, tips and best practices.
Allison Melnik
Allison Melnik is a consultant at PR 20/20. She is a 2014 graduate of Kent State University with a concentration in organizational communications and public relations. Full bio.