I'm surrounded by smart people. Some would call them strategists. Some would call them visionaries. Every day, I'm inspired to learn from my colleagues, clients, industry peers … I learn a lot about life from my two-year-old son, too.
As an agency, I believe this power to strategize, collaborate, and bring visionary ideas to life is our core strength. It's part of our culture. And it's part of each person we work with. It's that power to look beyond that drives us—always forward.
And it's no accident that Look Beyond is our company tagline.
As a team, we've been talking about this strength and culture as we look to what really works well now, and what's next—for us and the industry. In trying to find that right phrase to express who we are, what we do, and who we work with, we landed on the idea of a change agent: a visionary who looks beyond, brings vision to life, and successfully champions ideas forward.
change agent
: a visionary who looks beyond, brings vision to life, and successfully champions ideas forward.
Last week, a few members of the PR 20/20 team headed to Boston for the annual INBOUND conference. There, two sessions really focused on being an agent of change. Some notes to inspire change agents below.
"I am a change maker."
-Beth Comstock
"I am a change maker. Someone who goes head first into what's new and what's next."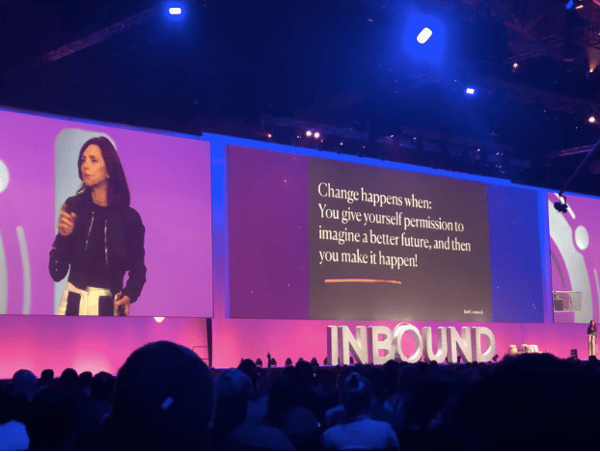 When Beth Comstock (@bethcomstock), former vice chair at GE who had led efforts to accelerate new growth and innovation at the company, kicked off her presentation with these words I knew it would resonate. And it did.
Beth inspired the audience with her observations on change — it's not linear; it's complex — and the fact that we're not ready for it. She called us out for operating like efficient, fine-tuned machines losing the creative ability to think beyond. And she challenged us to give ourselves permission. Permission to imagine, permission to explore and lean into our creative and our curiosity, and permission to act.
So how do we get there? How do we put it into play? Beth shared her three pillars, summarized below.
1. Permission.
How do we give ourselves permission?
Some of my favorite tips related to giving ourselves permission:
No = not yet. You'll face obstacles and gatekeepers, but don't let it stop you.

Keep a stack of "permission slips" on your desk, and ask,

what's a risk you're going to give yourself permission to take?

Sign that permission slip, and go for it.
2.
Discovery.

How do we make the world our classroom?

As a marketer, it's our job to live in the market and see where change is happening. Take your friends and colleagues with you as you go out into the world and make connections. Some of Beth's tips here:
If you see it three times, declare the trend.

Allocate time, people and budget across the now (70%), next (20%) and new (10%).

And always ask, what's your 10%?
3.
Action.

How do we take action — how do we make things happen?

"Vision doesn't matter unless it's acted on." And you can't delegate it, you have to take the lead. [This is huge!] More insights from Beth on taking action:
Action starts with a story. If you've got vision that you're putting into action, you've got to tell your story well—and often. Once you're sick of telling it, people are starting to understand.

"Edison was as much a storyteller, marketer and mission captain as he was an inventor."

Be open to feedback and criticism. Ask better questions, and learn something new. It's the only way your ideas will get better (or you'll realize failure earlier).

Experimentation is another form of feedback.
"Fight complacency to drive growth."
-Victor Milligan
How does today's CMO tackle change, and what exactly is a CMO's function any more? These are questions Victor Milligan (@vtmilligan), CMO at Forrester, discussed during his breakout session at INBOUND18.
In a nutshell, Victor notes that CMOs' roles have been expanding for a while now. What started as branding has evolved into data management, tech stacking, user experience, and more. The CMO of tomorrow will be different — "orchestrating employees, agencies, robots and experts served up by the gig economy."
Related to change, Victor urged the crowd to "stop talking change." Why? It's an overused word. It is normal. Disruption is normal.
It is change, disruption, and open thinking to the possibilities at hand that drive growth.
Change Agents Are Champions
In April of this year, a partner asked our team, who is your ideal client, and what do your favorite clients have in common? It was then that we solidified the idea that our best clients are champions. We call them change agents, too.
An excerpt from the Databox post:
They're pushing the envelope within their organizations, and they're looking for a partner to help bring their vision to life. Some of our best clients are inbound marketing champions within an enterprise. Together, we've piloted successful inbound campaigns, and we've championed that success throughout the entire organization to build buy-in and help others adopt similar strategies.

Champion clients think intentionally about our partnership, the strengths an agency brings to the table, and how to best match those strengths with their own internal resources. They ask good questions, are interested in the latest marketing trends and technologies, and they're continually helping push the partnership forward.
Change Agent Spotlight Series
This year, we've been telling the stories of change agents on our agency blog. These leaders are bringing new technologies, processes, and ideas to life within their organizations. They're on the ground making things happen and proving value along the way.
For change agent stories, check out the below articles (we'll keep adding new posts as they're published too):
Look Beyond: Give Yourself Permission
Like that idea from Beth on keeping a stack of permission slips on your desk? I did too. Feel free to use this template to print a few for yourself or your team.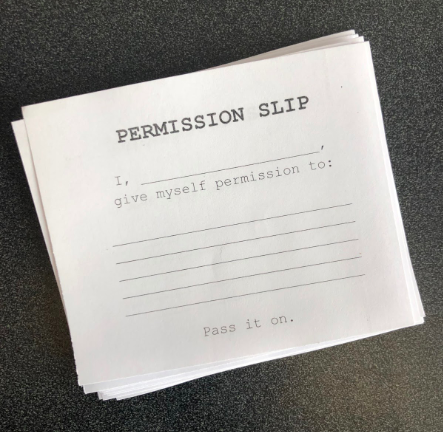 Ready to Become Your Organization's Change Agent and Champion?
Our goal is to educate and empower marketing change agents to advance their careers, and drive digital transformation and performance in their organizations.
 Subscribe to the PR 20/20 blog for useful, actionable content to get started on your journey.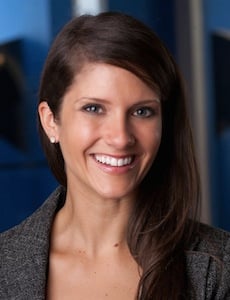 Jessica Miller
Jessica Miller is VP and managing director of PR 20/20, where she guides strategy and performance, and champions the ongoing pursuit of building a great marketing firm. For more than a decade, Jessica has built lasting partnerships that connect marketing strategy to bottom-line business outcomes. Jessica joined PR 20/20 in 2011 with global agency experience. She is a graduate of the E.W. Scripps School of Journalism at Ohio University. Full bio.