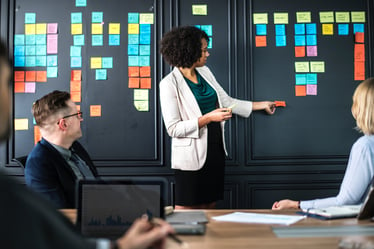 Behind every great marketing campaign is a documented strategy.
Sometimes you can simply start executing on tactics that sound promising and see what sticks; but most often, strategy is what drives real results.
According to Smart Insights, 49% still don't have a digital marketing strategy. Another poll from Inbound Method found that 75% don't have an inbound marketing strategy.
What makes this even more mind-boggling, though, is that we already know that strategy drives performance. A CoSchedule survey of more than 1,500 marketers found that, "Marketers who document strategy are 538% more likely to report success than those who don't." And there are countless other statistics that reveal similar findings.
So, if you're reading this and you're one of the marketers operating on "random actions of marketing," this post is for you.
Why the Marketing Growth Hackathon™?
Before you sit down at a blank screen to strategize, consider what steps precede creation. The Marketing Growth Hackathon offers a simple planning model born from these three questions:
What if we could accelerate success?

What if we could transform marketing performance in 30, 60, 90 days?

What if we could spend less time planning, and more time doing?
We define a Marketing Growth Hackathon as an interactive event in which marketers, executives and/or entrepreneurs come together to solve business growth challenges. Hackathons are designed to be executed as workshops in as little as one hour, and ideally no longer than a full day.
Pre-event, the hackathon leader defines the SMART goal that will guide planning, and completes audience, persona, accelerator and milestone worksheets (all included in the workbook). You can download the hackathon worksheet templates (Excel file) to start working on your own.
If you're not familiar with the concept, read The Marketing Growth Hackathon: Spend Less Time Planning, More Time Doing for more details.
Bottom line: It creates a framework for you to approach strategy without feeling directionless.
Read on for four outcomes to expect after executing a hackathon with your team.
1. It forces you to set purposeful goals.
A successful hackathon hinges on precise goal setting.
In fact, so precise that we recommend zeroing in on one. The hackathon model solves for one SMART goal (i.e. smart, measurable, attainable, relevant and timely).
You obviously have a number of objectives and numbers you need to hit, but choosing one goal allows you to focus on what's truly critical to business success.
An example SMART goal: Earn 150 marketing qualified leads in Q1.
This ensures all ideas generated are working toward the same common goal. It's a simple concept, but if skipped, can unravel the productivity of any brainstorm.
Related Read >> How to Set Performance-Driven Marketing Goals [Tips from Top Marketing Minds]
2. It helps you to define the "who."
Before you can start dreaming up big ideas, you must have a firm understanding of who you will target.
The hackathon workbook structures your thought process around both audiences and buyer personas. For starters, create a list of existing audience segments within your database, including blog subscribers and social followers, among others. These contacts have already shown an interest in hearing what your brand has to say (take advantage of low hanging fruit before attacking more difficult opportunities!).
Next, consider questions and problems that your buyer will encounter. What really matters to them, and why should they care?
By laying a foundation for your brainstorm, ideas to come will be more deliberate.
3. It elicits outside perspective.
Your team might choose to do your own internal hackathon. Ensure you invite people from multiple internal teams who wouldn't typically work together. Others work with our team to host the hackathon as an interactive workshop. We've done workshops like these in a variety of settings with brands like JumpStart and at events like SXSW and Content Marketing World. The advantage of working with a third party—or new team members—is perspective.
When you're too close to the issue, it's often difficult to think outside of the box and come up with a new, inventive approach. Experts have even claimed (see Harvard Business Review), "...that innovation is more likely when people of different disciplines, backgrounds, and areas of expertise share their thinking."
The power of group brainstorming can revolutionize your thinking and change the future of your business. We've seen it happen.
4. It curates your team's brilliant ideas in one session.
Along the same lines of the previous point, determine which minds need to be present at your hackathon—both externally and internally.
Schedule at least two hours with your team and ensure everyone has had time to review your hackathon workbook in advance. During the hackathon, we break up into teams (usually of 4 - 5 people) and populate the idea sandbox with campaign tactics.
This is the time to think big: what could you execute if your marketing team had $5 million?
When the group comes back together, collaborate to decipher which ideas have potential.
Post-hackathon, your leadership team will be armed with an arsenal of tactics to build a strong overarching strategy—packed with original, thoughtful ideas.
Ready to host a Marketing Growth Hackathon?
Supplement your 2019 planning with a Marketing Growth Hackathon. You can get started by downloading the hackathon worksheet templates here.

Sandie Young
Sandie Young started at the agency during the summer of 2012, with experience in magazine journalism and a passion for content marketing. Sandie is a graduate of Ohio University, with a Bachelor of Science from the E.W. Scripps School of Journalism. Full bio.