Day one of HubSpot's annual INBOUND conference is nearly a wrap, and boy does it feel good to be back in the thick of conference szn*.
*I checked with a Gen Z-er on our team, and yes, people really do say that.
Every year, HubSpot brings together platform users, partners, and soon-to-be users to talk about the state of the CRM, product updates, and way more. Attendees get access to tons of amazing speakers and thought leaders, presenting on the top marketing trends and beyond. And I'd be remiss to not mention that 2021's featured speaker is THE Oprah Winfrey. 👑
It was clear on day one that the theme of this year's INBOUND was focused on customers. You know, the "C" in the acronym CRM?
"We're in the age of the customer."
"Your CRM should put the customer first in the design, not just the acronym."
— Really good quotes from Dharmesh Shah, HubSpot co-founder and CTO.
And HubSpot's product updates, debuted during day one, showed that the platform is continuously moving towards a customer-centric solution. A solution that is less disjointed for both the customer and the users. One that stops forcing customers into an old-school funnel, but rather, builds a flywheel experience around their needs.
With that in mind, check out our recap of HubSpot's customer-centric product updates below.
Customized CRM
Over the last few years, HubSpot has repositioned itself from a marketing automation solution to a true CRM platform. With that comes ample CRM platform advancements.
HubSpot's CRM capabilities are built around flexibility.
Some of the most noteworthy flexibility features include:
Business units

. Business units give users a better way to manage multiple brands across one portal. They simplify campaign management, encourage on-brand assets, and declutter marketing assets.

Association improvements

. Simply put: "Associations are connections between records in HubSpot." Associations allow you to associate deals with multiple contact and company records.

Admin features

. New admin features include deeper account activity history, more control over user management, and customization across properties, objects, and layouts.
HubSpot is also releasing sandboxes for Enterprise customers, a production-like portal to test updates without impacting your portal.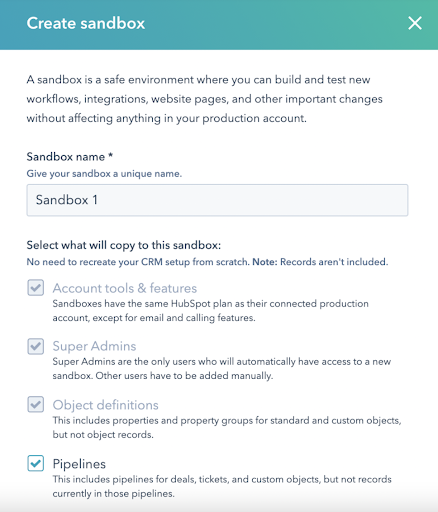 Image credit: HubSpot
Customer Portals
Currently in beta, customer portals give your customers transparency and ownership over their service experience. The portal provides a centralized home for customers to interact with your support and service team, giving them a secure location to track and manage support tickets, access to your knowledge base, and more.
On the HubSpot user end, the customer portals give you the ability to integrate a help desk or shared inbox and connect your knowledge base. For service reps, it reduces timely tasks using workflows and snippets. Customer portals also require zero coding ability—simply apply your brand colors, font, and logo for an on-brand experience.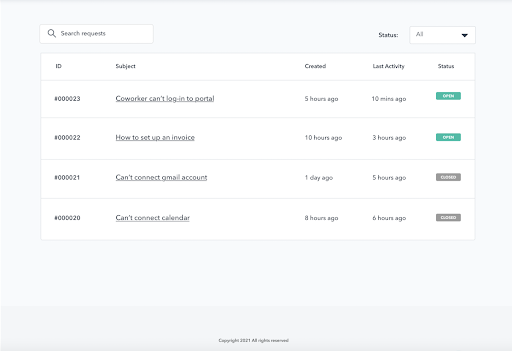 Image credit: HubSpot
Custom Feedback Surveys
HubSpot Service Hub users have had access to customer surveys for some time now. But with the newly released custom feedback survey functionality, users can now level up the questions they're asking and data they're collecting for a more efficient, intuitive experience.
Custom surveys can be sent via a web link or email, and keep all feedback in one, centralized system—aka your CRM. They allow for customizations to the types of questions you ask, as well as brand-specific, visual changes.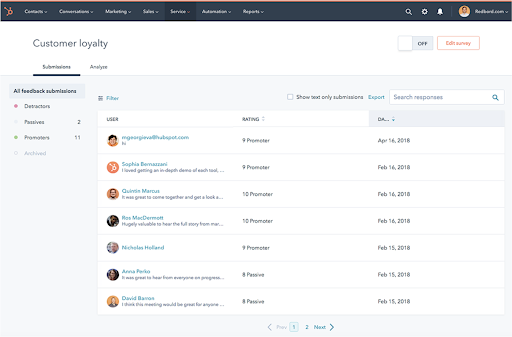 Image credit: HubSpot
Payments
Many businesses have the ability to sell something online. But without a system that collects payments and tracks it in your CRM on the contact level, selling online is a hassle.
HubSpot's new payments feature is changing that.
Payments is a native HubSpot feature that connects commerce and customer data. It allows customers to select their payment method (credit card or ACH transfer), and buy and pay directly online.
For HubSpot users, payments gives marketing, sales, and service teams access to timely purchase and payment details. It also helps speeds up the process, collecting payments digitally, rather than waiting for an old-school check to arrive.
Note that payments is currently in beta and is only available for U.S. HubSpot users.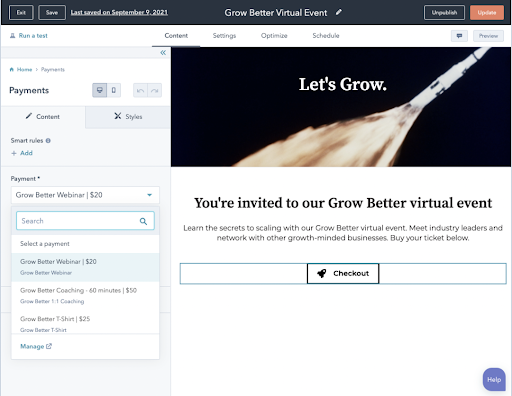 Image credit: HubSpot
Operations Hub Enterprise
HubSpot's newest hub—Operations Hub—is getting a glow up in 2021 with the release of Enterprise. The enterprise-level Operations Hub is available for purchase on Nov. 1.
Operations Hub brings together the power of unified apps into one central CRM. It drives efficiency, alignment, and a frictionless customer experience. Popular features include bidirectional app syncs, data quality automation, and custom properties for reporting. Think of Operations Hub as a business intelligence (BI) solution to better manage front-office data and reporting.
All of this and more will be available in Operations Hub Enterprise, including datasets. Datasets will allow ops teams to curate data collections (think: calculated values, pre-selected fields, and more), for downstream users to build reports around.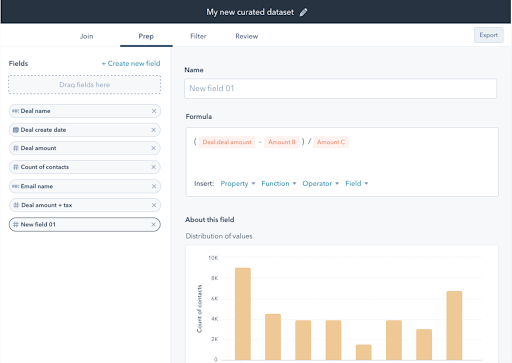 Image credit: HubSpot
Connected Platform
While it wasn't necessarily announced only at INBOUND, HubSpot has made serious strides throughout 2021 to improve data cleanliness and connectivity.
A few updates the team made and highlighted at INBOUND:
Launched a whopping 50+ HubSpot-build data sync integrations.
Introduced in-beta

custom behavioral events

, which helps users track and report on any site or app activity.
Improved the

custom report builder

, enabling users to build reports across contacts, companies, deals, and custom objects events.
Ready to maximize your HubSpot platform?
We'll be updating our blog all week long with more INBOUND goodness. We'd also love to touch base with you about your tech stack in general, or about any HubSpot-specific ways we can partner.
And in the meantime, check out these helpful HubSpot links: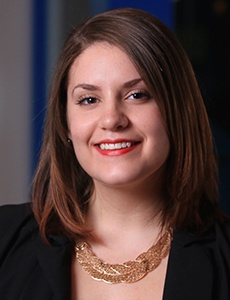 Shannen Laur
Shannen Laur is Ready North's director of growth and services. She joined the agency in December 2014 with a background in corporate communications and marketing. Shannen is a 2014 graduate of Kent State University's School of Journalism and Mass Communication.