INBOUND 2021 is well underway, and it's a masterpiece of virtual sessions, on-screen engagement, and amazing speakers.
The PR 20/20 team loves INBOUND. Why? Well, aside from our agency's passion for continuing education, we firmly believe in HubSpot—that's why we were HubSpot's first ever agency partner back in 2007, and it's why we've grown our services around HubSpot since then.
At INBOUND, our team learns about diverse topics ranging from marketing and sales strategies to business culture theories. There's no shortage of awesome takeaways.
And thanks to a high-energy, rapid-fire session from Jay Schwedelson, I can share some actionable tips about how to get people to actually open those marketing emails.
How to Get People to Open Your Marketing Emails
Since the pandemic started and turned every aspect of our world on its head—including tried-and-true marketing practices—marketers are doing whatever they can to get their emails opened.
From the not-so-squeaky-clean methods, like the "fake FWD" or "fake RE:" (when it's not actually a forwarded message or a reply at all, but rather a sneaky subject line to make you think you've already engaged in this conversation once before) to brand-new and interesting tactics, we're learning and iterating as we go.
That's the most important caveat to this list: We're learning and changing as we go. The numbers don't lie, and the data tells us what to do differently next time.* We're always testing and changing our approach.
And as our approach changes, the data will change. This list is accurate today, the day I'm publishing this blog post, but it will change in the coming months.
So, give these tactics a try and use it as your jumping-off point to learn about what your audience responds to and where you can go from here.
*A disclaimer about Apple Mail: This is the elephant in the room. iOS 15 is allowing Apple Mail users to engage certain settings that will impact your ability to get accurate open rates. Marketers and vendors alike are still trying to figure out what that means for their reporting and automation, but Jay recommends using your email platform or a third party, like litmus.com or emailonacid.com to help filter out which of your recipients have Apple Mail. Assuming less than half of your database uses Apple Mail, you'll still get accurate open rates on 50% or more of your audience.
1. Use a better From Name—bonus points if it aligns with your subject line.
You've probably seen this one in your own inbox: You receive an email with the From Name as "John Smith" or some other "real" name. You're compelled to open the message, albeit slightly disappointed when you realize it's actually just a sales-y promotional email from a big brand.
Sketchy? Maybe. But the idea has legs.
The From Name is your first change to make an impression in someone's inbox. Instead of duping them with a fake person's name, try this approach: Think of the From Name as your "friendly from," and use it as an opportunity to show the recipient what you're in their inbox to talk about. This is why you have emails from "WalMart Home," "WalMart Fashion," and more.
And here's where the magic happens: When your "friendly from" matches the subject line, you'll see a lift in engagement because you're establishing relevancy.
The example Jay used was when "Gap Back to School" sends an email with the subject line, "You get 50% off of back-to-school faves."
2. Use asterisks in subject lines.
Yep, it's that easy. Right now, asterisks in subject lines increase opens by 22% in B2B emails, and 25% in B2C emails.
Here are some examples:
This is *the best* deal we've ever shared 👀
Get your free download *right now*
It's *finally* time for holiday shopping!
3. Make a "fake" mistake.
On the inbox highway of life, we're all rubberneckers.
When we see a mistake, we can't help but look. Marketers know this. That's why using words like "oops," "uh-oh," "oh no," and "yikes" can actually increase your opens!
Oops, you almost scrolled past this deal…
Yikes! Only 24 hours left for free shipping!
Uh-oh, the deals are ending soon...
4. Make a comparison in your subject line.
Here's another simple one. Try using the word "versus" or "vs." in your subject line to make a comparison. According to Jay's data, the simple "vs." increases open rates 21-22% across B2B and B2C audiences.
Need inspiration? Here's some:
Forms vs. chatflows: Let's debate!
Tonight's dinner showdown is chicken vs. steak 🍽
AI vs. ML and what it means for marketers
5. Include an ellipsis.
How easy could this be?
Dot.
Dot.
Dot.
That's it. Use three periods to build suspense, and enjoy a lift in performance. We're talking a 31% higher open rate for B2B audiences and a 28% increase among B2C audiences.
Examples?
"The Keynote Speaker Is…"
"For Accounting Pros Only…"
"The Sale Starts In…"
6. Add bookend emojis.
Whoever told you emojis don't work was lying. Emojis work. If they told you emojis would get your email sent to spam, it's time to cut that person out of your life for good.
Don't believe me? Here's what your competitors are doing: In the last 18 months, use of emojis in B2B subject lines is up 1700% and is up 3200% in B2C emails.
The top-used emojis right now are as follows, in no particular order: ⏰ ⏳ ✅ 👀 🗓 ❤️ 👉
And bookending your whole subject line with emojis can increase your open rate by 31%. It looks like this:
🍕 Here's 15% off Your Next Delivery Order 🍕
🛍 You've earned it! Cash in your rewards now 🛍
💻 On demand: This webinar is a must-see 💻
7. Incorporate a list.
In the last 60 days, subject lines promoting list-style content have increased open rates 34% among B2B audiences and 39% among B2C audiences, according to Jay.
Why? Lists are definitive. They show us everything that's included, and we love to avoid missing out.
Not convinced? Then why did you click on this headline in the first place? Gotcha.
Easy ways to incorporate this tactic into your next subject line:
Open to See 15 Tips for Better Landing Pages
10 of our favorite TED Talks on public speaking
The top 8 worst PR blunders of 2020
8. Don't get hung up on creativity.
Many marketers may do a double take at this tip. We love creativity. But Jay's point is that people don't care about the cute subject line. They care about 40% off. So use your subject line to promote the offer.
That's not to say the words you choose aren't important (they are) and don't hold weight (they do). Jay shared this chart to show the words that have impacted an increase in open rates in the last 60 days.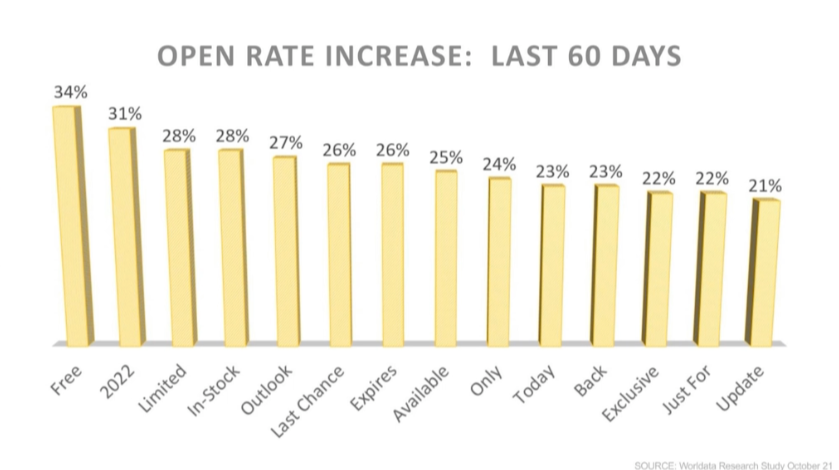 Source: Jay Schwedelson, INBOUND 2021
A key takeaway? Look at the words "2022," "Outlook," and "Update." The trends are telling us that people are looking ahead. They're planning for next year and they want email content that helps them achieve that goal.
Look to your own data and third-party data often to see what's working. The words that increase engagement metrics will likely reveal something about your audience.
Follow Along With More Timely Marketing Tips
Do you receive our newsletter? Subscribe today to get of-the-moment marketing tips straight to your inbox. And don't be surprised if you find our subject lines irresistible!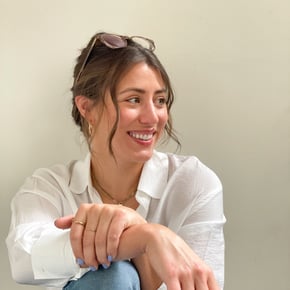 Elizabeth Juran
Elizabeth Juran is Ready North's director of operations. She joined the agency in March 2017 with a background in corporate marketing and communication.