As a marketer, you are well aware of content's significant role in your overall marketing strategy.
Beyond building brand awareness and optimizing search engine ranking, we know that content is the key to educating and informing prospective customers about your products and services and establishing trust with your target audiences.
According to Demand Gen Report, over half of B2B buyers rely on content to research their buying decisions.
However, throwing ill-thought-out content at the wall and hoping it sticks will not result in more leads.
Read on to discover how content created with a buyer's wants and needs in mind can benefit your content strategy and marketing goals.
Understanding Your Buyer's Journey
Research shows that 47% of buyers view 3–5 pieces of a company's content before talking with a sales representative. Because buyers want to be informed before making a purchase decision, your content needs to meet prospective buyers where they are and address the unique questions, desires, and pain points they have at that particular moment.
To do this, you must understand your ideal customer's path to purchase, AKA—their buyer's journey. While each industry has nuances, most buyers move through the same three stages: awareness, consideration, and decision.

In this post, we'll be focusing on the awareness stage, where prospects are entering the top of your sales funnel.
The Purpose of TOFU Content and Why You Should Use It
In the awareness stage of the buyer's journey, potential customers are simply trying to gain a better understanding of their problem so they can identify goals or the next steps around it. They are aware of their own personal pain point, not potential solutions or providers.
Let me say that again—prospects in this first stage are not considering specific providers, such as your business. If you target top-of-funnel users with content that's blatantly attempting to sell your products or services, it will not resonate well.
The best way for a user to understand their problem is through research. Potential customers will spend this portion of their journey looking for resources, opinions, insights, and answers specific to their needs.
Have you ever been on the receiving end of an ill-timed sales email to schedule a demo of a product you've never heard of that doesn't relate to your business needs?
Don't be that person for your potential customers.
Instead, take advantage of this research-seeking phase to build trust with your prospects by answering their questions.
Seven Effective TOFU Content Formats
Remember, the goal of TOFU content is to educate and build trust with prospects, not to sell. It's essential in the awareness stage to provide prospects with unbiased, accurate content that can't be found elsewhere. This way, your audience understands the value of your content and will begin associating expertise with your company.
Below is a comprehensive list of the most effective content formats to engage your TOFU target audiences.
1. Blog posts
A blog is great for addressing your prospective customer's specific pain points. Writing informative blog posts on topics related to your product or service can help prospects understand their problem better.
For example, if a user's pain points were understanding Google Analytics 4 and how to use it to measure website performance for their job, we'd recommend the following blog posts:
2. Social media posts
Use social media to share industry news, tips, and relevant information with your audience. It's important to research which platforms your prospects utilize and maintain an active, engaging presence there. Additionally, a paid social media campaign can increase your reach to get your business in front of a more expansive, targeted audience.
If a buyer's pain point is a messy, antiquated CMS (content management system), the following LinkedIn post might catch their attention.
3. Infographics and checklists
Visual aids like infographics break down complex information into easily digestible pieces. Infographics are also easy to save and share, making them more accessible for buyers to reference again and again. An infographic designed as a checklist can also be extremely valuable for prospects to use as a guide in their decision-making process.
An individual frustrated by the lack of bikeable streets in their town may find the infographic below helpful in the awareness stage of their journey.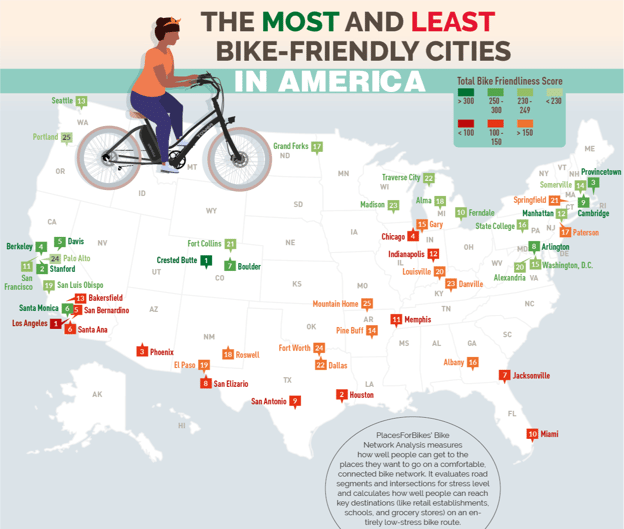 Source: Tower Electric Bikes
4. Ebooks and guides
Ebooks are longer-form digital assets that are less technical than whitepapers and more in-depth than blog posts. Ebooks are ideal for companies looking to expand upon a topic in an easily digestible and reader-friendly way while providing readers with actionable tips.
Some example ebook topics for a staffing agency may include:
How To Create a Show-Stopping Resume

The Ultimate Guide to Applying for Jobs

10 Tips for Nailing Your Job Interview
>> Related Resource: Download our free ebook to use as an example, 15 Proven Marketing Strategies for Manufacturers To Win New Customers.
5. Whitepapers
Whitepapers are in-depth reports that inform readers about a complex issue. They help readers understand an issue, solve a problem, or make a decision. While more protracted in nature, they provide the authoring company an opportunity to advocate for a particular method or solution and influence the decision-making process of readers.
HubSpot's annual State of Marketing Trends report is an excellent example of a whitepaper aimed at helping marketers prioritize their strategies and outperform their goals.
6. Webinars
Webinars make for ideal top-of-funnel content because of their ability to cover in-depth information on a topic and answer questions from attendees in real time. Even better, webinars repurposed after the event function as a lead generation hook, gated behind a form.
Below is a landing page for a Ready North webinar that covered the basics of creating a full-funnel marketing approach for users with an established ERP (enterprise resource planning) system. Individuals with this pain point can access the webinar recording on demand and watch when convenient.
7. Interactive tools
Interactive tools can take the shape of self-assessments, calculators, and more. When framed around the right question, they can benefit top-of-funnel buyers attempting to narrow in on their pain points.
If you're a marketer reading this blog post, this self-assessment to determine your marketing score may be right up your alley.
Ready to Brainstorm Your Own Top-of-Funnel Content Ideas?
Download our Content Hub Strategy Workbook to guide you through creating a data-driven content strategy to grow your audience, influence, and revenue. This free template can be used to host a brainstorming session and identify topics that demonstrate a strong understanding of your audiences' challenges, needs, and questions—no matter their stage in the buyer's journey. Download today.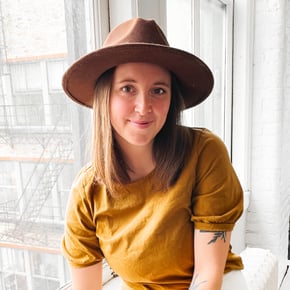 Ashley Dulaney
Ashley is the director of marketing and communications at Ready North and is passionate about storytelling. In her free time, she enjoys hiking, trail running, cross-country skiing, and camping in the wild Adirondack Park with her two dogs.