Whom do you trust the most?
Your answer is likely in the realm of those you know best: your spouse or partner, close friends and family, coworkers, and industry peers. So it's safe to assume that when you're making a buying decision—whether it be for personal or professional reasons—you probably ask those you trust for their input.
I know this to be true in my life. At Ready North, we often ask a "question of the day" every morning. Recently, a teammate posed the question: What's your favorite shoe? Our answers weren't a simple brand name. We instead all shared the brand name, many of us the exact style we preferred, our buying experience and price point, and any pros and cons. So you bet the next time I am in the market for a new pair of shoes, I will refer back to that Slack thread. For reference: My favorite shoe brand is forever Allbirds, the Piper style to be exact—their claim as "the world's most comfortable shoe" is true!
This example illustrates that word-of-mouth marketing absolutely works. But what's important to remember is that word-of-mouth marketing isn't the only type of marketing that works.
If your marketing strategy only focuses on your current customers to spread the word on your behalf (or if you have no marketing strategy), then you're likely missing out on a huge, untapped opportunity to increase sales. Here's why.
Word-of-mouth marketing gives someone else the narrative
Sure, your customers are your greatest advocates. But what happens if they're misrepresenting your brand?
Word-of-mouth marketing doesn't give you control over the narrative of your own business. Let's say a customer uses only one of your products or services and isn't aware of others. They wouldn't be able to advocate for the full breadth of your business. Or perhaps a long-term customer has legacy rates or pricing you no longer offer. Do you want a qualified prospect to assume they'll get that same discount without your say?
While we want to encourage our customers to spread the word about a satisfactory experience, we need to arm them with good content to do so. This can come in the form of optimized website pages, resourceful blog posts, and metric-driven case studies. That way, if a qualified prospect hears about your business from word of mouth, they can use a robust online presence to better understand your products or services and how you've helped other customers in the past through content that you create.
It doesn't account for negative experiences
Would you go to a restaurant that you only heard negative reviews about? I know I wouldn't.
But what if the restaurant was having an off night? Or perhaps they were short-staffed, so the service was a bit slower. It could even be that the reviewer is picky or had unaligned expectations.
If you knew the context of the bad review, would it change your mind? Probably.
One of the issues with depending on word-of-mouth opportunities only is that it weeds out context for future customers. We all know that no matter how well your business is run and how outstanding your service is, there will always be a few unhappy customers in the bunch.
By having a strong online presence, it gives prospects the chance to research on their own and supplement that information with their networks' reviews. A great place to start is building a customer review strategy that gains testimonials, drives Google reviews, and gives you content for client success stories or case studies. This sort of third-party credibility across your website and beyond is a great way for prospects to do their own homework, regardless if they heard a positive or negative review.
It can be used in conjunction with other marketing channels
You've probably heard it over and over again: The buyer's journey has gone largely digital. That means qualified prospects are out there researching your products or services right now.
While many new customers may have originated from a word-of-mouth referral, they will likely take steps in between their initial conversation with their trusted network and a purchase. The buyer's journey is often made up of three unique steps: awareness, consideration, and decision. Word-of-mouth could fit in at any three of these stages.
During each of these unique phases, the prospect will need a strong online presence to help them move closer to a purchase. Regardless of what they've heard about your company, they'll likely research your product or service.
Keep in mind, too, that unless you have a formal referral program (think: referral codes or referral tracking software), it's difficult to track the performance of word-of-mouth marketing. A good place to start is instructing your sales reps to ask, "how did you hear about us?" as part of their standard conversations, along with adding a similar question to online forms. But coupled with the marketing channels above, you can get much more granular in what drove marketing performance to quantify ROI.
It leaves an entire pool of untouched opportunities
How many customers do you have? Hundreds, thousands, tens of thousands?
However you answered this question, isn't it fair to assume that there are still many prospects out there who might not know about you yet? And those prospects probably have connections who have also not heard of your business yet.
Relying solely on word of mouth limits you from this potentially massive pool of prospects. But a solid online presence can connect them with you before they even know you exist. This is done by creating helpful, optimized content that meets potential customers across the various stages of their buying journey. If they know they have a problem and they're researching a solution, what better way to introduce yourself than by answering the questions they're asking? A well-thought-out content strategy can also help be found as they're searching for your competitors.
Let's go from word-of-mouth only to a strong marketing strategy
Ready North has helped hundreds of businesses build marketing strategies from scratch with the ultimate goal of building a strong online presence. Ready to modernize your marketing strategy and start meeting customers online? Let's chat.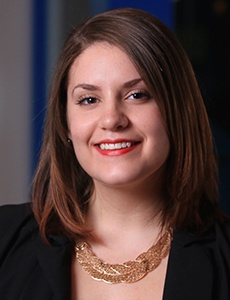 Shannen Laur
Shannen Laur is Ready North's director of growth and services. She joined the agency in December 2014 with a background in corporate communications and marketing. Shannen is a 2014 graduate of Kent State University's School of Journalism and Mass Communication.