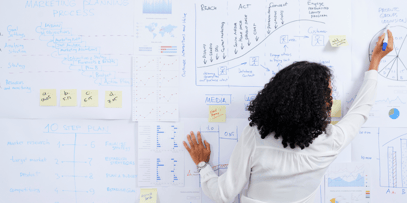 As marketers, a failed campaign is our worst nightmare.
But sadly, failed marketing attempts happen every day and everywhere. Harvard Business Review says that strategic plans fail for many reasons, including poor execution and lack of understanding of the problem.
So, how can teams pinpoint what went wrong and redirect marketing energy?
As Paul Roetzer (@paulroetzer) states in Chapter 8 of The Marketing Performance Blueprint:
"Every marketing plan should start with an honest internal marketing assessment. The assessment should consider perspectives from multiple stakeholders, including marketing and sales leaders, as well as key executives. The more involved the partiers are in the entire strategy process, the easier it is to align needs, goals, expectations and priorities."
The time is now to transform your marketing program.
At Ready North, we utilize a comprehensive marketing audit of 40+ questions that zero in on talent, tech, strategy, and performance. As you'll see below, we've broken down audit questions by each of these categories. This audit is a key piece of the puzzle when we start working with new partners to build long-term, custom marketing plans that win executive buy-in and align with stakeholder goals.
Continue reading below for 21 questions to ask your team and guide more strategic planning. For the full 40+ questions, download our Comprehensive Marketing Audit Template.
Talent
1. What are the roles and responsibilities of the existing marketing team?
Modern marketing is constantly shifting, and the folks that are part of your marketing team need to be masters in all things technology, best practices, and trends. Consider gaps in your current team structure; remember that both traditional and digital skills are more important than ever to become a hybrid professional.
Some roles to consider on your marketing dream team:
Content writer

Coder

Data analyst

Email specialist

Graphic designer / visual storyteller
2. Do team members understand the metrics used to evaluate their performance and development?
Studies show that only 23 percent of employees feel they receive the right amount of recognition for their work, while only 19 percent of managers say recognition is a priority at their workplace. So, where's the disconnect, and is it impacting your organization?
It's imperative to meet on a regular basis to discuss performance, professional goals and areas to improve. Whether you're evaluating the team on a quarterly or annual basis (or anything in between), clearly convey what metrics are used to evaluate individual performance. These metrics may be both internally facing (like efficiency) and business oriented (like leads closed or the number of campaigns managed).
3. What are our plans to augment the team through more advanced internal training or staff changes?
Hiring a marketing professional shouldn't be a fix-it-and-forget-it tactic. Professionals need to be nurtured throughout the entirety of their careers with a clear, set path to advance and grow. Or your team risks high employee turnover.
Look for opportunities to implement professional development programs to ensure and encourage that the marketing team is staying up on technology and trends. Also, consider where you can make training mandatory. For example, if you're using a marketing automation technology, require employees to be certified in that tech to feel comfortable using the tool and make performance-driven recommendations backed by technology.
Technology
4. What are the core components of our existing marketing technology stack?
It's proven: Technology increases internal efficiencies, helps eliminate mundane, manual tasks and makes the marketing process more automated.
Marketing technologies are vast (see Scott Brinker's Marketing Technology Landscape Supergraphic (2020): Martech 5000), ranging from email solutions to social media management tools to best-in-breed marketing automation tools. Identify every day, manual tasks that could be sped up and easier with new technology.
5. Are redundancies in our marketing technology solutions leading to inefficiencies?
Technology usage should drive efficiency across your marketing team, not pull it down. Are there redundancies in your technology stack that may require team members to login into multiple accounts to perform similar tasks?
Look for all-encompassing platforms, such as HubSpot, that bundle sales, marketing automation, blogging, CMS, email, and more into one solution. Rather than logging into a separate solution to send automated emails, build landing pages and publish social updates, create efficiencies across the team with one simple platform.
6. Are the existing technologies being fully utilized by the marketing team?
A whopping 70% of all technology implementation projects fail partly due to a lack of user adoption. Don't risk a failed implementation because your team isn't fully utilizing the tool.
Invest in technologies that offer training to help employees onboard seamlessly. For example, HubSpot (@HubSpot) offers the HubSpot Academy, which allows users to learn the platform at their own pace and become familiar with each function and module.
7. Are gaps in technology affecting performance?
Is your organization missing key pieces of the marketing tech stack that could impact performance? For example, online chat software is ideal for engaging with site visitors, answering questions, and capturing leads.
Strategy
8. Which industries do we plan to focus on for growth?
Does your company target a variety of audiences across different industries? If so, remember that we are in the age of personalization. A content campaign that worked for a manufacturing lead will likely not be relevant to a pharmaceutical lead.
Make this year the most successful year by targeting vertical markets. As Forbes states, it's not enough to cast a wide net across target audiences; instead, narrow your focus to define vertical markets. This way, you can best target, communicate and serve up the most relevant content to each vertical.
9. What makes our company unique in the market?
Is it your culture? Customer service? Product?
Whatever sets your company apart from competitors should shine throughout all marketing collateral, especially your website. For instance, if you have extraordinary customer service, place your success rates or customer quotes across the home page to showcase third-party validation.
10. Do we have accurate buyer personas that inform our marketing strategy?
Performing a yearly market audit may require your team to take a step back and work on foundational projects, like buyer personas. To make any marketing campaign successful, you must understand the goals, pain points, influencers, and preferences of each target buyer persona your company is targeting.
11. Have we created a content marketing editorial calendar that defines our strategy on content production and publishing?
Publishing regular content on a blog platform is great for SEO, thought leadership, and establishing internal subject matter experts. But blog publishing shouldn't be a random act that is done here and there when an idea hits you.
Instead, connect every piece of content to a strategy that's backed by a defined production and publishing schedule. Define goals for blogging and overall content production. Perhaps you're using it to drive lead generation or to boost your site in organic search.
>> Free download: Build a data-driven content marketing plan with our free content strategy workbook template.
From there, flesh out an editorial calendar with working titles, authors or subject matter experts, publish date, and persona for each post to stick with a strategic process.
12. What are the milestones in the next six to 12 months that are highly relevant to our marketing program?
You can use milestones to launch fully integrated marketing campaigns, complete with associated content pieces, landing pages, nurturing emails, social shares, and more. Or use these events to drive media relations and community conversation.
Some events that may be classified as company milestones include:
Website redesign

Tradeshow or conference

Speaking gig with an internal thought leader

Product updates / new releases
13. Which assets do we have that are underutilized?
Before completely overhauling your marketing campaign this coming year, take a step back to reflect on any underutilized assets. Some areas to consider:
A premium content piece that hasn't been fully activated with a campaign.

A blog publishing platform that is only updated several times per year.

An outdated whitepaper that could be refreshed and repurposed.

A loyal customer base that you've never asked for testimonials.

A database of leads that haven't been nurtured.
Before diving into new production, be sure you've fully utilized the assets you already have to save time and budget.
14. Do we have customers that are willing to share their success stories?
Consumers are more willing to trust peer reviews or recommendations than a company. In fact, 93% of consumers say that online reviews influence their purchase decisions.
Work with your sales or customer success team to determine if loyal customers are willing to share their stories and boost your brand credibility. These stories may be shared in a format as simple as a testimonial or quote on your site. Or, publish a formal case study and use the asset in both marketing and sales efforts.
Performance
15. What are our company's top marketing key performance indicators (KPIs)?
Measuring the effectiveness of any marketing campaign begins with defined and clear KPIs. Conduct a review to determine what the team will define as success in the new year and what KPIs you'll track to quantify that success. Remember to include decision-makers in the discussion, as marketers with executive-level buy-in on defined metrics thrive.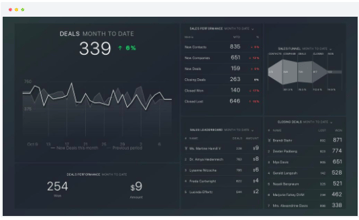 Examples of marketing KPIs include:
Website visitors/sessions

Content downloads

Marketing qualified leads (MQLs)

Opportunities

Social reach
If you're still relying on spreadsheets for your marketing scorecards, or if your performance data is housed in multiple platforms (i.e. CRM, automation, Google Analytics), then consider getting a marketing reporting tool such as Databox. Databox (pictured above) pulls all your metrics into one place so your team can visualize performance, gain insights and take action.
16. How many average monthly visitors do we receive to the website?
To truly gauge if your online marketing efforts are making an impact, take it from your average monthly, quarterly, or annual website visitors. Simply creating content, posting blogs, and updating website pages aren't enough. If no one is visiting these assets, have you really earned any ROI on your efforts, time, and resources?
As a starting point, track the following to understand how visitors are engaging with your site and finding your brand:
Users

Sessions

Goal completions

Average session duration

Average pages per session

Bounce rate

Exit rate

Organic search sessions

Blog entrances
17. How do we classify lead quality or lifecycle stages?
What defines a qualified lead? When does a lead become ready for sales? What's the difference between a lead and an opportunity?
These (and more!) are all important questions to pose and define to help you figure out how you'll market to each segment of contacts in 2018. Plus, defining the different lifecycle stages and terms across your organization will set you up for harmonious marketing and sales alignment.
As a starting point, HubSpot highlights the following lifecycle stages:
Subscriber

Lead

Marketing qualified lead (MQL)

Sales qualified lead (SQL)

Opportunity

Customer

Evangelist
18. How many active qualified leads are in the existing pipeline?
This may seem like an easy one to answer. However, take this question a step further by brainstorming how to grow numbers with lead generation campaigns in 2018.
>> Related read: A Simple Way to Generate More and Better Leads
Also, consider not just the number of leads but the quality of leads. If your database looks stale, consider a reactivation strategy in the new year to weed out the old contacts and reignite your marketing relationship with those who engage.
19. What are our company's goals related to marketing, and how will we track success?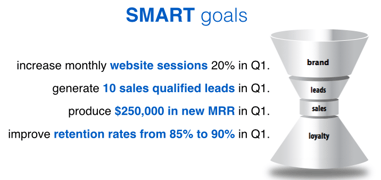 Marketing goals should always be SMART:
Specific

Measurable

Achievable

Realistic

Timed
An example of a SMART marketing goal: Increase sales qualified leads by 25% by the end of the fourth quarter of 2018.
An example of a not-so-SMART marketing goal: Increase brand awareness.
20. How many total subscribers do we have?
Your subscribers are those contacts that have voluntarily opted in to receive content from you. They serve as a great starting point to gauge the quality and interest of new blog topics or premium content launches. Plus, since they've opted in, you can market to them in new ways with email nurturing, newsletters, and more.
>>Related read: 12 Ways to Quickly Grow Your Blog Subscribers
21. Do we have an attribution model to track performance, spend and ROI?
If you were called upon by leadership to prove marketing ROI (MROI) and tie performance back to spend, could you do it? Set yourself up to successfully prove MROI with closed-loop revenue reporting.
To start, pull associated costs in areas like software (marketing automation, CRM system, web hosting), advertising, partners (agencies, designers), and events (tradeshows, webinars). Next, compare your total marketing budget to the total leads generated and sales closed to calculate the average cost per lead or cost per customer.
Get Access to the Full Audit
Want access to even more marketing audit questions to guide your strategic planning? Download the full audit for 40+ questions to redirect marketing failures into strategic successes.
Editor's note: This post was originally published in 2017 and has been updated to be more current and comprehensive.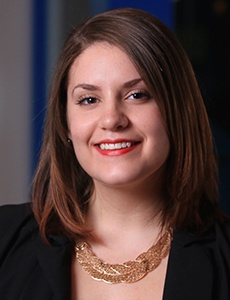 Shannen Laur
Shannen Laur is Ready North's director of growth and services. She joined the agency in December 2014 with a background in corporate communications and marketing. Shannen is a 2014 graduate of Kent State University's School of Journalism and Mass Communication.