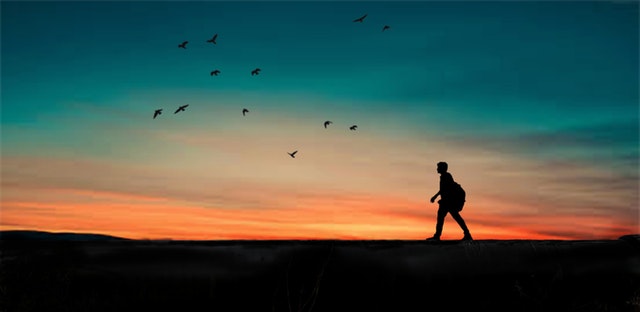 Today, we're introducing three new services—Automated Press Releases, Automated Performance Reports and Piloting AI™ Workshops—but, first, the backstory . . .
Artificial intelligence is accelerating change in the marketing industry, and your career:
Consumers will demand greater personalization, while wanting to control their data and privacy.
Technology will get smarter, intelligently automating traditionally human-powered activities while adding layers of complexity to your martech stack.
Career paths will evolve. Some jobs will be lost, and new ones, some we can't even fathom, will be created.
Brands will need to become

more human

with greater resources dedicated to listening, relationship building, ethics, empathy, creativity, culture and community. AI should make us better people, professionals and brands.
Are you ready? Is your company ready?
"More Intelligent" Marketing Automation
I love traditional marketing automation. As HubSpot's first agency partner back in 2008, we've built our firm on the back of automation and have witnessed it transform the industry over the last decade. Traditional marketing automation makes marketers more efficient, productive and successful.
But, the great irony of marketing automation is that it's largely still manual. Seriously. Consider how much time your marketing team spends on repetitive tasks, such as drafting social media updates, writing press releases and blog posts, personalizing emails and website copy, tagging images, A/B testing landing pages, building lead nurturing workflows, developing advertising copy, managing paid media spend, conducting keyword research, finding insights in analytics, and recommending strategies (to name a few).
Now, what if I told you every one of those activities, and many more, could be done more efficiently using smarter technology that's available today?
Platform companies like HubSpot are building smarter features into their software, while also opening up new possibilities through third-party integrations with AI-powered solutions.
And, the great news is that you don't need to go from all manual to fully autonomous to see massive returns. A little bit of intelligent automation can go a long way to reduce costs and drive revenue when you have the right data and the right use case.
Change is coming. Marketing technology is getting smarter, and the marketers who are proactive in finding, piloting and scaling AI-powered solutions will have a potentially insurmountable competitive advantage.
You can sit back and wait for the world to change around you, or you can embrace AI to create a competitive advantage.
PR 20/20 + Artificial Intelligence + You
We're operating under the assumption that 80% of what we do every day at PR 20/20 will be intelligently automated to some degree in the next 3 - 5 years. We've decided to accelerate the transformation to drive efficiency and performance for our agency and our clients.
We're doing this in three primary ways:
Marketing Artificial Intelligence Institute
Marketing Artificial Intelligence Conference (MAICON)
Intelligent Automation Solutions
Let's dive into each area.
1. Marketing Artificial Intelligence Institute
PR 20/20 launched Marketing Artificial Intelligence Institute in November 2016 with the mission to make AI more approachable and actionable for modern marketers.

Since that time, we've published 350+ articles that teach marketers how to plan, pilot and scale marketing AI effectively and efficiently. And I've presented 60+ keynotes and workshops on AI at industry conferences and corporate events around the world.
The Institute reaches and influences marketing leaders with 13,000+ website visitors per month (+54% YOY), and 5,700+ subscribers, growing at 5 - 10% per month. The newsletter has an especially strong following with large enterprises—39% of subscribers work at companies with 500+ employees, and 19% of subscribers work at companies with 10,000+ employees.
In the course of our work, we've interviewed and written spotlights on more than 45 AI-powered vendors with more than $1 billion in total funding. We're also tracking more than 1,100 sales and marketing AI companies with combined funding north of $5 billion.
In short, we've developed unparalleled knowledge about AI and its potential for enterprises. And we have an extensive network of experts and vendors we can draw from to solve problems and build competitive advantages for our clients.
We've curated the best starter resources we've found into the Ultimate Beginner's Guide to AI in Marketing, which you can access for free online.
2. Marketing Artificial Intelligence Conference (MAICON)
MAICON takes place July 16 - 18, 2019 at the Huntington Convention Center of Cleveland. The event features 40+ sessions designed to help marketing leaders understand, pilot and scale AI. (See the full agenda.)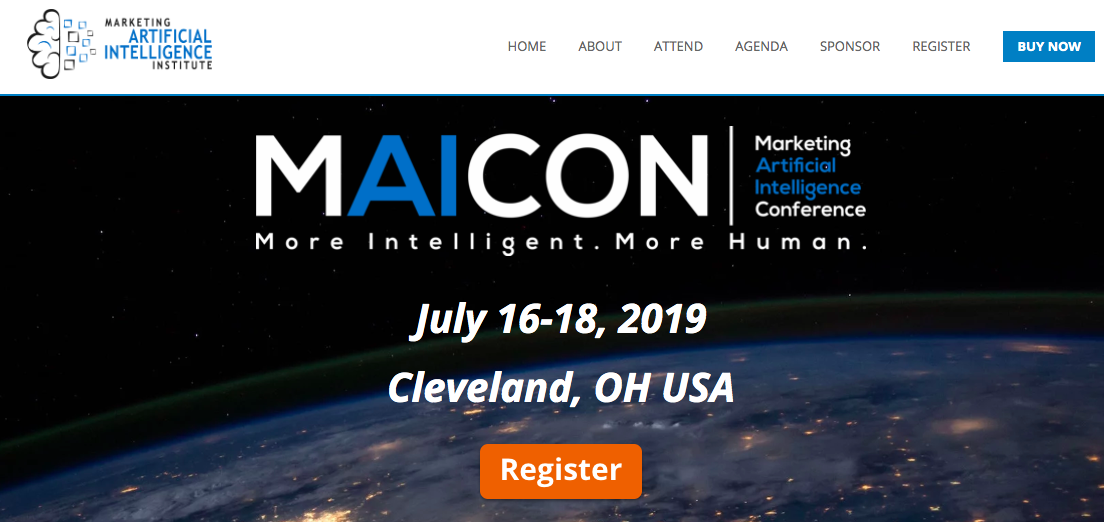 PR 20/20 created MAICON and is the marketing engine behind it. There are 60+ speakers, including presenters from Amazon, Conversica, Facebook, Grant Thornton, HubSpot, IBM, MIT Technology Review, Publicis Sapient, SoftBank Robotics, The Natori Company and Yext. (See the full speaker list.)
The event is built for manager-level and above marketers, and largely caters to non-technical audiences, meaning attendees do not need backgrounds in analytics, data science or programming to understand and apply what they learn. We're expecting 400+ attendees this year.
Visit www.MAICON.ai for event details.
I hope to see you there!
3. Intelligent Automation Solutions
We're building a suite of Intelligent Automation Solutions to help our clients reduce costs and increase revenue.

Using AI technologies—such as machine learning, natural language processing (NLP) and natural language generation (NLG)—we achieve cost reduction by completing repetitive, time-intensive activities more efficiently. And we drive revenue growth through more predictive, personalized and targeted marketing.
Today, we're introducing the first three beta services from the Intelligent Automation Solutions suite:
Automated Press Releases
Automated Performance Reports
Piloting AI

™

Workshops
Here's an overview of each:
1. Automated Press Releases (beta)
Hundreds of thousands of press releases are distributed every year. Many of them never get covered, or even read, by journalists.
However, for some organizations, they are an essential part of the overall public relations and communications strategy. For publicly traded companies, they're likely even required.
That being said, releases can be an enormous drain on human and financial resources for large enterprises. Consider this example of a company publishing 10 releases/month using an outside PR firm charging $150/hour:
10 press releases/month
$750/release (very conservative estimate of 5 hours x $150/hour)
$7,500/month
$90,000/year
We take a different approach with our Automated Press Release service.
First, we audit all of a client's releases from the past 12 months. Then we break them into basic types (e.g. new hires, promotions, financial news, awards, research reports, general news).
For the types that can be automated (i.e. formulaic in style and/or data driven) we build templates in our NLG platform. Then, we use the templates to automatically write individual press releases at scale for a fraction of the cost. This is the same approach, and technology, used by major media companies to write earnings reports, sports stories and election results.
Because they're machine-written, you pay less and get more. And, since the templates are pre-approved by the client, it ensures consistent tone and style, and dramatically reduces the time your team spends reviewing and editing.
This frees the agency and the client up to redirect resources to higher value creative and strategic tasks. Everybody wins!
2. Automated Performance Reports (beta)
If you have data, we can train a machine to produce Automated Performance Reports at incredible speed and scale. Using NLG technology, we're able to turn your spreadsheets into human-sounding narratives.
This solution is ideal for any data-driven report you regularly produce, or would like to create.
For example, we use this technology to deliver Marketing Analytics Reports that ask and answer important questions about your website, blog, and goal/lead performance using Google Analytics and/or HubSpot data.
Delivered monthly, our standard marketing reports explain what happened, why, and how it compares to a previous time frame. Reports give you the context to make smarter, more informed marketing decisions.
3. Piloting AI™ Workshop (beta)
Piloting AI™ is an interactive workshop that accelerates your team's understanding and adoption of AI. We make your marketing more intelligent, which, in turn:
Reduces costs.
Increases revenue.
Creates a competitive advantage.
Piloting AI goes beyond the splashy headlines and buzzwords to explore a practical framework that makes AI approachable and actionable for your marketers and executives.
This half-day program starts with a beginner-level introduction to AI and walks attendees through dozens of sample use cases and technologies.
Once your team understands AI, and is able to identify use cases, we turn them loose in groups brainstorming pilot projects.
Ideas are organized by marketing category (e.g. advertising, content marketing, ecommerce, email, social media, website, etc.), which helps to streamline the creative process.
The goal is for your team to come away from the workshop inspired by the possibilities of intelligent automation, and armed with a minimum of three pilot projects that can be activated within 90 days.
Look Beyond: The Next Frontier for Your Brand
These three solutions are just the start. We're developing a collection of AI-powered services that will include: advertising, competitive intelligence, content strategy, conversational marketing, copywriting, email marketing, sales enablement and search.
In short, we're not going to wait around for AI to disrupt our agency, and neither should your brand.
So, if you have questions about AI, or want to explore how it can help create a competitive advantage for your business, we'd love to talk. We're seeking forward-thinking clients who want to build more intelligent marketing, together.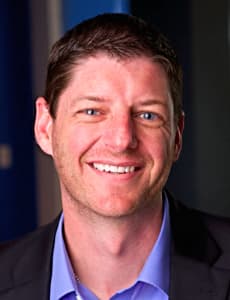 Paul Roetzer
Paul Roetzer is Ready North's (formerly PR 20/20) founder and senior advisor, as well as the founder and CEO of Marketing AI Institute. He is the author of Marketing Artificial Intelligence (Matt Holt Books, 2022) The Marketing Performance Blueprint (Wiley, 2014), and The Marketing Agency Blueprint (Wiley, 2012); and the creator of the Marketing AI Conference (MAICON). Full bio.