Over the past year at PR 20/20, we've spent time reflecting on our core audience—who they truly are and how we can inspire them. We call these people change agents. In the words of a colleague, a change agent is "a visionary who looks beyond, brings vision to life, and successfully champions ideas forward."
These marketers aren't afraid to take risks to make an impact. So, we decided to spotlight these professionals in an ongoing series so we can all learn from their successes (and failures too).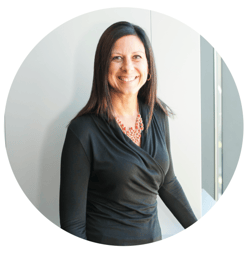 In this spotlight, we've featured Cathy McPhillips (@cmcphillips), Vice President of Marketing at Content Marketing Institute (@CMIContent). Just in case you're not familiar, CMI is the leading global content marketing education and training organization, teaching enterprises how to attract and retain customers through compelling, multi-channel storytelling.
Read on to see how Cathy navigates the digital landscape to cultivate change at CMI.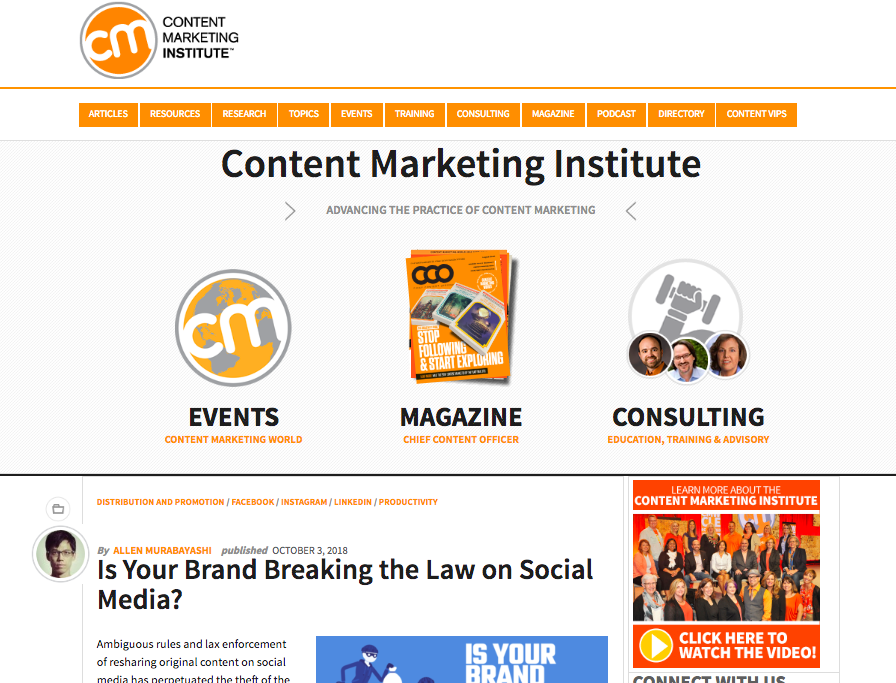 Q&A with VP of Marketing at CMI
Q: What are your day-to-day responsibilities as VP of Marketing at CMI?
A: I oversee the marketing department for CMI, and our team is focused on ultimately driving traffic to our website and converting customers to attend our in-person events, specifically Content Marketing World. This includes all PR, video, audience development, and social and community management that my team handles. I oversee this, and also focus on strategy, paid advertising and event marketing.
Q: How have your previous experiences shaped your current perspective on inbound marketing?
A: It's funny; I first heard the terms inbound marketing and content marketing through this "guy in Cleveland named Joe Pulizzi" [the founder of CMI].
I worked hard to help Kona Grill, a national restaurant chain, focus on the customer rather than the product. Specifically, I developed relationships with customers through our blog and through social channels that translated into increased sales just because of the relationships we developed. When I was with BTC Revolutions, I worked on the Share Our Strength account, an amazing nonprofit. So much of the nonprofit work revolved around relationship building through social channels, user-generated content and blog content. While we weren't doing it perfectly, it was my first foray in this world – quite different than my paid advertising and agency days.
Q: How would you describe your inbound approach with CMI? Which digital tactics have proven most effective?
A: It should come as no surprise that our blog is the center of our inbound approach. Social media stems from the blog, and also fills our content calendars for our social channels. Additionally, our annual research is the biggest piece of content that we put out each year that is repurposed into blog posts, online conversations, social posts, curated posts by members of our community, embedded in posts from other brands, and so much more. Our webinars, whitepapers and e-books are great content marketing pieces for our customers, but also great lead generation opportunities for us.
Q: What challenges have you seen in facilitating ongoing digital transformation within an organization?
A: Our biggest challenge is that we're really a small business trying to do big things. It's been hard to (a) determine how to fund a digital transformation, and (b) find the time to do it. We're all so busy, so taking time to look at vendor and partner solutions, review our needs, take the technology for a test drive, discuss it among our team … it's very overwhelming and challenging to fit into our current processes.
Q: How did you decide on the ideal marketing technology stack?
A: CMI is really based on a publishing model. Because of this, we don't have that traditional sales/marketing funnel. Sales is working on sponsorships, benefactors, magazine advertising, and the like—focusing on brands. Marketing is working on subscriptions, sign-ups, registrations—focusing on the individuals.
We do have some overlap, but not like a traditional B2C or B2B organization. So, our tech stack is a little different. Most important for us is our CRM (Salesforce), our marketing automation partner (Act-On), and our web analytics tools (Omniture). Next, the marketing team has a competitive intelligence tool (Track Maven), editorial is using a content collaboration tool and an editorial research and monitoring tool (Buzzusmo). Other than that, we use a lot of the basics: Google Docs, Box, Dropbox and email. Our stack has evolved over the years, and the decisions came in waves. It wasn't that we needed to develop it all at once – it was when we saw the inefficiencies that we decided to act.
Q: What changes or initiatives have you championed as a leader at CMI? What role did inbound play?
A: One of my first initiatives at CMI was launching our #CMWorld Twitter Chat. It was great because we created this online community for people to share stories, successes, ideas and more, to commiserate on issues they were having.
It also helped us build a community that wanted to see us in person at our events – either as attendees or even as speakers and sponsors. Our editorial team watched for trends and pain points to help populate our blog editorial calendars. We repurposed some of the conversations in SlideShare presentations. Our weekly chats provide such robust information that feeds so many groups within CMI.
Q: How do you use digital tactics to create real value at each stage in buying cycle?
A: Our first stage, ideally, is an email subscription. Then, we're able to introduce subscribers to other properties we have within CMI: ebooks, whitepapers, webinars, research, events, consulting, and so much more.
We've been working on progressive profiling to learn more about our customers to help us surface timely and relevant content for them. So, if we ask for an email address and first name at email signup, then when that subscriber goes to download an ebook, we'll ask for their email address again and then a couple other things, like company and job title. Then the next time, we'll ask for industry and location. All the data we're collecting, even down to which sessions they attended at CMWorld, allows us to fine tune the content we're delivering.
Q: Which digital tactics or campaigns have been the most effective in driving MROI?
A: Our email segmentation has been one of our most effective tactics to date.
By segmenting geography, industry, job function and more, we've been able to customize promotional messaging to increase relevance—and in turn a much higher conversion rate. We've been able to do this because of our audience development. Also, aligning with editorial to customize blog post CTAs and other related pieces of content that are coming from the CMI website to drive readers to the CMWorld website.
Q: How does the event (CMWorld) play into your overarching marketing strategy?
A: Everything we do, directly and indirectly, goes through the lens of, 'Will this help our customer take one more action with CMI to potentially get them to attend Content Marketing World?'
We know that if an email subscriber takes three or more actions with CMI —subscription, webinar sign-up, ebook download, etc—that they're ten times more likely to attend CMWorld. So, my first goal is to get them to subscribe, so we provide them with access to all of the other things within CMI they could take advantage of.
Q: As a member of the C-suite, what is your advice to others trying to prove to leadership that inbound marketing is the key to long-term business success?
A: Be prepared. Know that the C-Suite is going to say they want instant results. They'll want to know what you're cutting to fund inbound marketing, etc. Do your research; let them know it isn't an instant quick fix. Jump onto our website and look at our annual research that shows some trends for content marketing success; read articles from others that have had to get buy-in.
Also be ready to show how you're going to measure the success of the programs. The more data, examples, and information you have, the more likely you are to gain that buy-in.
Q: What advice would you give to an enterprise just starting the journey to digital transformation?
A: Start with your email database. Are you growing it the right way? Are you working on finding more subscribers, or are you really getting to know your current customers?
It sounds so basic, but the more you know about your database, the better you can take those learnings to help your sales team focus on new leads. It will help paid advertising because now you have a complete customer profile, and it will help your marketing and content marketing because now you can work to identify customer needs and pain points based on the information gleaned from your customer data. The other piece of advice I would give is don't try to do it all at once. Start with email and your CRM and go from there.
Q: What are you most looking forward to in the future—across marketing at your organization and within the industry?
A: I'm actually looking forward to producing less content and achieving similar or better results. We've already started to do this within our organization, and we're still achieving our revenue goals. By being smarter with our editorial, sales and marketing, we're able to still deliver what our customers need from us, but now we're doing it at the right time, with the right message for them. As Robert Rose (@Robert_Rose) says, set goals that move an audience to take your desired action … but do so with the least amount of content.
That's the beauty of digital; you can view clicks, conversions and other metrics to know exactly which pieces are most impactful. There's so much content out there, but now that we all have data (I hope!), more experience, and better insights into our customers, my hope is that the quantity of content decreases while the quality of it increases. Find what resonates and fine-tune your system.
Ready to Become Your Organization's Change Agent and Inbound Champion?
Our goal is to educate and empower marketing change agents to advance their careers, and drive digital transformation and performance in their organizations.
 For more change agent stories, check out the other articles you might have missed:
Subscribe to the PR 20/20 blog for useful, actionable content to get started on your journey.

Sandie Young
Sandie Young started at the agency during the summer of 2012, with experience in magazine journalism and a passion for content marketing. Sandie is a graduate of Ohio University, with a Bachelor of Science from the E.W. Scripps School of Journalism. Full bio.