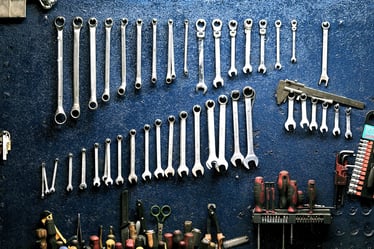 This post originally appeared on the Marketing Artificial Intelligence Institute's blog. The Marketing AI Institute was created and is powered by PR 20/20.
Marketers always have the same question when it comes to artificial intelligence:
"How do I get started with AI?"

The best way is to experiment with AI-powered marketing tools. But there are a lot of vendors out there. And a lot of bold claims about what AI can and can't do.
So taking demos and trials of tools is a must.
We can point you in the right direction.
At the Marketing AI Institute, we're tracking 750+ AI companies with combined funding of more than $3.7 billion. Of those, we've interviewed 40+ vendors with combined funding of more than $1 billion.
In this post, we've listed all AI-powered vendors we've interviewed to-date, a list of 43 tools in total.
Each tool is sorted according to our 5Ps of marketing AI framework, a framework we devised to help visualize and organize use cases and the marketing AI technology landscape:
Planning: Building intelligent strategies.

Production: Creating intelligent content.

Personalization: Powering intelligent consumer experiences.

Promotion: Managing intelligent cross-channel and cross-device promotions.

Performance: Turning data into intelligence.
Each listing links to a full profile of the vendor and solution.
Planning
HubSpot

develops cloud-based, inbound marketing software that allows businesses to transform the way that they market online.
BrightEdge

is a global leader in SEO and content performance marketing that blends search intent discovery, optimized content creation, and performance measurement into one integrated solution.
Node

is an AI-powered discovery engine that connects people with opportunity at massive scale.
Crayon

is a market intelligence company that helps businesses track, analyze and act on everything happening outside their four walls.
Equals 3

is the creator of Lucy, the AI-powered assistant to marketing professionals that addresses common challenges across research, audience persona modeling, and media planning.
MarketMuse

is an AI-driven assistant for building content strategies.
Pathmatics

is a digital advertising intelligence solution used by brands, agencies, ad tech companies, and publishers to build competitive advantages in their brand management, advertising, and business development activities.
CaliberMind

is a Customer Data Platform for B2B that unifies customer data from marketing, sales and service channels to drive sales.
Alegion

provides human intelligence solutions designed for AI & machine learning initiatives, digital content management and moderation.
Netra

helps brands and agencies better understand and reach their ideal consumers by analyzing billions of consumers' photos—and identifying their activities, interests/passions, key life events, demographics of their tribe, and brand preferences.
Opentopic

helps discover your audiences, optimize your content and deliver transactions. All powered by IBM Watson's cognitive technology.
CONCURED

uses artificial intelligence to show marketers exactly what topics drive engagement and what to write about next.
Production
Acrolinx

is an AI-powered platform for enterprise content governance that uses a unique linguistic analytics engine to "read" all your content and provide immediate guidance to improve it.
Narrative Science

is the leader in Advanced Natural Language Generation for the enterprise.
Clarifai

provides advanced image recognition systems for customers to detect near-duplicates and visual searches.
GumGum

is an artificial intelligence company with deep expertise in computer vision. It unlocks the value of images and videos.
Scoop.it

automates the content marketing process and provides insights on how to generate better results from content.
Automated Insights

is the creator of Wordsmith, the natural language generation platform that enables you to produce human-sounding narratives from data.
Atomic Reach

is an artificial intelligence platform that delivers deep insights on critical data points that influence and affect the performance of text-based content.
Phrasee

uses AI to write better marketing language than humans.
Curata

builds software to help content marketers grow leads and revenue.
Personalization
Sitecore

is a software development company providing web content and customer experience management solutions.
Sentient Technologies

is an AI platform company that uses a combination of deep learning, bayesian techniques and evolutionary algorithms at massive scale to create products that drive meaningful ROI.
Drift

is a conversational marketing and sales platform that provides a buying experience for potential customers, generates more qualified leads and dramatically accelerates the sales cycle.
Skyword

makes it easy to produce, optimize, and promote content at any scale to create meaningful and lasting relationships.
Emarsys

is a B2C marketing platform that enables brands to deliver truly personal customer interactions across email, mobile, social, SMS, and web – at scale.
Uberflip

allows marketers to create, manage, and optimize content experiences so they can leverage content throughout the buyer journey.
Klevu

is an AI-powered ecommerce search solution, designed to drive more revenue for mid-level and enterprise-level online retailers through enhanced accuracy and merchandising capabilities.
Beehive B.I.

develops unique analytics reporting and BI tools, tailor made for the iGaming industry.
Seventh Sense

is an artificial intelligence solution uses data from marketing automation and corporate email systems to help win attention in today's overcrowded inboxes.
Blueshift

uses AI to personalize the entire customer journey and continuously determine the right marketing actions for each customer.
CliClap

autonomously generates and qualifies B2B inbound leads by providing online visitors with the best information and next actions for their individual intent.
Promotion
Yext

is a Digital Knowledge Management (DKM) platform that gives companies control over their brand experiences across maps, apps, search engines, voice assistants, and other intelligent services.
Albert

is an artificial intelligence marketing platform for the enterprise, driving fully autonomous digital marketing campaigns.
PulsePoint

is a global programmatic technology company redefining digital advertising.
OneSpot

allows you to distribute and sequence your content at scale and drive business results.
Cortex

helps marketers create engaging content. Cortex has an artificial intelligence platform that predicts how humans react to content.
Smart Moderation

is an artificial intelligence solution that keeps the online world clean and free from abuse.
Siftrock

is a marketing automation plug-in that intelligently manages email replies.
inPowered

uses AI to amplify content, enabling advertisers to drive consumer engagement with owned, earned, and sponsored content.
InsideSales.com

helps sales professionals build more qualified pipeline faster with artificial intelligence.
Performance
MonkeyLearn

makes your teams more efficient by automating business processes, getting insights and saving hours of manual data processing.
PaveAI

turns your Google Analytics data into insights using AI.
Uncover More on AI in Marketing
Want even more advice on how to get started with AI? Subscribe to the Marketing AI Institute's blog to receive actionable advice on AI.