Growth Today & Tomorrow
At PR 20/20, you know we love to look beyond. But what do we see?
We see a future of marketing that is more intelligent and more human. It's this work and the opportunity to partner with forward-thinking organizations that ignites our spirit.
From digital transformation, intelligent automation, and AI-enabled marketing—to reconnecting with a brand's core values, corporate responsibility, and community—our team of consultants is dedicated to building more human and more intelligent marketing, together.
At our core, we want to help you grow—your brand, your business, your career—today and tomorrow.
We fuel growth today through marketing, sales and service platforms like HubSpot. And we're prepared to help brands and marketers grow in the future through the opportunity of marketing artificial intelligence (AI).
From Automation to Intelligence
PR 20/20 was HubSpot's first agency partner. We saw an opportunity, vision, and an incredible team of people to truly bet the future of our business on ... and it was as great of a decision then as it continues to be today.

More on the origins of PR 20/20's HubSpot story here.
Fast-forward 13 years and we continue to help clients use the HubSpot marketing, sales and service platform to grow better.
We've seen the marketing software evolve into a "platform" over the years, and we've dedicated resources to keeping up with the latest innovations.
And as we continue to keep up with what's next, enter marketing AI.
Here's an excerpt from our founder & CEO, Paul Roetzer:
"As the number of connected consumers and devices expands, the amount of data produced exponentially increases. Meanwhile, marketers' ability to filter through the noise and turn data into actionable intelligence remains limited by biases, beliefs, education, experiences, knowledge and brainpower.

In other words, we have a finite ability to process information, build strategies, create content at scale, and achieve performance potential. While traditional marketing technology is built on algorithms in which humans code sets of instructions that tell machines what to do, with AI the machine creates its own algorithms, determines new paths and unlocks unlimited potential to advance marketing, business and mankind.

Marketers who can harness the power of AI will be able to do more with less, run personalized campaigns of unprecedented complexity, and transform business as usual through new methods of machine-intelligent marketing. The opportunities are endless for marketers and entrepreneurs with the will and vision to transform the industry."
This is a snippet from the about page of the Marketing AI Institute, PR 20/20's sister company dedicated to helping marketers understand, pilot and scale AI.
AI can seem like a buzzword. It can seem daunting. And it can seem like something you'll wait for "the next generation" to figure out. But, it's here and your ability to understand the potential of marketing AI can be a competitive advantage.
Take HubSpot's evolution for example. Like I wrote above, "We've seen the marketing software evolve into a 'platform' over the years, and we've dedicated resources to keeping up with the latest innovations."
We've also talked to HubSpot about its AI vision and product maturity—something we encourage marketers to do with their existing martech stacks. A snippet of HubSpot's point of view on AI: "AI is not a genius. It's more like... a super reliable intern. It's fast, consistent, and never complains. AI isn't magic. It's manageable, practical, and valuable."

HubSpot's starter marketing AI services include:
Data cleanliness. Helps marketing, sales, and service keep their databases clean, giving teams more time to focus on customers and not scrubbing messy data.
Business card scanner. Instantly turns business cards into CRM contacts using HubSpot's mobile app.
Deduplication. Finds duplicate contacts and companies and automatically merges them.
Easy imports. Using AI-powered mapping, HubSpot automatically knows which columns are associated with which properties on a contact import spreadsheet.
Call recording and transcription. HubSpot calling automatically captures and transcribes sale call conversations.
Automatic email data capture. Automatically captures contact info (names, job title, phone numbers, etc.) for more powerful segmentation, routing, and reporting.
CRM enrichment. Identifies key companies by industry, location, size, revenue, etc. and automatically adds to HubSpot Insights.
Live chat name recognition. HubSpot automatically gathers contact info like names from live chat and syncs with the CRM.
As you'll see from the link and services listed above, even your current automation platforms are thinking about AI — and they should be.
A Career in Marketing Means Continual Learning & Development
Our team is constantly learning and evolving when it comes to the ever-changing world of business and marketing.
What started as a curiosity around the potential for AI in content marketing, grew into the Marketing AI Institute. And since then, we've heard from hundreds of marketers who crave more information when it comes to understanding and applying marketing AI within their businesses and careers (the Institute now has 17,000+ subscribers).
This mostly non-technical audience (i.e. no backgrounds in analytics, data science or programming) is diving head first into data, theory, and new technologies.
So, we pulled together a great group of instructors, speakers, authors, marketers and entrepreneurs to share their resources in the Marketing AI Institute's AI Academy.
AI Academy for Marketers
The AI Academy for Marketers is an online education platform filled with courses, certifications, and a community of forward-thinking instructors and marketers.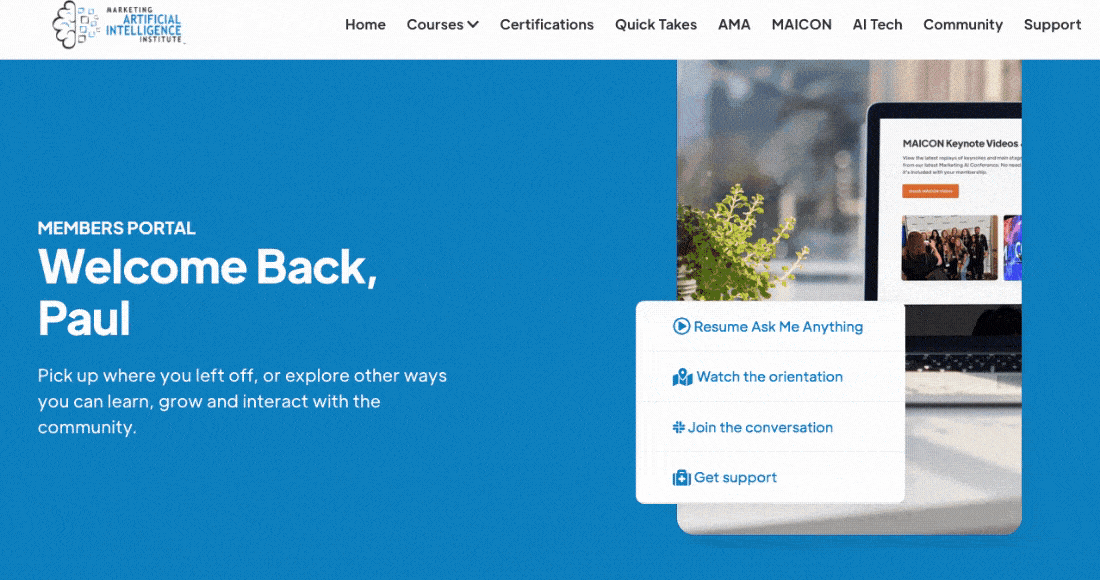 Topics range from data to sales and beyond. Here's a few examples:
Find the full list of AI Academy certificates and courses here.
And read all about the details of the AI Academy here.
Be curious. Explore AI.
We're inspired by the opportunity for a more intelligent, more human future of business and marketing. It's why we invest so much in bringing this vision to life, bringing resources to the table, and enabling marketers like you to join the community.
For all the details on the AI Academy launch, check out the full behind-the-scenes story from PR 20/20 and Marketing AI Institute founder, Paul Roetzer — Online Learning. The Next Phase of Marketing AI Institute.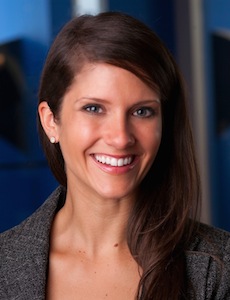 Jessica Miller
Jessica Miller is VP and managing director of PR 20/20, where she guides strategy and performance, and champions the ongoing pursuit of building a great marketing firm. For more than a decade, Jessica has built lasting partnerships that connect marketing strategy to bottom-line business outcomes. Jessica joined PR 20/20 in 2011 with global agency experience. She is a graduate of the E.W. Scripps School of Journalism at Ohio University. Full bio.