Did you know that sales representatives on average spend only 36% of their day actively selling? According to HubSpot, the majority of a sales rep's day is consumed with internal processes and data entry. If you personally work in sales, maybe you can relate.
Luckily, platforms like HubSpot offer users an all-in-one solution for marketing, sales, and service. Specifically, if you're in sales, there are a variety of automated solutions that can eliminate wasted time—so you can focus on selling more.
We've rounded up five of the most essential Sales Hub tools to improve process and boost sales efficiency. And the best part? Most of these tools highlighted in this post are free.
Let's get started.
1. Tasks
There are endless project management systems out there, but we know one thing to be true— the more programs you introduce, the messier and less consistent sales processes become. Instead of bogging the sales team down with another system to manage projects, consider HubSpot tasks. HubSpot enables users to easily create tasks for follow-ups, finding new contacts, and really, anything else you could want an assigned task for.
Manually assign tasks by navigating to Sales > Tasks. From there, you can view and manage all tasks in a single screen, whether you want to view open tasks, tasks due by the date, or overdue tasks. On this same screen, you can also view tasks as they're assigned per person or based on priority.
One of our favorite features in tasks is the ability to assign them while drafting emails (pictured below). Let's say you're in the middle of an email to a lead and want to make sure you follow up in one week. With HubSpot tasks, you can easily assign a reminder to follow up without ever leaving your draft.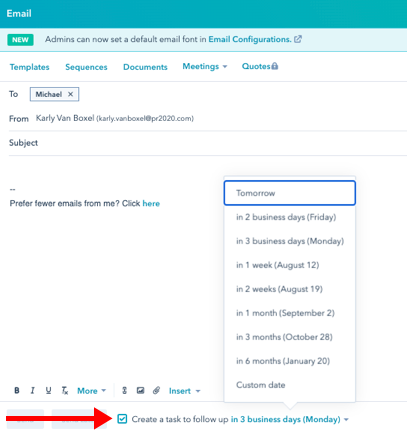 2. Templates
In the early stages of a sales process, your sales messaging might be similar or follow a standard template. With HubSpot email templates, you can eliminate the manual task of typing out repetitive emails.
To create a new template, navigate to Conversations > Templates. From there you can simply click "new template" and select "from scratch" to create a custom email. Once you've created your template, you can easily pull it into an email by clicking on "templates" in the top row of your email toolbar and selecting the proper template.
While templates save time and ensure accuracy, it's crucial to remember the role that customization plays in your communication. As helpful as automation tools are, consider inserting personalization tokens or anecdotes from past interactions throughout templates to customize your email to maintain that human connection.
*Note: Free users can access the templates feature and can create up to five templates. If you think your team will require more than five templates, consider upgrading.
3. Meeting Schedule Tool
This capability is certainly useful for departments beyond sales, but in our experience, the scheduling tool is extremely useful when coordinating calls with prospects. The meeting schedule tool eliminates the back and forth of meeting scheduling by syncing with your personal calendar.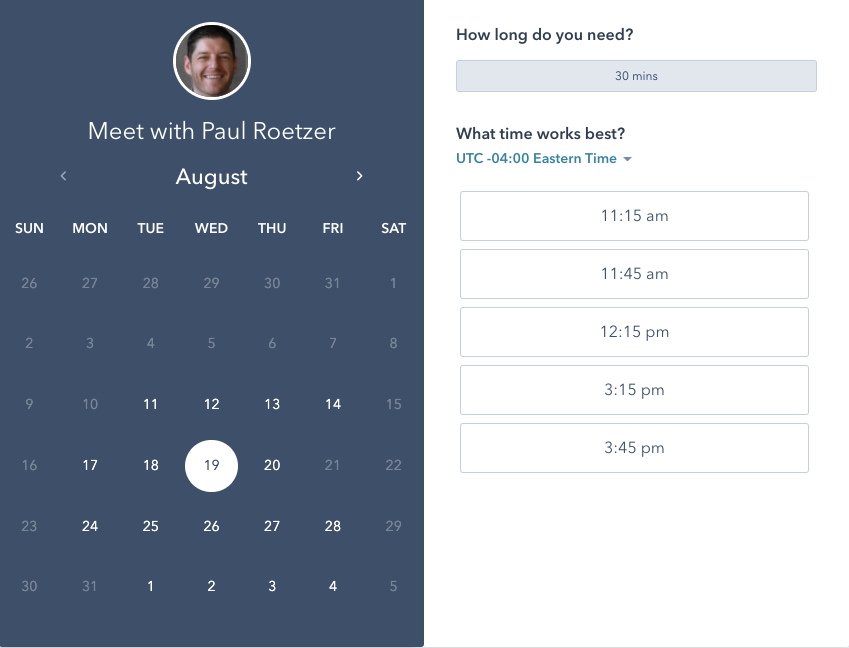 The scheduling tool syncs with your Google or Office 365 calendar, which allows prospects to see your most up-to-date availability. All you need to do is send your prospect your custom link and they can quickly book a time based on your openings. Users can even book based on their personal time zone.
4. Playbooks
Playbooks are an extremely useful tool that can help sales managers arm their teams with what HubSpot refers to as "competitive battle cards."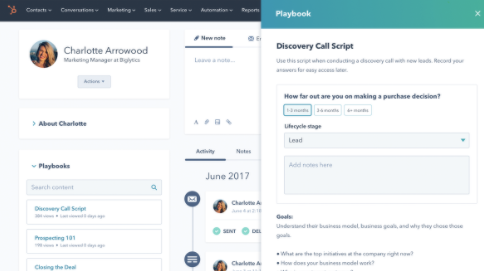 These "battle cards" outline your company's sales process and include information such as:
Buyer personas
Call scripts and agendas
Sample emails
Discovery, qualification, demo, and negotiation questions
Proposal guidelines
Competitive intelligence guidelines
Playbooks are the ultimate cheat sheet for sales reps. They allow for quick and effective training when bringing on new team members and ensure that sales messaging stays consistent as sales reps mature in their individual roles.
*Note: Playbooks are only available in Sales Hub Enterprise.
5. Custom Reports
Reporting is key to any sales process, and while HubSpot's default reports can easily collect information on sales and revenue, you may find yourself wanting to dig a little deeper into the data. Custom reports allow you to pull valuable insights at a glance.
There are four different types of custom reports available:
Custom single object and cross-object reports. These reports help you better analyze objects such as contacts, deals, activities, and even feedback submissions.
Custom funnel reports. Let's say you need a monthly report of progress and how many deals progressed throughout the sales pipeline last week. Custom funnel reports allow you to analyze conversion rates between different stages in your sales pipeline, making reporting a breeze.
Multi-touch revenue reports. This report allows you to look at the value of each interaction that a lead has with your business. This can help you ultimately decide which leads take priority over another.
Custom contact attribution reports. Contact attribution reports are similar to multi-touch revenue reports, but instead, they analyze the value of interactions a lead has with your business in terms of how those interactions lead to a conversion. This can help you place higher priority driving leads to certain actions, to eventually have them convert.
While we highlight our top five Sales Hub tools in this post, Sales Hub offers a multitude of features that can help your sales team excel. What Sales Hub tools do you find more useful? Comment below!
Want more HubSpot content? Become an Inbound Insider.
Inbound Insider is the AI-powered newsletter for all things HubSpot.
This smart newsletter, powered by rasa.io, curates top articles and news related to HubSpot. Using machine learning, it also learns your preferences and personalizes content based on your interests. Stay in the know, and subscribe for a weekly curation of inspiring reads.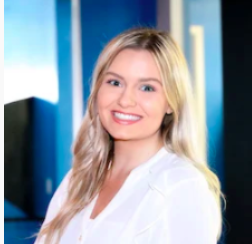 Karly Van Boxel
Karly Van Boxel is an associate consultant at PR 20/20. She joined the agency in May 2019 with a background in public relations, marketing and community engagement. Karly is a 2019 graduate of Kent State University, where she earned a degree in public relations and a minor in marketing.