Last month, a Cleveland Social Media Club (@smccle) friend, Tony Ramos (@tonyramos), posted the following update to Google+ and Facebook. We chatted on G+ about the topic, and about featuring Tony's update in today's post. Our 3 comments about this specific update were the only chatter seen on that social network.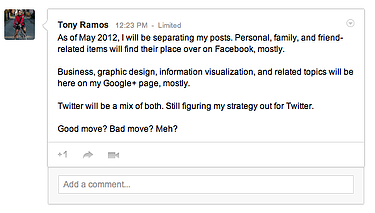 Interestingly enough, when Tony posted this update to Facebook, he saw 6 Likes and 33 comments. The quick comparison is telling of where Tony's most engaged audience prefers to connect.
Socialites' Dilemma
For many social media fans, marketers and brands, the question of what to post where is worth considering. Tony's update is one example of social media users trying to figure out which content is right for which network. Is there a perfect answer or formula? If so, I haven't heard of it. (If you have thoughts on this, please post to the comments below.)
Rather than following a formula, I've been sticking to a few rules that make sense for my personal network distribution—Facebook for more personal updates, LinkedIn for business matters, Twitter for a healthy combination, and Google+ when I have more to say on a topic—in addition to the tips offered below.
The questions of "which content should I post to which network?" or "how do I best alter content for each network?" can be approached with the same overall marketing strategies and research we place on our campaigns—considering audience, content, network and results.
1. Audience Aptitude.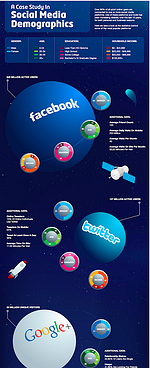 Who is on different social networks? This Online MBA infographic gives you an example of the information that's available when diving into different social network demographics.
For example, Google+'s more common user occupations include engineers (1.77%), developers (1.02%) and designers (.82%). Compare this to Pinterest, with users' top interests including crafts, gifts, hobbies, interior design and fashion. If you're in the tech business, Google+ may be an ideal network for you, while if you're in home DIY, your time will be better spent on Pinterest.
With a handle on basic user demographics of each network, put in the time to do your own additional research. Search networks that you think would make the most sense to determine how active your target audiences are there. Consider your answers to the following:
Are target audiences on LinkedIn? Are they in groups? If so, how active?
Do audiences tweet?
Do they engage with similar brands on Facebook?
Do they join discussions on Reddit, Focus or Quora?
Where do they fall on Forrester's Social Technographics scale?
Answers to questions like this can keep you relevant and in tune with your audiences' social habits.
2. Match Content and Network Logistics.
With varied features, capabilities and limitations of each social network, each lends itself to different types of content. Take the example of a networking event or conference, and how different content can be shared across different networks without annoying followers (hopefully):
LinkedIn: Use the "events" application to let your network know you're attending, and grow your network by connecting with other attendees.

Google+: Take notes from the event, tag speakers, upload images and more. One of the great advantages of this network is that you're not limited by word count, so the content you share can give your network a more holistic overview of the experience, including multiple links and resources.
Twitter: Follow the event's #hashtag to find others in attendance, join in back-channel conversations, and create meaningful connections.
Facebook: Upload an album from the event and share it with the sponsoring brands' Timelines; join the event and invite others in your network; tag yourself in images from the event to let other attendees find you and connect.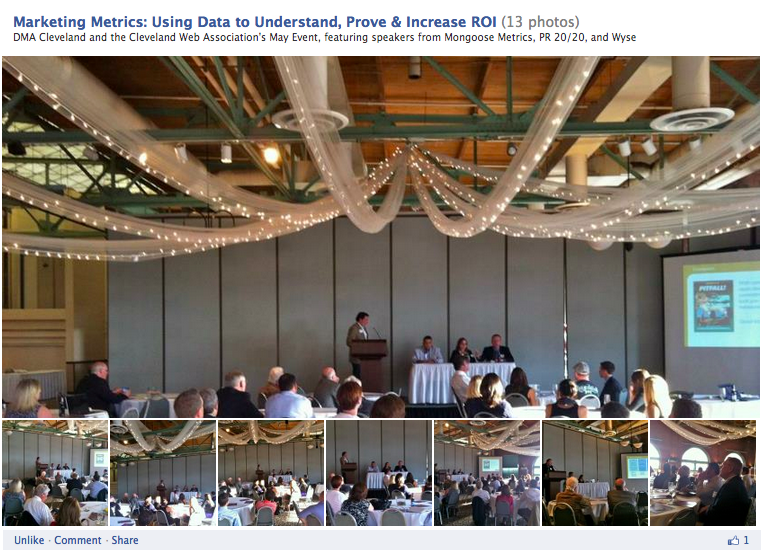 YouTube: Grab a snippet of content, interview the speaker, or share your own quick thoughts on film. This type of content is great for search, and can be repurposed on other social channels.
Pinterest: From infographics and presentation slides to products, venues and dinner spreads, if it's applicable, Pinterest can be a good way to use event photography to drive traffic to your website or other social channels.
Quora / Focus: Did resources from the event, or its speakers, answer any questions you've seen on Q&A websites? If so, share a response and link to the event or event notes (G+ or a blog post) for additional information.
SlideShare: If you're a presenter, make the deck available to expand its reach beyond event attendees.
3. Measure and Evolve.
Go into social media with a strategy, but continually measure engagement and results, and evolve. Look at your following, and look at engagement levels. Remember to focus efforts on asking questions of followers, replying and tagging influencers in your updates, and responding to others' questions for engagement results.
Like Tony's example above, if you continually see the strongest responses on a certain network, make sure continually capture that audience by sharing your most important and engaging messages there.
How do you know what to post where?
Do you find it challenging to know where to post content on social networks, and when to repurpose content for different networks? How do you differentiate? Please share your tips in the comments below.
Stay updated: Subscribe to the PR 20/20 blog, check us out on Facebook or follow the team on Twitter.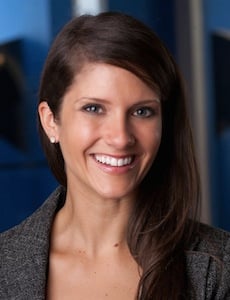 Jessica Miller
Jessica Miller is VP and managing director of PR 20/20, where she guides strategy and performance, and champions the ongoing pursuit of building a great marketing firm. For more than a decade, Jessica has built lasting partnerships that connect marketing strategy to bottom-line business outcomes. Jessica joined PR 20/20 in 2011 with global agency experience. She is a graduate of the E.W. Scripps School of Journalism at Ohio University. Full bio.