In honor of HubSpot's 6th birthday, we look to its future by exploring the company's latest plan, HubSpot Enterprise, and its capabilities for inbound marketers.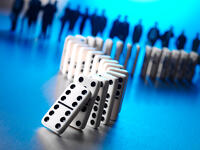 Last June, HubSpot acquired marketing automation software company Performable. By integrating Performable features into the HubSpot platform, HubSpot released its Enterprise edition—an all-in-one solution for sophisticated marketing programs.
As the first HubSpot Agency Partner and a Gold Tier VAR, we jumped at the chance to test out Enterprise for some of our more aggressive client campaigns, as well as the agency itself. Here, we share some of our favorite features and lessons learned.
Why Use HubSpot Enterprise?
The advanced marketing tools available in HubSpot Enterprise are not a fit for all customers, but work well for those with complex sales cycles and multifaceted marketing campaigns.
Aimed at harnessing prospects in the "middle of the funnel," Enterprise:
Encourages the alignment of marketing and sales activities
Targets qualified leads more effectively
Provides valuable insight into what behaviors are more likely to lead a prospect to take a desired action
This aggressive approach to marketing requires companies to properly dedicate resources and trained personnel that can run highly analytical, real-time campaigns. To run a successful campaign, team members must be able to:
Indentify key visitor behaviors and create a targeted strategy based on those triggers. What elements on your site should be monitored? Set up events for call-to-action buttons, main navigation links, form fields and other important landing page URLs. Using the information gathered from advanced analytics, you can adjust content featured throughout your site or in lead nurturing campaigns to drive better results.
Draw correlations between activities, analytics and sales results, and evolve campaign tactics based on performance reports. What drives a lead to convert to a customer? Is there a common original source associated with conversations? For example: Maybe visitors first come to your site via a Facebook ad, but you're not seeing immediate conversions. Should you reduce Facebook advertising spend? Not so fast. With Enterprise analytics, you might find that these Facebook visitors are likely to convert at a later time—they just need to view a relevant blog article or receive a lead nurturing campaign. Now, your team can justify spending on Facebook because you know it assists in the overall sales cycle as a first touch.
Execute more advanced technical activities (depending on who does the Enterprise element setup). HubSpot Enterprise setup requires basic coding knowledge. For example, you'll need to use JQuery to pull element IDs from your site's source code in order to set up and track events. If you don't have this capability in house, you'll want to work with a developer or HubSpot partner like PR 20/20 who is familiar with the process.
Write effective, action-oriented and optimized copy. The setup of HubSpot Enterprise is only the beginning. You also need a skilled copywriter to execute a cohesive campaign that utilizes information from all channels (e.g. website, blog, social media and email). To bring value to potential customers, create content that is relevant to your target audience, optimized and intended to call them to action—buy, register, learn more, etc.
Key Features
Three key tools set Enterprise apart from HubSpot's traditional suite of advanced marketing tools—advanced landing pages, advanced lead nurturing and advanced analytics.
Check out the following slide deck, Overview of HubSpot Enterprise, for details on tool features and capabilities.
You can also contact PR 20/20 to request a proposal and discuss how HubSpot Enterprise can improve your company's marketing program. Or, click the image below to download a free ebook and learn more about how you can enhance your inbound marketing activities.
Stay updated: Subscribe to the PR 20/20 blog, check us out on Facebook or follow the team on Twitter.