Your members are constantly evolving, and with competition for attention at an all-time premium, your marketing efforts need to stand out.
In today's individualized world, a one-size-fits-all approach no longer suffices when it comes to marketing, and that's where personalization comes into play.
Below, we delve into the reasons why personalization is crucial for associations and explore several tools you can use now to drive member engagement, satisfaction, and loyalty.
Why Personalize Your Association's Marketing Efforts?
Personalizing your association's marketing efforts can reap significant benefits. First, by tailoring messages and content to prospects' needs, associations can build meaningful connections and increase the chances of converting prospects into members.
Personalization also enables associations to deliver targeted messages that answer your members' questions and address their most pressing pain points. Ensuring your communications resonate with the right audience at the right time will help result in higher conversion rates and enhance member loyalty.
As a whole, embracing personalization in your organization's marketing efforts is tantamount to building prospect connections, boosting member retention, standing out from your competition, and driving revenue. What else does this mean? Long gone are the days of spamming your members with irrelevant emails. If your association isn't incorporating personalization tools like the ones below, it may be left in the dust.
Personalization Tools to Add to Your Marketing Strategy Now
While it may seem like an overhaul of your existing marketing strategy, adding personalization doesn't have to be a significant burden. Use the tools below to get started.
1. Personalize with Reporting
Using reporting for personalization efforts in marketing can help you leverage data to make strategic, informed decisions. Tools like HubSpot, Google Search Console, and Google Analytics 4 can provide you with impactful data related to member and prospect behavior, pain points, and interests. Types of HubSpot reports that you can create to help drive your decisions include:
Contact reports

: These reports provide insights into your contact database, including contact growth, engagement rates, and lifecycle stages. You can analyze data such as website visits, form submissions, email interactions, and conversion rates to understand your audience's behavior and preferences.
Asset reports

: Gain a better understanding of which of your content assets (ebooks, whitepapers, guides, tools, etc.) are top performers. HubSpot enables you to break down contact conversions by asset type, source, and more. From there, you can optimize your content creation process, as well as your site's

user experience (UX)

.
Email performance reports

: These reports help you analyze the effectiveness of your email campaigns. You can track metrics like open rates, click-through rates, and conversion rates. Understanding which emails resonate with specific segments or individuals can help you can personalize future email campaigns accordingly.
Website analytics reports

: HubSpot's website analytics reports provide information on website traffic, page performance, and conversion rates. You can identify popular pages and top-performing landing pages and track visitor behavior. This data helps you understand which content and website elements resonate with your audience, enabling you to personalize their website experience.
Combined with GA4's audience reports, event tracking reports, conversion reports, and user acquisition reports—as well as Google Search Console—these tools can empower you to make informed marketing decisions for your target audiences.
2. List Segmentation for Personalization
In HubSpot, list segmentation can be used to organize your contacts based on a wide variety of criteria, such as age, most recent content download, lifecycle stage, and more. These lists can then be used in targeted emails and workflows.
For example, if you created an active list of members who have filled out a form for a whitepaper covering the benefits of utilizing AI (artificial intelligence) for member engagement, you could then send them marketing emails related to that specific subject.
3. Personalization Tokens
Ever wonder how an email addresses you by your first name? The answer lies in personalization tokens. Personalization tokens, which represent property values for CRM objects such as contacts or companies, can be used on your HubSpot website pages, landing pages, and emails.
A simple yet effective way to use a personalization token is by adding a first name or company name to an email, as shown in the example below.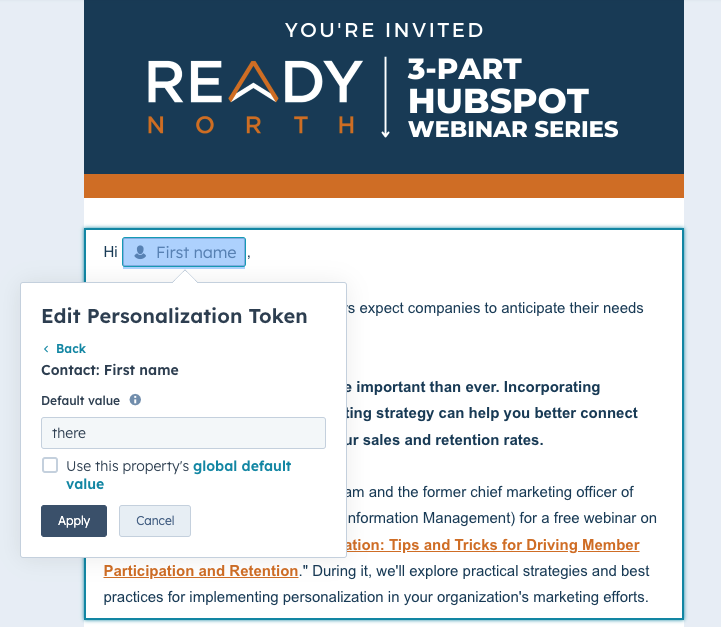 🔥 Pro tip: Always use a default value in the event you don't have a contact's information for the personalization token you've created. This will ensure the token doesn't appear blank or confuse your reader.
4. Smart Content
HubSpot's unique smart content features allow you to create personalized marketing messages with only a few clicks. With this tool, you can display different content to users based on each contact's properties, interactions on your site, or engagement in channels.
To create smart content, select a module in an email, blog post, website page, or template. Click "Add" under "Smart rules" and create your rule.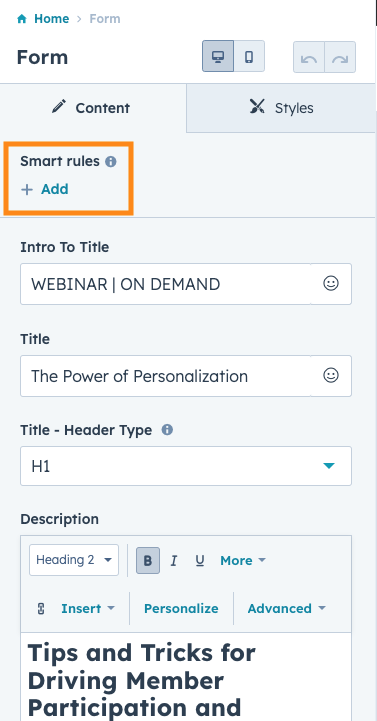 Once you've created your rule, you'll edit a page's content based on your different categories.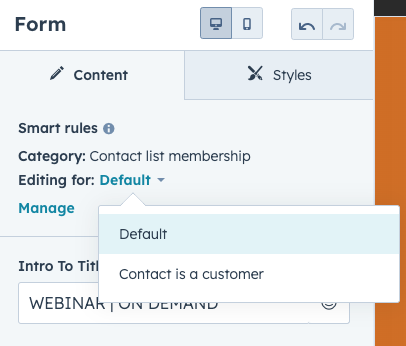 Smart content is a simple way to customize your messages based on a contact's lifecycle stage. For example, if a visitor is a new lead, you can display introductory content and calls to action to encourage them to learn more and engage further. On the other hand, if a visitor is an existing customer, you can display personalized upsell offers or content relevant to their specific needs.
🔥 Pro tip: Most smart content rules are created around a known contact's lifecycle stage or list membership, though there are some exceptions to this, as smart content rules can also be based on ad source, country, device, referral source, and preferred language.
5. Smart Forms
Smart forms go hand in hand with smart content. Like the above, rules are created in order to display different forms for a user based on their country, device, referral source, preferred language, list membership, and lifecycle stage.
To create a smart form, simply navigate to the landing or website page where your form lives to edit it. Select the form module, and click "Add" under "Smart rules." From there, you can choose your criteria and save your new rule.
Once you've created the new rule, select the category for which you'd like to edit the content, scroll down to your form, and sub it out for the correct one.
6. Smart CTAs
Like smart content, smart CTAs can display different copy and direct users to different website pages based on their country, device, referral source, preferred language, contact list membership, or lifecycle stage.
You can directly edit your existing CTAs to make them smart by selecting Actions > Edit > "Create smart version." Once you've done so, you'll be prompted to create specific rules for that CTA.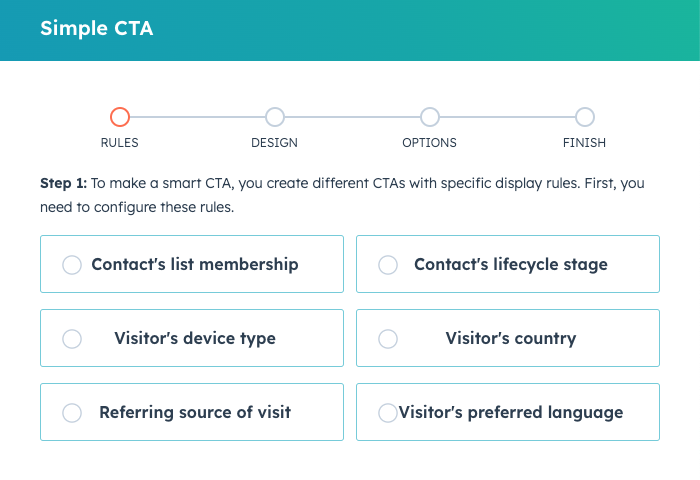 Once those rules are established, they'll be automatically implemented on the pages where that CTA lives.
🔥 Pro tip: Marketing Hub Enterprise users can also A/B test smart button CTAs to see which ones are most effective.
Personalize Your Association's Marketing with HubSpot
If your goal is to enhance your association's marketing strategy with HubSpot, then you've come to the right place. Check out our on-demand webinar, The Power of Personalization: Tips and Tricks for Driving Member Participation and Retention, below to learn more about how you can scale your personalization efforts with ease.