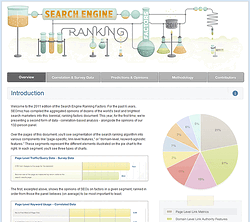 Every two years, SEOmoz publishes a Search Engine Ranking Factors report, in which it surveys the top SEO minds in the industry (132 this year), and asks them to rank the different elements that go into search ranking algorithms, from most important to least.
For the first time, SEOmoz also performed primary research this year by conducting 10,271 searches on Google and analyzing specific features of the ranking sites to see which elements correlated to higher rankings. NOTE: Findings show correlation, not necessarily causation.
Overall Ranking Factor Importance
Following is a breakdown of the highest-ranking factors, and the overall importance each has on a site's ability to rank on a search engine result page (SERP), according to the experts.
The order of the bullets contained in each section is based on importance, but I consolidated different sections of the report to help simplify the concepts. See SEOmoz's 2011 Search Ranking Factors for a more comprehensive, advanced breakdown.
Inbound Links — 42% of SERP Impact
Number of unique websites that are considered important by search engines — have a high PageRank or mozRank — that link to a site or page. This is the highest-ranking factor when it comes to a website's ability to rank for a search query.
Number of unique inbound links that contain relevant keywords as the anchor text.
Distance (how many links removed) the site is from a "trusted site," such as a government (.gov) or university (.edu) site.
Quantity of unique web pages (not to be confused with websites) linking to a site or a page.
Topical relevance of a web page linking to a site or page.
Keyword Usage — 26% of SERP Impact
Domain Level
Search engines look for:
Keywords in the domain and subdomain of a website.
Order of keywords used first in the domain or subdomain (e.g. www.keywordABC.com will rank better than www.ABCkeyword.com).
Note: SEOmoz made sure to point out that they've seen a significant drop from years past in both the importance placed on this feature by its panel, as well as in correlation data.
On Page
For on-page keyword optimization, pay attention to the following page elements (in order):
Page Title — The earlier that the keyword is used the better.
Internal Link Anchor Text — Keyword is in the anchor text of internal links (links on your web pages to other pages on your site).
URL — Keyword is in the page URL (e.g. example.com/keyword).
Headlines (H1 tags) — Keyword appears first within the H1 tag.
External Anchor Text — Keyword is in the anchor text of external links (links to other websites) on the page.
Content — Keyword appears in the "content" area of a web page, within the first 100 words.
Related Terms — The page includes terms related to the keyword (e.g. keyword = "camera"; related terms = "lens," "photo," and "zoom.")
Image Alt Text — Keyword included in image alt text tags.
Sub Headlines — Keyword present in sub headlines (H2 tags); H3 tags are less significant.
First Word Body Text — Keyword appears as the first word in the body section of the page.
Also mentioned, but very low on the list, are keyword density (the number of times a keyword appears on a page) and keyword use in meta description tags.
Social Media — 7% of SERP Impact
The SEO experts agree that Twitter is the most important social network in regard to its impact on search engine algorithms. Specifially, the authority of a user tweeting links, and the quantity of tweets to a page.
Facebook shares of a page.
Authority of the user who is sharing the links.
Votes and comments about a site on social bookmarking sites (e.g. Digg, Reddit, StumbleUpon).
Authority and quantity of links shared on Google Buzz.
It's important to point out that SEOmoz's primary correlation research found Facebook shares, activity, comments and likes to be the four highest social correlations to search engine rankings, with Tweets being fifth.
Brand Popularity — 7% of SERP Impact
Brand popularity also plays a significant role in search engine rankings. According to the experts, the most importact factors are:
Search volume for a brand name.
Quantity of brand mentions on websites and social sites.
Volume of visits to brand sites based on the data collected by search engine browser tool bars, sugh as Google Toolbar and Bing Bar.
Citations for the domain in Wikipedia.
Claimed Google Places page.
Active accounts on Facebook, Twitter and LinkedIn.
Other Important Factors to Consider
Unique, fresh content across the entire site.
Bounce rate as tracked by the search engines. This refers to visitors that go to a site and then use the back button to return to the SERP. The lower the bounce rate, the better.
Click through rate to your site on SERPs for relevant keyword searches.
Number of error pages. This should be as close to zero as possible.
Length of time you've owned a domain name — the longer, the better.
Site page load time. Faster sites will achieve higher rankings.
From a URL structure point of view, SEOmoz's correlation research shows that domains that include hyphens or numeric characters, or are longer, tend to perform worse than sites that do not. NOTE: The experts rank these three factors as some of the lowest in importance.
While this is a consolidated overview, I'd be interested to hear other's feedback and main takeaways from SEOmoz's 2011 Search Ranking Factors. Please share your insight in the comments below.
Image Credit: SEOmoz
Keith Moehring is business development manager and a senior consultant at PR 20/20, a Cleveland-based inbound marketing agency and PR firm. Follow Keith on Twitter @keithmoehring.
Stay updated: Subscribe to the PR 20/20 blog, check us out on Facebook or follow the team on Twitter.
Keith Moehring
Keith Moehring is the vice president of strategic growth at PR 20/20. He joined the agency in July 2006, and is a 2004 graduate of the University of Toledo.