Being overwhelmed with new client intake can feel a bit like looking at a gift horse in the mouth, can't it?
Professional services businesses are always looking for new clients. It's the only way to grow. I've yet to encounter a professional service firm that seeks to welcome fewer awesome new clients.
Why, then, can it feel like everyone's hair is on fire when it's time to kickstart your intake processes?
Why do so many folks silently curse the time for new client intake instead of whooping it up, watching their revenue climb with each new face they welcome through the metaphorical door?
Usually, it comes down to all the disparate systems a firm uses between marketing, sales, and service. A lead gets passed from marketing to sales, then punted from sales to service. Most of the time, these handoffs can actually feel like they're happening from a football field away.
And that's because it's common for professional services teams to operate in silos. Marketing exports an Excel file of their hot leads for sales, but the sales team keeps a messy yellow legal pad with their most important scribbled nuggets on each "closed-won" deal. By the time the lead has become a new customer, information is floating everywhere, and it's a nightmare to corral it in one client intake process.
This is where HubSpot saves the day. It makes it simple for each team to access the info they need in one central database, making client intake easier than ever. Here are a few simple ways to use HubSpot's robust tools to make intake smooth—dare I say, celebratory?
Automate onboarding notifications with w
orkflows
When your new client is in the door, how do you notify the proper folks that it's time to start servicing them?
Email? Slack? Carrier pigeon?
In each of these scenarios, the process is manual and time intensive (especially the pigeon). But by utilizing workflows in HubSpot, you can automate the entire process. Every time a new deal is won, your workflows can trigger a notification, an email, or a task that indicates to the right person on your team, It's time to get to work.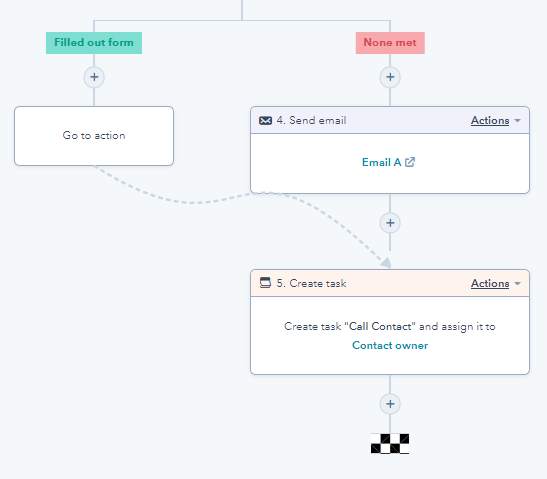 Source: HubSpot
It happens quickly, efficiently, and best of all, the information your team needs on this new customer is all waiting for them in the HubSpot contact record.
Customize contact cards and deal cards
Speaking of contact records, did you know you can customize the cards of information in the HubSpot sidebar? This gives everyone a new, more useful default view of your contacts—and you can apply the same idea when customizing deal records.
And let's say it would be more helpful for the sales team to see certain info about a contact, but marketing needs a different view. You can do that, too.

Source: HubSpot
Keep in mind, custom properties are another option to make intake work even more smoothly. Let's imagine you need to send all new clients a cake celebrating your flourishing new relationship—well, you need a custom property called "Favorite Cake Flavor" to be at the top of your contact record cards.
Create a form to gather custom properties
Speaking of those amazing custom properties, how do you get that information in the first place? Well, there are plenty of ways to get leads to offer it up in exchange for valuable inbound assets, but many of our clients must gather it at-need. Then what?
Here's an example. One of our clients is a professional services business that regularly gets new customers over the phone: Someone calls to schedule the service they require, sometimes out of the blue (read: they're not already in the HubSpot CRM). So, how do we ensure the intake process is still as seamless as possible?
For this client, we created a private landing page that only their receptionists can access. On the landing page is a form with all of the information—custom properties included—that our client needs about the new customer.
When the receptionist fills it out, the HubSpot CRM reflects a brand new customer with robust properties on their contact record. All the information they need is automatically populated.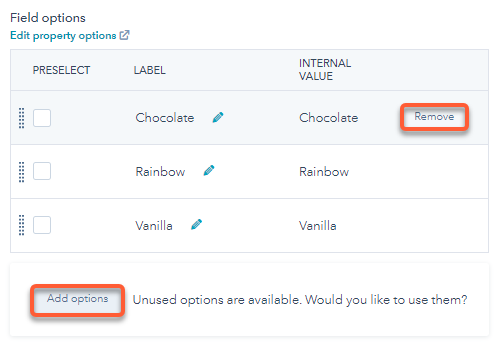 Source: HubSpot
Copy properties from deals to contact records automatically
I can hear you from here. You're saying, "Well, that's all well and good, but we don't have a receptionist. All our leads go straight from a sales rep to an account manager. What now, genius?"
Don't worry—I have a solution for you, too! The answer, once again, starts with workflows.
Let's imagine that throughout the sales process, your rep has dutifully captured the important information we need about this new customer. All of those delicious properties are tracked in a deal record, which you've excitedly watched move from "Discovery" to "Closed-Won."
Wouldn't it be a drag to manually copy important properties from a deal card to a contact record? Instead, just set up a workflow! As long as your deal is associated with a contact, you can create a workflow that automatically copies any necessary properties from a deal to a contact record. Easy!
Want more HubSpot content?
Subscribe to our biweekly newsletter, which covers marketing news, HubSpot best practices, tips and tricks, and more.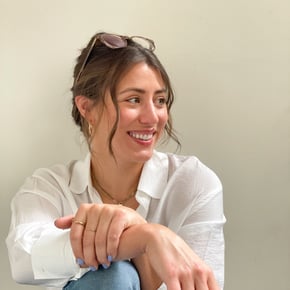 Elizabeth Juran
Elizabeth Juran is Ready North's director of operations. She joined the agency in March 2017 with a background in corporate marketing and communication.