You use artificial intelligence dozens, if not hundreds, of times everyday. From choosing recommended shows on Netflix, to navigating trips in Google Maps, asking questions of Siri and Alexa, ordering products on Amazon, reading your Facebook Newsfeed, and unlocking the iPhone facial recognition.
In short, your life is already machine assisted, and your marketing will be too.
AI makes things more convenient, more simple, and more personalized. And, the real magic of AI is that consumers often have no idea it's there. Things just work, better.
Marketers who take the initiative to find AI-powered solutions will be able to intelligently automate time-intensive, data-driven activities, and execute personalized campaigns of unprecedented complexity that drive meaningful business results.
But, how do you get started?
How do you figure out which use cases to prioritize? And, how do you navigate the hundreds of vendors touting AI and machine learning capabilities?
What is Artificial Intelligence?

Artificial intelligence is an umbrella term for a collection of powerful tools, technologies and algorithms used to make machines smart, which, in turn, enhance human knowledge and capabilities.

AI includes popular terms such as machine learning, deep learning, natural language processing, natural language generation, and image recognition, all of which give brands the power to drive unparalleled productivity, profitability and performance. The early adopters will have a distinct, and potentially insurmountable, competitive advantage.

But, AI in marketing is a crowded and confusing space with lots of hype and buzzwords. It's hard for marketers to find the AI technologies they can trust to move their brands, and careers, forward.
A Mission to Make Artificial Intelligence Approachable and Actionable
PR 20/20 launched the Marketing Artificial Intelligence Institute in November 2016 with the mission to: "Educate modern marketers on the present and future potential of artificial intelligence, and connect them with AI-powered technologies that can drive marketing performance and transform their careers."
Since that time, we've published more than 170 articles designed to make AI approachable and actionable for marketers, and presented dozens of AI keynotes, panels and workshops at conferences around the world.
Related: What You Need to Know About Artificial Intelligence in 2 Minutes
As part of the content strategy, we've interviewed and written spotlights on 40+ AI-powered vendors with more than $1 billion in combined funding. But, that's just the start. We're tracking 820+ sales and marketing AI companies with combined funding north of $4.2 billion.
And, now, we're bringing all this research to you through two new free, ungated assets:
AI Score for MarketersTM

is an online assessment that enables marketers to explore and rate dozens of AI use cases, and get personalized recommendations for AI-powered vendors.
Marketing AI Buyer's Guide

is an interactive resource center that features profiles on dozens of AI-powered vendors we've written about on the Marketing AI Institute blog.
Let's take a look at how each resource creates value for marketers.
AI Score for Marketers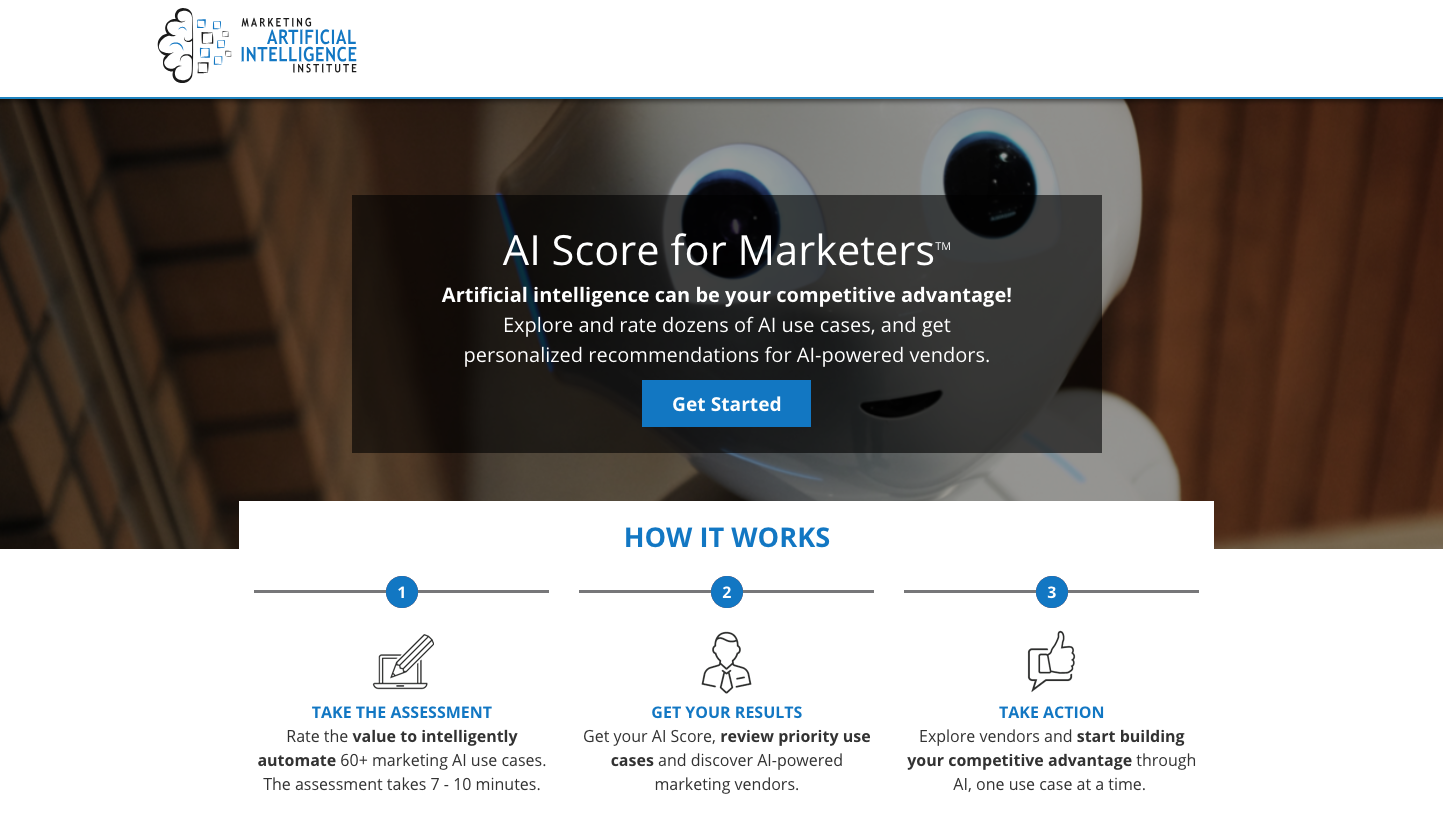 AI Score for Marketers gives you the ability to rate the value to intelligently automate 60+ marketing AI use cases using the 5Ps of AI framework:
Planning:

Building intelligent strategies.
Production:

Creating intelligent content.

Personalization:

Powering intelligent consumer experiences.
Promotion:

Managing intelligent cross-channel and cross-device promotions.
Performance:

Turning data into intelligence.
We devised the 5Ps to help visualize and organize use cases and the marketing AI technology landscape. It will evolve as the market shifts and as we develop a deeper understand of AI and its implications on the industry. But, for now, hopefully it helps you better comprehend the vast potential of AI to enhance your capabilities as a marketer.
Take the Assessment
In each section you're asked the same question, "Assuming AI technology could be applied, how valuable would it be for your team to intelligently automate each use case?"
Use cases are rated on a 1 - 5 scale (1 = no value, 2 = minimal value, 3 = moderate value, 4 = high value, 5 = transformative). For each use case consider the potential time and money saved, and the increased probability of achieving business goals.
Sample use cases include:
Analyze existing online content for gaps and opportunities. (Planning)

Construct buyer personas based on needs, goals, intent and behavior. (Planning)

Identify companies and contacts to target in sales and account-based marketing campaigns. (Planning)

Analyze and edit content for grammar, sentiment, tone and style. (Production)

Create data-driven content. (Production)

Write email subject lines. (Production)

Deliver predictive product recommendations. (Personalization)

Engage users in conversations through bots and chat. (Personalization)

Recommend highly targeted content to users in real-time. (Personalization)

Adapt audience targeting based on behavior and lookalike analysis. (Promotion)

Moderate comments at scale across social channels. (Promotion)

Purchase digital ads using multivariate testing of audiences, keywords and domains. (Promotion)

Create performance report narratives based on marketing data. (Performance)

Discover insights into top-performing content and campaigns. (Performance)

Forecast campaign results based on predictive analysis. (Performance)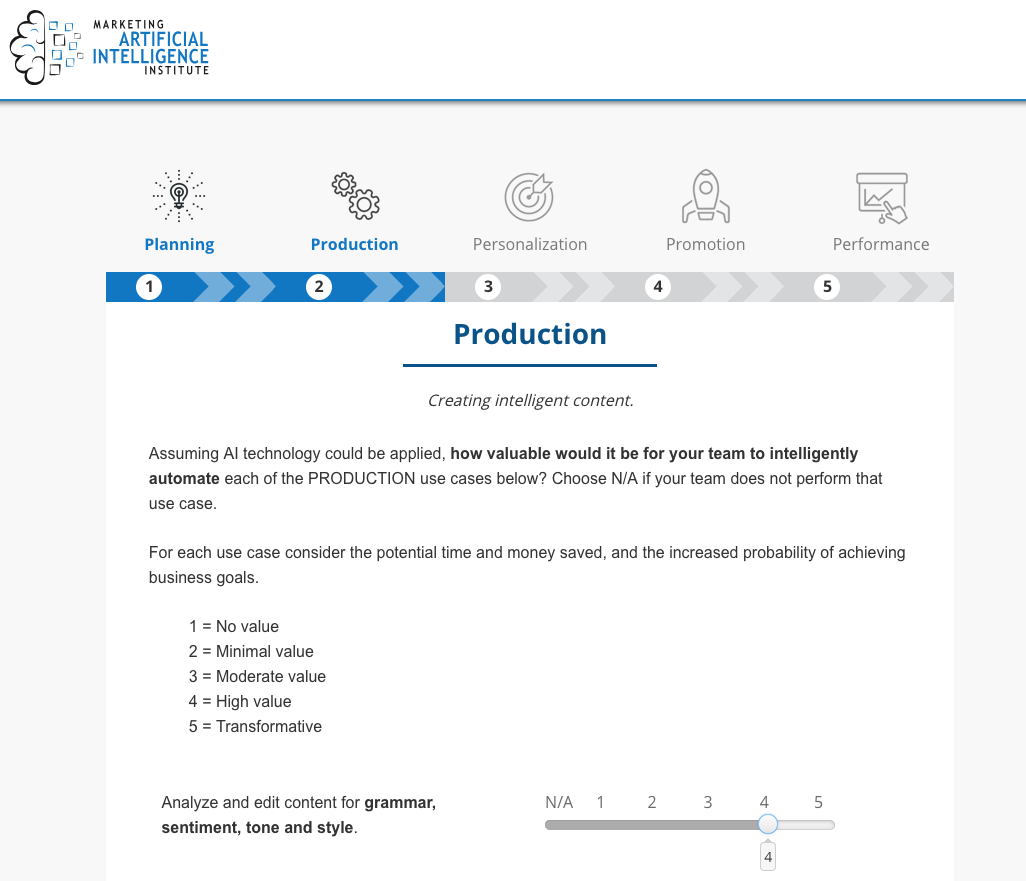 Production section with sample use case and slider-scale rating.
Get Your Results
The final report page surfaces all use cases you rate 4 - 5, and provides vendor match recommendations based on your ratings. You also receive an overall AI Score, as well as section-by-section scores that are designed to help prioritize your research in the areas you value highest.
The assessment takes 7 - 10 minutes. Contact information isn't required to get your results, but, be sure to include your email address on the Profile page if you want to periodically receive benchmark reports, assessment version updates (in case you want to check out new use cases and vendors), and alerts for educational opportunities and events.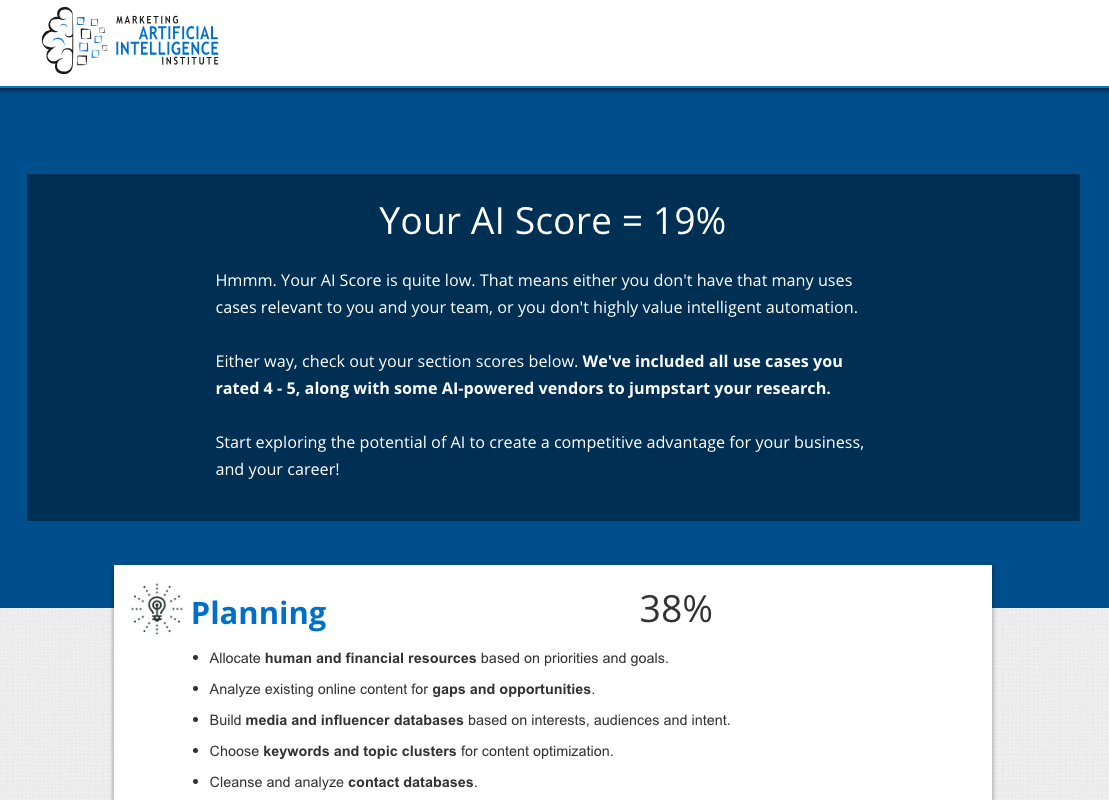 Report page showing overall AI Score, Planning section score and use cases that were rated 4 - 5 in the assessment.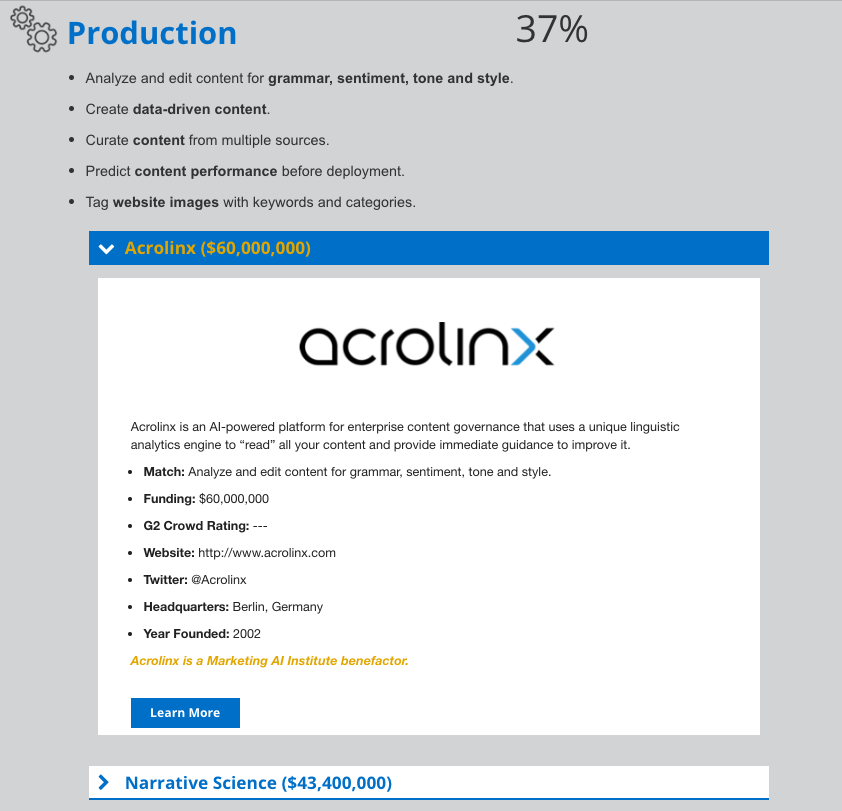 Report page showing Production section score, use cases rated 4 - 5 in the assessment, and a sample vendor card for Acrolinx.
Take Action
AI Score for Marketers gives you the ability to explore vendors and start building your competitive advantage through AI, one use case at a time. Once you complete your assessment, here are three steps to get you moving forward:
Evaluate repetitive, manual marketing tasks that could be intelligently automated. Start with use cases that you've scored 4 - 5.

Assess opportunities to get more out of your data—discover insights, predict outcomes, devise strategies, personalize content and tell stories at scale.

Consider the AI capabilities of your existing marketing technology, and explore the potential of emerging AI solutions.
And, if you want to see 40+ AI-powered vendors in a complementary interactive resource, check out the Marketing AI Buyer's Guide.
Marketing AI Buyer's Guide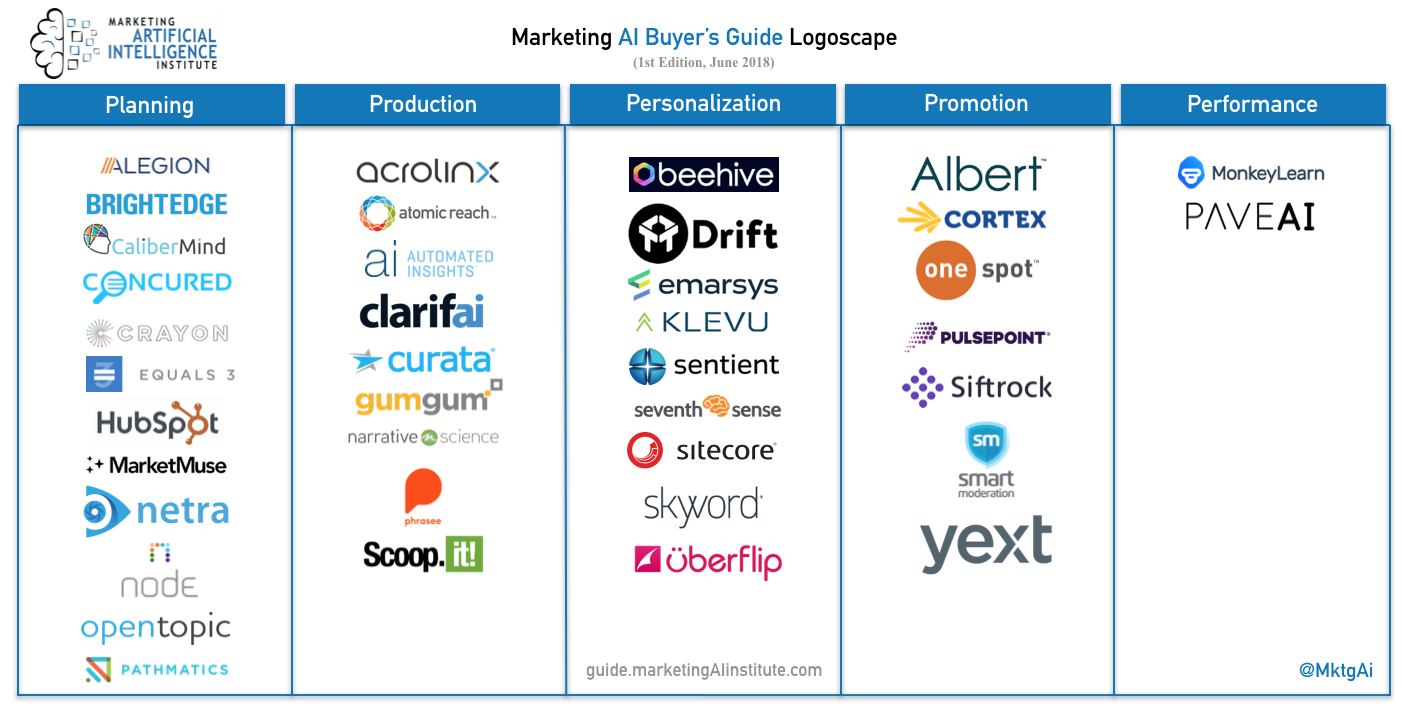 The Marketing AI Buyer's Guide gives you the ability to discover dozens of marketing technology companies that use artificial intelligence (e.g. machine learning, deep learning, natural language processing and generation, image recognition, etc.) to enhance your knowledge and capabilities.
You can sort vendors using the same 5Ps of AI framework as in AI Score for Marketers, and review vendor cards that include funding totals (via Crunchbase), G2 Crowd ratings, and company details. The funding totals and G2 Crowd ratings are intended to give objective data points to help filter vendors and prioritize your research.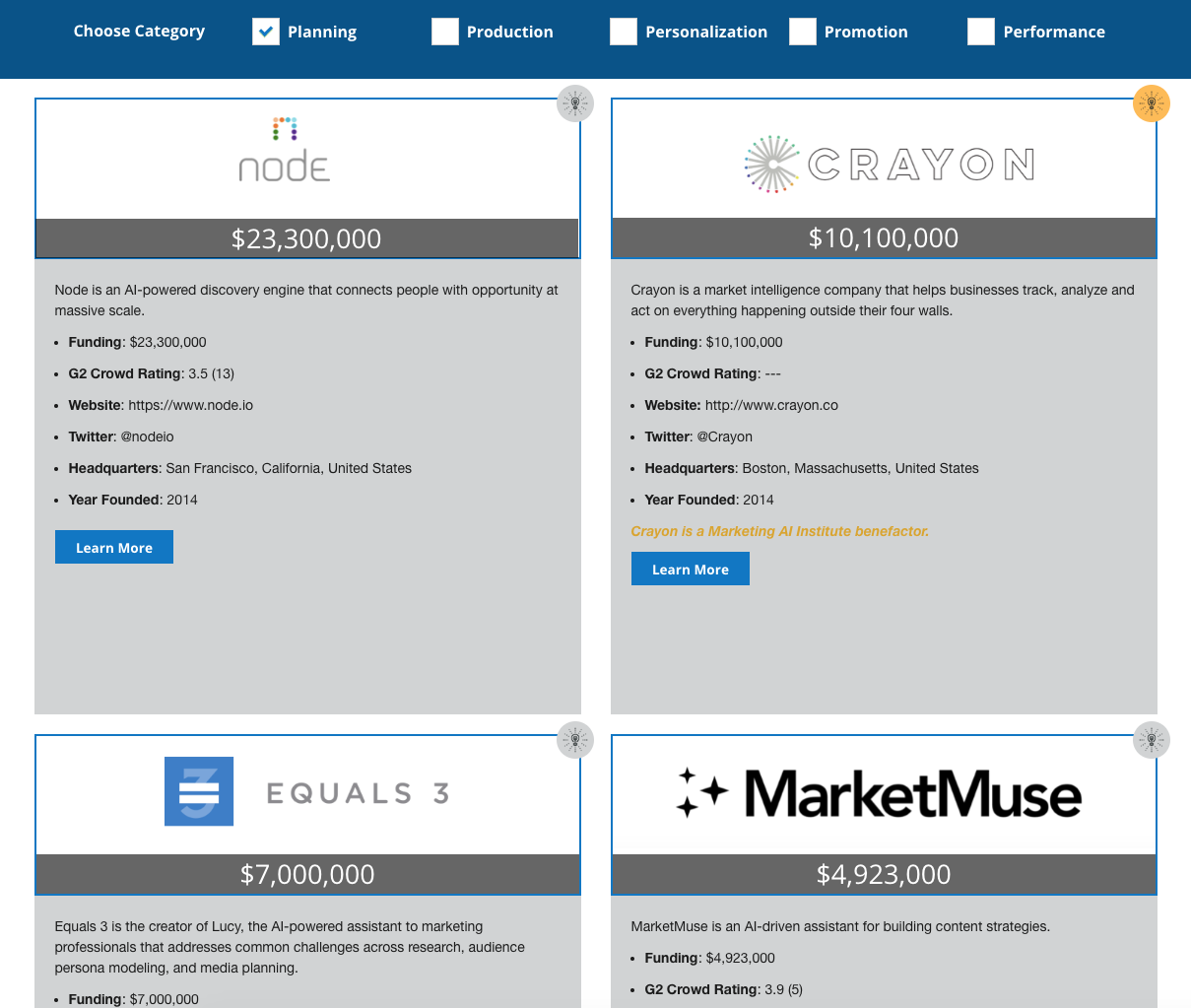 Marketing AI Buyer's Guide sample vendor cards in the Planning category.
The "Learn More" links take you to their Institute spotlight posts in which they answer AI-related questions about their organizations, including:
In a single sentence or statement, describe your company.

How does your company use artificial intelligence?

What do you see as the limitations of artificial intelligence as it exists today?

What do you see as the future potential of artificial intelligence in marketing and sales?

Who are your ideal customers in terms of company size and industries?

What are the primary use cases of your solution for marketing and sales professionals?

Any other thoughts on artificial intelligence in marketing, or advice for marketers who are just starting to explore the possibilities of AI?
We plan to publish quarterly updates with changes to funding totals and G2 Crowd ratings, as well as adding new vendors. So, be sure to subscribe to the Marketing AI Institute newsletter to receive news, trends and resources, as well as regular spotlights on the companies and products using AI to drive innovation within the marketing industry.
It's Time to Create Your Competitive Advantage
Artificial intelligence has been in development for decades, but it remains in its infancy in marketing.
Now is the time to be proactive in learning, understanding and exploring the current and future potential of AI to create a competitive advantage for your company, and your career.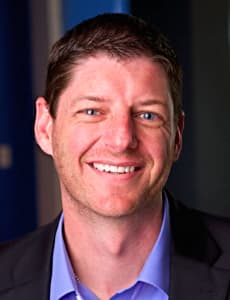 Paul Roetzer
Paul Roetzer is Ready North's (formerly PR 20/20) founder and senior advisor, as well as the founder and CEO of Marketing AI Institute. He is the author of Marketing Artificial Intelligence (Matt Holt Books, 2022) The Marketing Performance Blueprint (Wiley, 2014), and The Marketing Agency Blueprint (Wiley, 2012); and the creator of the Marketing AI Conference (MAICON). Full bio.