"Sales never follows up on leads we give them."
"Marketing doesn't give us good leads."
"Sales gets paid way too much for all the work we do for them."
"Marketing is a lot of fluff—a waste of time and money."
Sound familiar? These sentiments are the result of an all-too-common, broken system that has left many sales and marketing teams at odds.
According to a 2013 study by MathMarketing and Marketo, sales and marketing alignment techniques deliver a 67% higher probability that marketing-generated leads will close. That same study found 108% better lead acceptance if sales and marketing are aligned.
If your sales and marketing teams are not aligned, your organization is missing out on the opportunity to increase revenue.
Reasons for Misalignment
Although they share a symbiotic relationship, sales and marketing have struggled to work together in the past. There are a variety of reasons that could attribute to this misalignment:
Change-resistant attitudes in sales and marketing leadership.
Absence of closed-loop marketing and sales data or technology.
Lack of lead scoring to agree upon what criteria makes a quality lead.
Insufficient communication and collaboration.
Differing priorities and goals.
Poorly defined marketing-to-sales handoff process.
Lack of follow through when leads are handed off from marketing to sales.
"If sales and marketing aren't aligned, you fundamentally have a broken forecasting process. That's not good for anybody." - Jon Miller, Marketo (@jonmiller)
In order to overcome these challenges, sales and marketing must forget the past and push forward into an aligned future.
The Future of Sales and Marketing Alignment
The buyer's journey has changed.
Well before B2B buyers ever interact with your sales team, they are collecting information online. According to the Marketing Leadership Council's Digital Evolution in B2B Marketers report, customers progress nearly 60% of the way through the purchase decision-making process before engaging a sales rep.
This shift in the buyer's journey requires digital marketers to create content that captures leads at the awareness stage, nurturing and further qualifying them until they're ready to be handed off to sales.
Neither marketing nor sales can achieve greatness on their own. They need each other and can leverage each other's core competencies to achieve organizational goals. Below are four steps to improve your sales and marketing alignment:
1. Identify the weaknesses
The first step to improvement always starts with defining the problems. Both sales and marketing leadership should discuss the areas to improve sales and marketing alignment.
During this discussion, it's important to lay the groundwork for future initiatives. Beyond identifying problems sales and marketing are facing, make sure to come away with next steps to resolve issues, create a cross-functional vision, appoint roles and build a process moving forward.
2. Agree upon terminology, metrics and goals
Marketing and sales must define and agree upon terminology. This process helps extinguish the debate over lead quality and holds each department accountable. This process also will improve your reporting capabilities, as you will be able to clearly recognize and track metrics that matter. Below are some questions to consider:
What markets are we targeting?
What criteria define a Marketing Qualified Lead (MQL)?
What criteria define a Sales Qualified Lead (SQL)?
What are our conversion goals (e.g. leads, sales, revenue)?
3. Utilize technology to enhance the lead handoff process
There are a variety of marketing and sales automation tools available to enhance sales and marketing coordination. Marketing automation tools such as Eloqua, HubSpot and Pardot assist in lead generation, lead scoring and streamlining the lead-to-sales handoff process. Sales automation technology and CRM systems such as Infusionsoft, Salesforce and SugarCRM are designed to help boost sales productivity, increase sales performance visibility and manage sales contacts.
These tools are useful on their own, but integrating sales and marketing platforms is where these technologies really shine. Integrated tools are designed to reliably sync leads from your website to your CRM dashboard.
This way, marketers can assist in nurturing leads, shortening the sales cycle, while sales can use marketing-generated context for more relevant sales conversations. A closed-loop system moves leads seamlessly through the sales cycle, creating a smoother handoff and more consistent customer experience.
Integrated technology also provides the opportunity for full-funnel reporting and ROI measurement. Marketing and sales can view the complete customer lifecycle, from first interaction to most recent conversion.
4. Communicate and collaborate
The two essential aspects of successful sales and marketing alignment are communication and collaboration. Consistent communication and collaboration decreases the chances of misunderstandings, leads falling through the cracks, reporting blind spots and missed opportunities. Below are a few tips to help steer you in the right direction for productive communication and collaboration:
Meet frequently: Set consistent days and times to meet and review activities, goals and challenges, and share information. Depending on how your organization is structured, this meeting can include both sales and marketing teams or the leaders of each. Make meetings consistent and purposeful. Don't just meet to meet.
Provide feedback: You'll never know how to improve or what is working if you aren't open to giving and receiving constructive feedback. Empower individuals in both sales and marketing to offer feedback, with the understanding that you're all trying to achieve common goals.
Rely on data: At PR 20/20, we are obsessed with data and performance. Data can be used to better understand the performance of sales and marketing. Reporting can reveal what is performing well and what needs improvement, remove emotion from the conversation and drive strategies based on unbiased information. Data can also provide a strong case for ROI and give insights into future resource allocation.
For more tips to help you improve marketing and sales alignment, read Marketing and Sales Alignment: New Strategies for New Buyers.
Image Credit: Infusionsoft via Flickr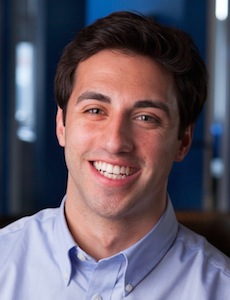 Sam Brenner
Sam Brenner is a consultant at PR 20/20. He joined the agency in July 2013, with experience in technology sales and marketing his own music. Sam is a 2009 graduate of John Carroll's communications department, and has been a proud Clevelander since 2005. Full bio.