Your content is written for results—strategic, brand-centric, buyer-persona focused, optimized for search engines, technically sound and creative. But, what comes next? After a piece is published, how do you get it into the hands of your target audiences?
Successful distribution requires an integrated strategy that looks at all aspects of your marketing and sales programs, from your website to sales pitches. With a holistic view, you are better able to identify opportunities to drive exposure and readership, and in turn leads and loyalty.
Website and Search
Before active content promotion, it's critical to make sure back-end hosting and website integration is set up properly, and optimized for conversions, visibility and analysis.
Where will the content be housed on your website? For example, it could be placed within a resource section, your blog, related product pages or a combination thereof. Consider where visitors will logically look for it and places it can serve as a supporting resource.
What keywords do your target audiences use when searching for related information? Integrate these phrases into your content and their accompanying landing pages to help them get found online.
How will you track performance? Install analytics to track online metrics such as page views, social shares, bounce rates, leads, downloads and inbound links. Use intelligence gathered for future resource planning and to make campaign updates based on performance.
Should you use a lead form? Downloads go up 20-50% when visitors aren't asked to provide personal information, according to David Meerman Scott (@dmscott) in New B2B Lead Generation Calculus. Lead forms may also reduce shareability. However, if your main goal is to generate contact information, then a form may be a good idea.
How should the form be set up? If using a lead form, you'll want to consider what form fields to include, the confirmation page, and how you'll follow up with leads captured.
Social Media
Content and community go hand in hand. Give your content legs by sharing it with your network of followers on social media. Consider:
What networks will get the most value out of your content and what is the best way to reach them? Example tactics include social status updates, pitching influencers, and linking to content in blog comments and answers on Q&A sites.
What incentive does somebody have to share your content? Depending on your goals, it might make sense to use rewards or contests to drive readership.
Public Relations
Reach new audiences with your content by integrating it with your PR strategy, and pitching it to media, bloggers and industry influencers.
Which reporters and publications frequently discuss the subject matter? Consider reaching out to them with a targeted pitch and link to your content.
Does your content align with media editorial calendars? Sync your internal editorial calendar with that of your target publications to maximize opportunities.
Is there an opportunity to pitch guest articles based on the content topic? If so, be sure to provide a link to your resource using optimized anchor text, within your submission.
Does the content align with any upcoming conferences or events? Find ways to integrate it into your speaking presentation, booth or other event materials.
See How to Use Content to Propel Public Relations for more on content and PR.
Content Marketing
Sometimes there are opportunities to cross-promote your content within other assets. Look for synergies between the multiple pieces of content you create and capitalize on them.
Have you published similar content before? Think of ways to tie content pieces together to support one another. Can you add a related resources section? Is it appropriate to update the call to action within one piece to promote the other?
How does this content fit within current campaigns? Can you use it within your lead-nurturing programs, e-newsletter, monthly magazine, annual report, etc.?
Advertising
Depending on your budget and the aggressiveness of your promotional strategy, you may also want to consider paid advertising to drive readers.
Are there associations, websites, publications, etc. in which it would make sense to promote your content? Take advantage of their partnership and available advertising opportunities.
Should you launch a Google AdWords campaign? If so, think about landing pages, keywords, budgets, monitoring and reporting.
Sales Integration
Content can help move leads through the buying process. Take the time to educate your sales team on what content is available and how it can help them meet their goals.
Does your sales team know the value of the content? Share with them who the content is intended for and how it can help those individuals move along the buying process.
Do they have easy access to content? Make sure sales knows what content is available, and where to find it on internal servers and on your site to share with prospects.
Is content in the proper format? If your sales team frequently does onsite meetings, you may want to convert online materials into print. Alternately, if on the go, an iPad friendly design may be ideal.
How Do You Promote Your Content?
What items do you consider when developing your content distribution strategy? What tactics have you found successful? Share your thoughts below.
Tracy DiMarino is a consultant at PR 20/20, a Cleveland-based inbound marketing agency and PR firm. Follow Tracy on Twitter @Tracy_J_Lewis.

Stay updated: Subscribe to the PR 20/20 blog, check us out on Facebook or follow the team on Twitter.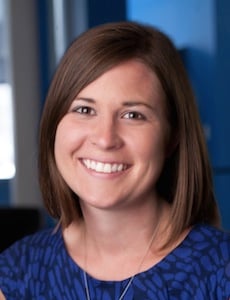 Tracy Lewis
Tracy Lewis is the director of talent and a senior consultant at PR 20/20. She is also the community manager for Marketing Agency Insider. She joined the agency in March 2009 after graduating from Ohio University. Full bio.