Some marketers aren't afraid to take a risk on new ideas, push leadership on new technology or champion an entirely new methodology. They are often the ones that drive real, lasting change and quickly gain influence.
We call these people change agents.
In the words of a colleague, a change agent is "a visionary who looks beyond, brings vision to life, and successfully champions ideas forward."

These marketers aren't afraid to take risks to make an impact. So, we decided to spotlight these professionals in an ongoing series, so we can all learn from their successes (and failures too).

In this spotlight, we've featured Ellie Mirman (@ellieeille), CMO of Crayon. Crayon provides market and competitive intelligence tools to help businesses track, analyze and act on everything happening outside their four walls. And after growing more than 300% last year, Crayon announced this week that it raised $6M in Series A funding.

Read on to see how Ellie has helped to build marketing programs from startup to scale-up.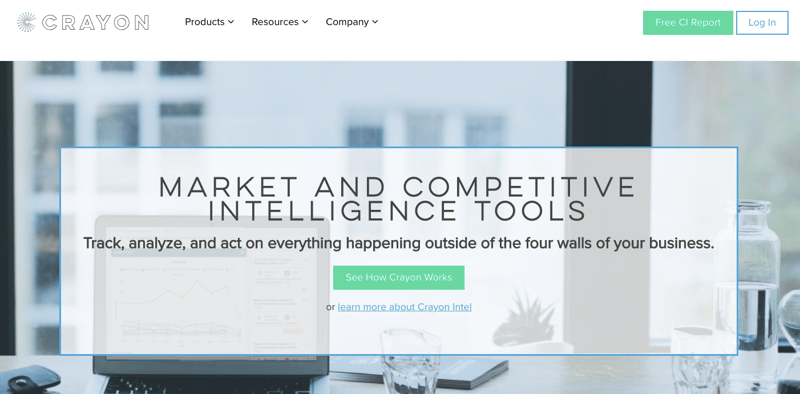 Q&A with Ellie Mirman, CMO of Crayon
Q: What are your day-to-day responsibilities as CMO at Crayon?
A: I lead our marketing team, which means supporting marketing employees, setting the strategic direction and helping execute on it. Every day is very different; I might be writing a blog article or doing data analysis, or meeting with teams to figure out how to do the next product launch or hit a sales goal and so on. That variety is one of the things I love about marketing and really enjoy about my job.
Q: How have your previous experiences (working at HubSpot and Toast) shaped your current perspective on inbound marketing?
A: My past experiences definitely shaped my views quite a bit. HubSpot created the foundation for my inbound perspective. I was there for seven years and held several positions—largely focused on the demand generation side overall. I got to see firsthand the impact that inbound marketing can have.
HubSpot also helped me to build a strong foundation for how I thought about trying new things. Being at a hyper-growth company, we were constantly trying to find the thing that would get us to the next level of growth. We experimented with a lot of new tactics, and I was continually learning from peers and role models in the industry, while also trying to think from a fresh perspective and do things that haven't been done before. I've definitely brought that knowledge to all of my roles since then—that feeling of starting with a blank slate and that anything is possible, but ultimately, letting the data prove out where to invest.
When I left HubSpot, I specifically wanted to experience a new industry to see how the marketing strategies might change. So I went into restaurant technology [as VP of Marketing at Toast], which was very different. It was a very crowded market, and also a very established market. There were some tactics that didn't work as well because it was a different buyer and a different time. Email marketing, which was huge at HubSpot, was not at all a part of the marketing mix at Toast. And vice versa, trade shows were not part of our mix at HubSpot, but a huge part of our strategy at Toast.
So, I took that approach of: let's start with a blank slate and let the marketing experimentation methodology prove out. That was what led to that determination of our marketing mix. I went in really against trade shows because it's against the inbound marketing way, but it really proved out that it was critical for our market.
That overall methodology around trying new things is now always a big part of my marketing approach.
Q: Does Crayon deploy inbound for its own marketing efforts? Which digital tactics have proven most effective?
A: Inbound has been pretty much the entire focus on the marketing side at Crayon. We do other things that don't fall into the inbound and outbound buckets, but in terms of top-of-the-funnel strategy and attracting and converting leads, inbound is where we have been focusing.
In particular, search engine optimization (SEO) is a big part of our approach. In some cases, it's not about finding the next big wave but using the tried and true channels that work! Search is still a huge one, and it's been working out great for us.
We are in a market that requires a fair bit of education. Most people are piecing together different manual solutions, so there's a lot of demand for education around our product. To deliver on that need, we are doing a lot on content side, which ties into our SEO strategy, too.
To expand on our focus on SEO, it's really about being intentional about our content. The blog is the main avenue for our SEO efforts; it's an easy way to publish a lot of content that is both helpful and targeted to different keywords. So we start by thinking: What do we want to write? Who is it that we are trying to attract with our content? From there, we observe how posts perform and go back and optimize it accordingly.
We ask ourselves: Which pieces of content really match to keywords people are searching for? Are there ways that we can re-optimize previous blog posts? Are there any lessons about the different types of content that seed future decisions? We also try to work with partners and publications to share content more broadly and reach new audiences (and also get that SEO benefit).
Q: How can a company set itself up for inbound marketing success?
A: One of the things that I looked for in companies that I joined was some amount of buy in to marketing and inbound marketing as a whole. As the head of the marketing department, you are often communicating marketing decisions and priorities to the non-marketers in the company. So working with a team that, first and foremost, trusts each other and trusts you to make the right marketing decisions, is critical. Then it's less about buying into particular strategies and more about trusting you as a leader to make the call. Then it's up to you to do the work and let the results prove out your strategy.
I've routinely started at companies that didn't have much marketing and didn't have a lot of historical marketing performance data. So, the first thing we'd do is put out bets in different marketing tactics and observe where we see results. Early on, content marketing is always a priority, including the understanding of personas. Other activities follow, and from there, strategies get more and more sophisticated over time.
Q: Over your years of experience, what challenges have you seen in kickstarting a digital transformation within an organization?
A: For one, it takes time.
At a startup, your megaphone is very small (you don't even have a megaphone; you're standing on a soapbox!). You have to be patient and see the results over time. Give the inbound, organic efforts time to prove out.
Inbound marketing requires patience and focus. You can't do everything. Pick and choose activities instead of spreading yourself too thin; if you spread yourself too thin, it will take even longer to get any kind of feedback from the market on whether or not your approach is working.
Q: How did you decide on the ideal marketing technology stack?
A: My marketing technology stack has pretty much been the same at all my companies: HubSpot and Salesforce. Of course, we also use our own product, Crayon, for doing market and competitive intelligence. Those are the core systems, and we use others solutions to fill in the gaps.
When it comes to selecting new technology, one of the key factors is the scope of what the products can do, so I don't have to piece together a million other systems.
Another factor is the learning curve. When I came into Crayon, we had Salesforce, but we didn't have HubSpot yet. Everything was kind of home grown, and I ultimately went with HubSpot because I knew it could handle the scope of the things I wanted to do in marketing—and because I had experience and could hit the ground running. That time to get up to speed on your tech stack plays a role early on. After all, one of your most valuable resources is time.
Q: As a member of the C-suite, what is your advice to others trying to prove to leadership that inbound marketing is the key to long-term business success?
A: One piece is the trust (as I mentioned before). The other piece is speaking in their language.
Within marketing, we talk about traffic, bounce rates and click-through rates, but outside of marketing, people don't care. What people care about are their own goals. So try to understand the business goals, the goals of individual leaders, and put the marketing efforts in the context of what matters to them. That goes a really long way.
Every month we get together as a marketing team, talk about numbers and share lessons learned. When I go to the executive team, I pull out the ultimate impact on business metrics. How did marketing impact revenue? How did we impact pipeline? I'm speaking their language and speaking to what matters to them.
Q: Which campaigns have been the most effective in driving MROI?
A: So far, we've had great success with SEO and content, and also with paid media (especially search engine marketing). It's nice to have that combination [organic and paid] because inbound and organic requires patience. Organic inbound marketing doesn't happen overnight and results build over time, but paid media lends quick wins. It allows you to hit goals in the short term while building pipeline for the long term. At any given time, we're experimenting with other channels and campaigns, but those are a couple of areas where we've seen success early on.
Q: Do you feel that inbound tactics separate you from your competition?
A: Definitely. We find that this market [market and competitive intelligence tools] does not have a lot of content out there. That's kind of rare these days, so that alone is fantastic for us. Content would be a big part of our marketing mix no matter what, but we are ahead of the curve on that front. A lot of the old school vendors in the space really think of themselves as vendors and we want to be considered a partner and consultant to our market—whether they are customers or other folks in the industry. We want to be that resource, and as a buyer myself, I prefer someone who will help me and be a resource for me long term. I'm glad that we can take that approach, primarily through content, because it is a unique approach in our market.
Q: How has digital transformation contributed to bottom-line business goals?
A: Inbound has worked for us and driven significant results across the board from top-of-the-funnel growth to customers and revenue. Since working at Crayon, I've gotten to see the impact that inbound strategies have in the middle and bottom of the funnel as well.
Content has played a big role from the beginning at Crayon, but one of the things we saw early on is that customers were reading and downloading content just as much as our non-customers. So, what was meant for lead generation became a loyalty tool! We saw a fair bit of demand for educational content, resources and guidance from existing customers. It's been great to see that inbound really does help throughout the entire buying cycle.
We saw a similar result at Toast. With our blog, we started with a classic strategy (SEO-focused content to engage people at the top of the funnel). And that worked, but even moreso, the blog became an amazing nurturing tool. So folks might hear about us from another channel, but once they were engaged, the blog was fantastic at showcasing our thought leadership—building more engagement before and after the sale. It became a great way to engage an existing audience.
Q: What advice would you give to an enterprise just starting the journey to digital transformation?
A: One of the most powerful things you can do is talk to customers.
It becomes so much more real when you talk to the humans behind a target account and understand who they are and what their challenges might be. Ask them questions like, how did they first engage with you and what has been powerful for them? Then think about how marketing can support their buying process and solve the problems that are most important to them. Take that one-to-one exercise and try to scale that up. Marketing has to be one-to-many in nature to really have an impact. So, how do you take what you would say in a response to an email question and make that into a blog post? How do you amplify anything you would do on a one-to-one basis to reach more people?
On the more tactical side, pick a strategy and just start. Whatever you try first doesn't have to be the ultimate winning strategy, and it probably won't be. The positive and negative of that is that your initial reach is likely to be small. The risks are not as high, so get something out there! Learn from it and improve over time and don't feel like that first step has to be perfect.
Q: What are you most looking forward to in the future—across marketing at your organization and within the industry?
A: I've been thinking a lot about how channels interact with each other. I've seen a lot of teams organized by channel (email, SEO, etc.), but one of things we are thinking about is how do these channels build on each other and how does that end up influencing the marketing funnel?
A given prospect will interact with so many different campaigns and aspects of your business. How do we become more aware of each of those touchpoints and how do we amplify that experience? I'm excited about figuring out multi-touch campaigns in a way that goes beyond marketing buzzwords to have a significant impact on the business.
Q: And finally, why did Crayon decide to become a benefactor of the Marketing Artificial Intelligence Institute (MAII)? How do you see your involvement amplifying in marketing AI?
We've been following MAII since the beginning, and I was connected to PR 20/20 since the early days. We are really excited about the team and your desire to innovate on marketing ideas.
On top of that, we are using a lot of the AI technology that you're talking about to solve real problems. There is great alignment on that front, so it was a no-brainer to get involved with the benefactor program. And, we are also excited to get involved with the Marketing Artificial Intelligence Conference (MAICON) coming to Cleveland in July 2019. In fact, I'll be speaking at MAICON about building a competitive intelligence program—including what questions you can answer about your competitive landscape using technology, as opposed to manual effort.
I'm generally excited about what is happening with marketing artificial intelligence and how this will play into MAICON. MAICON is taking an abstract approach or strategy and making it real. Many people don't yet know what to do with artificial intelligence. MAICON is less about the nitty gritty technology and more about what marketers can do today, how they can make it useful for a business, and have an impact immediately.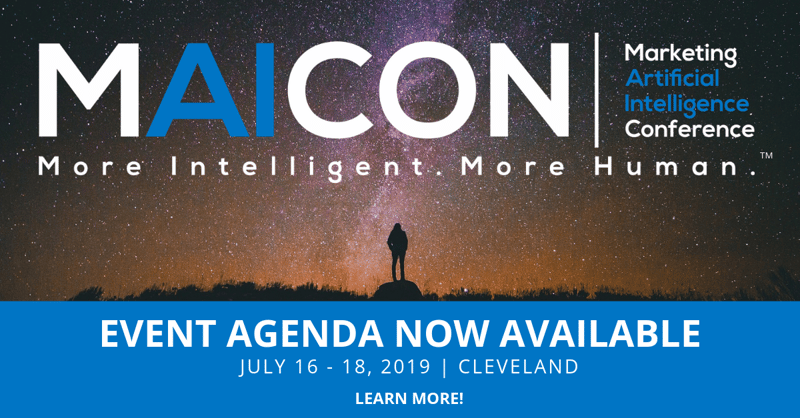 Ready to Become Your Organization's Change Agent and Inbound Champion?
Our goal is to educate and empower marketing change agents to advance their careers, and drive digital transformation and performance in their organizations.
 For more change agent stories, check out the other articles you might have missed:

Sandie Young
Sandie Young started at the agency during the summer of 2012, with experience in magazine journalism and a passion for content marketing. Sandie is a graduate of Ohio University, with a Bachelor of Science from the E.W. Scripps School of Journalism. Full bio.