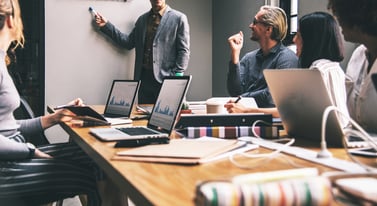 Exercising your mind, especially in the workplace, is a great way to improve key traits and characteristics needed to fuel a successful career.
One way the PR 20/20 team exercises the mind is by conducting monthly morning meetings to focus on a variety of professional development activities. Not only does this provide the opportunity to support knowledge-share and brush up on our skills, it also provides the chance to learn more about our marketing team and creates a sense of team bonding. Plus, it's a nice way to break up the daily grind!
Below, I overview some of the most popular topics we've featured during our professional development exercises.
1. Personality Assessment
No two marketers are alike. Being able to identify different personality traits that impact workplace interactions can improve the overall quality of your marketing team's abilities. To help uncover each individual's specific personality, complete the 16 Personalities Test.
This exercise will help your team to:
Understand your individual strengths and challenges.
Understand how better to communicate with one another.
Better leverage and play off one another's strengths.
Improve conflict management among teams by improving appreciation of individual differences.
Having insight to this type of information will help better pair team members, understand how people work together and how to deliver and receive feedback. Encourage your team to take the 16 Personalities Test and share the results with one another.
Example Discussion Questions
Once the assessments are completed by your team, consider the following discussion points.
How does your position make use of your strengths?
What aspects of your personality make you good at your job?
Are there strengths that your current role doesn't take advantage of?
Are there opportunities to take on new projects or duties to help your personality shine?
Can work duties be shifted or expanded to exercise more of your strengths? Is it possible to delegate tasks in weaker areas?
Are there small changes that could be made in the work environment to improve fulfillment?
2. Condense Writing
Writing clearly and concisely is a key piece to perfecting your content marketing skills. As the old saying goes, practice makes perfect.
To help fine tune your team's writing, provide your marketers with a lengthy passage or two and encourage them to test their editing/writing skills to effectively condense them. For example, our team used a 309 word passage with a goal for each team member to get it down by a quarter (232 words total).
According to Illinois Valley Community College, these tips will help you write concisely:
Eliminate common wordy expressions.
Combine sentences.
Avoid re-stating implied information.
Eliminate "there is" and "there are."
Eliminate repetition.
Write in active voice instead of passive.
Don't write in first person.
Avoid using "to be."
Avoid progressive verb tense.
Focus on these tips throughout the exercise and on a daily basis when drafting and editing your team's content.
Example Discussion Questions
Have your team practice getting the passage down to the required length and discuss what steps they took to make it effectively happen.
What did you cut the first time around? Second? Third?
At what point did you have to stop just cutting words and start making structural changes?
Which step was the hardest?
Which of the four pieces (original, halved, quartered, eighthed) do you think is the strongest piece of writing?
3. Learning Preferences
Similar to different personalities, your team members also have specific learning preferences that are critical to understand. Understanding learning needs on an individual basis will help create a successful work environment.
When conducting this exercise, allow your team five to 10 minutes to jot down their favorite ways to learn and why (i.e. hands on, in-depth instructions, etc.).
Tip: The more specific, the better.
Once examples have been written down, have your team discuss how people prefer to learn. This will provide insight as to how your team members take in information to better connect and work together. When conducting your exercise, keep these seven learning styles (and examples) from Learning Styles Online in mind:
Visual learners prefer to watch videos, color-code notes and draw pictures.
Aural learners like to ask questions, repeat information back and participate in discussions.
Verbal learners tend to audio record conversations, limit music and read out loud.
Physical learners prefer to take frequent breaks, try walking meetings or draw pictures and storyboards.
Logical learns like to turn learning into a game, learn through brain teasers and remember by quizzes.
Social learners tend to share feedback in person, attend group lectures or find a mentor.
Solitary learners work in a secluded area, keep a journal or private log or work remotely.
Even if a particular learning style doesn't pertain to your preference, take the time to read up on the ones above. By doing so, you will learn how to work better with your team members and support individual learning styles.
Example Discussion Questions
Work together to determine different learning preferences per individual and share with your team how you can better work together now knowing this information. Consider discussing:
What learning style(s) do you prefer? Why?
What is your least favorite learning style(s)? Why?
When were you able to best learn through your preferred style?
When did you have to adapt to someone else's preferred method of learning / teaching?
As marketers, how can we better accommodate different learning needs? As individual teams?
What could you personally do to better adapt to others' preferred ways of learning?
4. Headline Variations
A content's headline can make or break someone's interest in your marketing materials. When creating content, keep your titles fresh, accurate and optimized to catch your audience's attention. For this exercise, provide your marketers with three to five basic headlines and have them come up with different, unique and strategic variations.
If you're feeling stuck, consider assistance from one or more of the following tools:
The above tools are encouraged to be used anytime you are writing a piece of content to gain the most insight possible.
Example Headlines
Use the following as example headlines that your team can work together to improve.
How to Write Better Blog Posts for Your Customers
Healthy Tips for Young Children
How to Save Money When Grocery Shopping to Avoid Spending Too Much Money Each Month
Twenty Tips to Spruce Up Your Home's Decor All Year Round No Matter Where You Live
Feel Better Today
5. Productivity Tips
A marketer's day to day is often filled with a variety of different tasks that must be completed on-time and in an efficient manner. While productivity is a critical piece to a marketer's lifestyle, it's easy to get off track between the jumble of your daily routine.
In this exercise, highlight key productivity tips your team can live by. Forbes highlights some key tips to fuel productivity:
Complete your hardest tasks first.
Make a list of your daily priorities.
Turn off alerts and only check a few times throughout the day.
Determine what your most productive times of the day are.
Mark off important meetings, events or tasks on your calendar.
Find what works best for you, but also be open to learning how other marketers block down to be productive.
Example Discussion Questions
Bring your team together to discuss the following:
How do you actively stay productive throughout your busy day-to-day schedule?
What are some ways you work to get back on track after getting derailed?
When do you feel you are most productive? Morning, evening or night?
Do you feel making a daily list helps you stay on track?
What distracts you the most and how do you work to avoid those distractions?
Subscribe For the Latest Industry Trends
Receive helpful marketing advice that moves your business forward by subscribing to our blog.
Photo courtesy of: https://samedaypapers.com/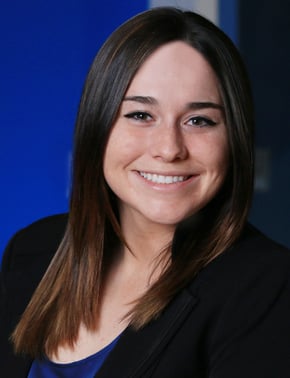 Allison Melnik
Allison Melnik is a consultant at PR 20/20. She is a 2014 graduate of Kent State University with a concentration in organizational communications and public relations. Full bio.