We've found as an agency that the most successful marketing programs are those built on strong client-agency partnerships—those in which there is a foundation of trust, respect and mutual goals. These are often the relationships in which the client looks to the agency as an extension of their marketing team, not just another vendor.
But, creating these long-term, mutually beneficial relationships doesn't happen overnight. It requires a firm commitment to three core areas:
1.) Quality, Integrated Services
Quality service is often the best way for agencies to demonstrate their expertise, deliver results and gain client respect. Agencies that make good ongoing partners:
Strategically integrate a range of services across a variety of disciplines (search, social, content, PR, mobile, etc.).
Continuously seek new and innovative ways to propel campaigns forward.
Stay up-to-date on industry trends, and proactively share resources with their clients—along with insight on how those trends apply to their marketing campaigns.
Offer internal training programs to keep their team educated on emerging service areas.
Have a firm understanding of technology, and how it can be used to increase efficiency and effectiveness.
Regularly report on performance, and demonstrate impactful, meaningful results.
2.) Exceptional Account Management
That said, a firm's marketing know-how is only one piece of the equation. Yes, you need a team that is competent and experienced in core inbound marketing areas of brand, web and mobile, search, social, content, and PR for success. However, you also need one that can manage the day-to-day complexities of account management and client services. This includes (but is not limited to), the ability to:
Keep projects moving forward—complete tasks and ship deliverables in a timely fashion.
Manage multiple accounts and teams, without sacrificing quality for any.
Set realistic expectations and goals, which align with client resources and potential.
Regularly communicate with clients about project statuses, campaign successes and setbacks, shifts in priorities, opportunities to capitalize on in real time, and more.
Stay within agreed-upon budgets, and effectively manage invoices and accounts receivable.
Come prepared and on time to all meetings and calls.
If agencies are lacking in the above skills, it's common that inefficiencies, project standstills, miscommunications and client dissatisfaction will set in. Proper systems, processes and technologies are helpful to keep account management in check.
3.) Personal, Meaningful Touches
Client services is mostly about making sure clients are happy, everyday. The best long-term agency-client partnerships are formed when both parties genuinely enjoy working together. They learn and grow with each other, aren't afraid to take chances and communicate openly.
An Ongoing Commitment to Client Services
Because we value client services so much, the PR 20/20 team has devoted a lot of time and energy into creating processes and systems that help us be better partners to our clients. Some of these were outlined in our CEO Paul Roetzer's (@paulroetzer) book, The Marketing Agency Blueprint; others have been shared through our sister site, Marketing Agency Insider.
But it doesn't stop there. This week, we'll be sharing what we've learned with other agencies as part of our Client Services Series. The seven-part webinar event offers lessons in account management, retention and growth based on our experiences.
It also serves as an opportunity for us to learn from other agencies, by allowing participants to collaborate, and exchange experiences and insight in a private Yammer community. We hope to leverage these discussions to further enhance PR 20/20's client services initiatives.
For any agency readers interested in joining us, download the event guide for complete details, and register on the Marketing Agency Insider site. Use the promotional code PR2020, and save 20% on registration. We'd love to have you!

Related Resources
What Are Your Experiences?
Clients: How do your consultants help you succeed? What do they do well; where can they improve?
Agencies: How do you ensure that clients are happy? What strategies do you recommend to others?
Comments are yours.
Image note: Paul with long-time clients, Terri Grimm and Gary Christy.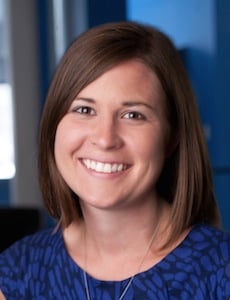 Tracy Lewis
Tracy Lewis is the director of talent and a senior consultant at PR 20/20. She is also the community manager for Marketing Agency Insider. She joined the agency in March 2009 after graduating from Ohio University. Full bio.