Will Feedburner, the free RSS management system that many of us have come to rely on, be discontinued? This has been a topic of discussion over the past few months, in response to several notable actions taken by Google:
When looked at collectively, many believe that the demise of Feedburner as a whole is next. While this rumor hasn't been confirmed (or denied) by Google, it's safe to say that Feedburner is a neglected product, and that marketers may want to consider alternative solutions and develop a contingency plan. We have!

Feedburner Alternatives and Considerations
In scouring the web and Feedburner-related forums, the most popular alternatives we've come across are Feedblitz and Mailchimp.
Feedblitz
Feedblitz is an apples-to-apples replacement for Feedburner, offering RSS feed creation, hosting and delivery. As an all-in-one offering, it is the vendor of choice for top bloggers including: Jay Baer, Danny Brown and Brian Clark, among others. Features include (but are not limited to):
RSS management and distribution
Blog updates via email (with custom templates)
In-depth analytics on circulation and reach
Social media integration
Dedicated support team
Pricing is based on number of email contacts (see the breakdown); however, RSS subscribers are unlimited at all levels. This means that if you just want to use Feedblitz for RSS management, you can do so for as little as $1.49/month.
Ready to get started? Feedblitz offers a step-by-step guide to migrate over from Feedburner. If you're using it for email, the company's Feedburner Import Migration Wizard will move over all contacts seamlessly.
Keep in mind, however, that RSS subscribers are a bit trickier. Depending on how your feed is currently set up, you may lose some readers.
If you have a redirect in place (for example, readers subscribe to www.yoursite.com/feed, but are then redirected to www.feedburner.com/yoursite), then you will not lose subscribers. You'll just need to update the redirect to reflect your Feedblitz feed.
If no redirect is in place, according to Feedblitz, "your feed subscribers must update their feed readers within a 30-day timeframe to stay subscribed." Learn more about this migration process on the Feedblitz website. Essentially, however, this means you could lose some RSS subscribers in the process.
Note: If you subscribe to the PR 20/20 blog by RSS, please update your reader here, as we've just made the switch to Feedblitz.
Remember, that even if you do switch to Feedblitz, it's important to ensure that your feeds are housed on your own domain. This gives you complete control over the feed in the future, should you want to change providers, without risking the loss of subscribers.
Mailchimp
Mailchimp offers a strong alternative to Feedburner's RSS-to-email functionality; however, it does not currently create or host RSS feeds.
For this reason, you will still need a feed provider. Note that most blog platforms have built in atom feeds that will work for this purpose. While free, these systems typically do not provide analytics, making it difficult to track RSS circulation and reach.
Based on your email subscriber list size (max. 2,000 subscribers) and send frequency (less than 12,000 emails per month), you may qualify for MailChimp's Forever Free plan. If not, then monthly subscription options are available starting at $10/month.
For more information on how to move your email contacts over to Mailchimp, read this step-by-step guide. From here, you'll want to set up an RSS-to-email campaign using this tutorial, and voila, you're good to go!
Have You Made the Switch?
Did you transition off Feedburner? What do you now use to manage your RSS and email blog subscribers?
If you're curious: We use MailChimp for RSS-to-email, and just made the switch to Feedblitz from Feedburner. If you're an RSS subscriber to this blog, please update your feed today to stay up-to-date with our articles in the future.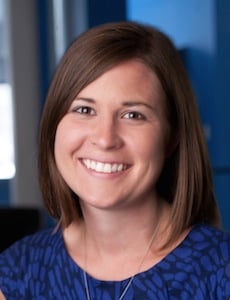 Tracy Lewis
Tracy Lewis is the director of talent and a senior consultant at PR 20/20. She is also the community manager for Marketing Agency Insider. She joined the agency in March 2009 after graduating from Ohio University. Full bio.