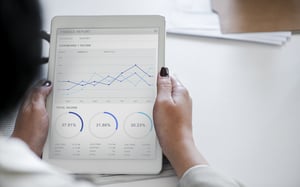 The role of marketer and data analyst have become intertwined.
Thanks to more intelligent systems (think HubSpot) and insight into consumer behavior at every step of the buyer's journey, marketers have the power to apply these learnings and create truly personalized, relevant experiences.
That's why the most impactful marketing strategies are data-driven.
It's a simple concept, but it's not a simple process. In fact, a recent survey from CMO Council and RedPoint Global found that "...only 7 percent of the marketers surveyed early this year say they deliver real-time, data-driven engagements across both physical and digital touchpoints."
So how can marketers turn the tide, and create more impactful performance-driven marketing strategies?
In case you missed the premier post in this series, the first step (according to the experts) is to align expectations—from marketing to leadership. The second step is more intelligent, intentional goal setting. Read on for tips from the experts to reinvent the way your team approaches goal setting, and ultimately develop strategy that drives bottom-line results.
Set Smarter Goals that Align with Bottom-Line Business Objectives
For us, it's really been fine-tuning our multitude of goals into one or two measurable goals. We have so much we want to do and achieve, but ultimately for us, it boils down to two actions we'd like our customers to take. By measuring actions along their journey, we're able to see, for example:
The length of a customer subscription before action

The entry point to our company – webinar, social media, email subscription, whitepaper download

Which pieces of content are not only converting, but which ones are best at generating and keeping qualified customers past a download or signup
By tagging everything we're doing – be it categories on our blog posts, event sessions, webinars, or sourcing URLs on each piece of content, we're able to determine what's working now and what is best for us moving forward, and we can quickly alter our strategy if need be.
Align marketing goals with your business objectives. This translates to specific quantifiable targets such as email addresses, quality leads and sales.
Beyond supporting and achieving financial objectives, support your business's higher purpose in terms of social good such as improving the environment. This is critical for attracting millennial shoppers.
Do you remember creating your science fair projects in middle school? As young and eager people, we just wanted to build the maze or plant seeds, instead of thinking about what we wanted to test, how we plan to measure the output, and how changes to our assumptions would be handled. Our teachers made us slow down and follow these steps (ie. strategy) for completing a science fair project well.
However, in marketing today, these same kids grew up and went back to their old ways. We just want to create content, release it in the wild, and repeat. No one steps back to create a plan for reaching an audience, measure what matters to their companies, amplify distribution based on where their audience is, and make adjustments as the data starts coming in. Stop this madness today and create a strategy to help yourself succeed.
Jeffrey Rohrs (@jkrohrs), CMO at Yext
Marketing cannot set its goals in a vacuum. They must be done in partnership with sales and aligned with their quarterly and annual objectives. This ensures that success is not measured by campaign response metrics alone, but also by how those campaigns translate into revenue over a full sales cycle. Those insights are what can drive long-term optimization of marketing spend.
John Bonini (@Bonini84), Director of Marketing at Databox
To break it down to its essence, being performance-driven quite literally means that you're driven by performance. Not shiny distractions.
It's a mindset that needs to cover your whole workflow. It means you're not vulnerable to following trends or best practices. The words "I need this ASAP" aren't in your vocabulary, because you see everything coming.
To effectively be performance-driven, you need something that you're driving towards. It can't simply be general improvements, otherwise you never fully know when you're "there."
It starts with goals or having some type of north-star metric that you follow. From there, your team needs to align around that goal and/or metric, and all of your activities should in some way support it.
That's where having more access to the appropriate performance insights is critical. If you're spending 30 minutes or even hours (or worse, days) trying to uncover the right insights, you've already lost momentum and your ability to stay ahead.
You need to have the right performance insights available on-demand, so that you and your team can make the necessary adjustments toward your goal in real-time. There are no fire drills or acts of desperation on the last day of the month because you've been in-tune with the right performance since the first day of the month.
Being performance-driven is about being the steering wheel, not the gas pedal. It's about slight adjustments in real-time, not sudden acceleration when it's already too late.
Goals keep your efforts focused, hold you accountable, and force you to continually push the limits of what you perceive possible. For this reason, goals shouldn't be limited to the one or two objectives you're trying to achieve as a department. Assign a goal to each and every campaign.

When setting campaign-level goals, make sure they all directly feed into the overarching objectives. If they don't, really ask yourself if the time, energy and assets your investing in that campaign are worth it. If not, how can you evolve the strategy to better align campaign and bottom-line goals?

Campaign-level goals also force you and your team to do what it takes to maximize the campaign's performance. So, when it comes time to assess the potential of an initiative to impact your bottom-line objective, you can answer, "Yes" or "No" without reservation. Does a specific approach with the right strategic tweaks and assets offer a satisfactory return, or despite your best effort is the potential just not there?
Until you identify the levers that impact the metrics you want to move, the goal setting process requires some amount of trial and error. When we started setting sales and marketing goals, we simply added 20% to what we did the month before. We missed our goal for the first two months, but having a high goal for a new process forced us to do more with less resources. At this point, we're beating our goals handsomely. We'll raise them again soon now that we're able to output more marketing with the same effort. But, we would have never gotten there if we didn't challenge ourselves.
If you're a brand new business or starting a brand new initiative, don't be afraid to pick a goal out of nowhere.
Of course, if you have historical data, use that. If you're already doing something like blogging and you're going to double your output, build a model to estimate lift that uses the lift you received from prior effort. If it's a brand new activity, consult some experts, see what competitors are doing, look for market research reports and browse software review sites. But, don't spend too much time doing research; it's usually better to just get started. Setting accurate goals becomes a lot easier once you've done something 20, 50, 100 times.
>> Related read from Pete: 7 Ways to Set Smarter Company Growth Goals >>
And Finally, Monitor Your Metrics and Stay Agile
Now that you've aligned team expectations for executive buy-in and set intelligent goals for your campaigns, the next piece of a truly performance-driven strategy is real-time reporting. Stay tuned for the final post in this series, featuring more insights from the experts.