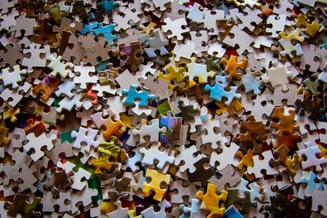 HubSpot is a marketer's dream, empowering us to manage our contact databases, list segmentation, content, website, social, ads (the list goes on) in one place.
And in recent years, HubSpot has invited sales and service teams to the party, too. Now, our sales team has the tools they need to sell more, and service gets their personalized solutions to improve customer satisfaction. All of us living in one happy platform, with a comprehensive solution to gain leads, turn them into sales, and then nurture them into promoters.
The truth is though, there are hundreds of thousands of other tools available at our fingertips. But unlike other automation platforms, HubSpot doesn't want us to stop at only utilizing its native features. Instead, HubSpot encourages us to build the tech stacks of our dreams by integrating the data we collect from outside sources to avoid siloed information and to increase contact information.
While HubSpot offers 200 and counting app integrations, continue reading below to learn our team's top 8 favorites.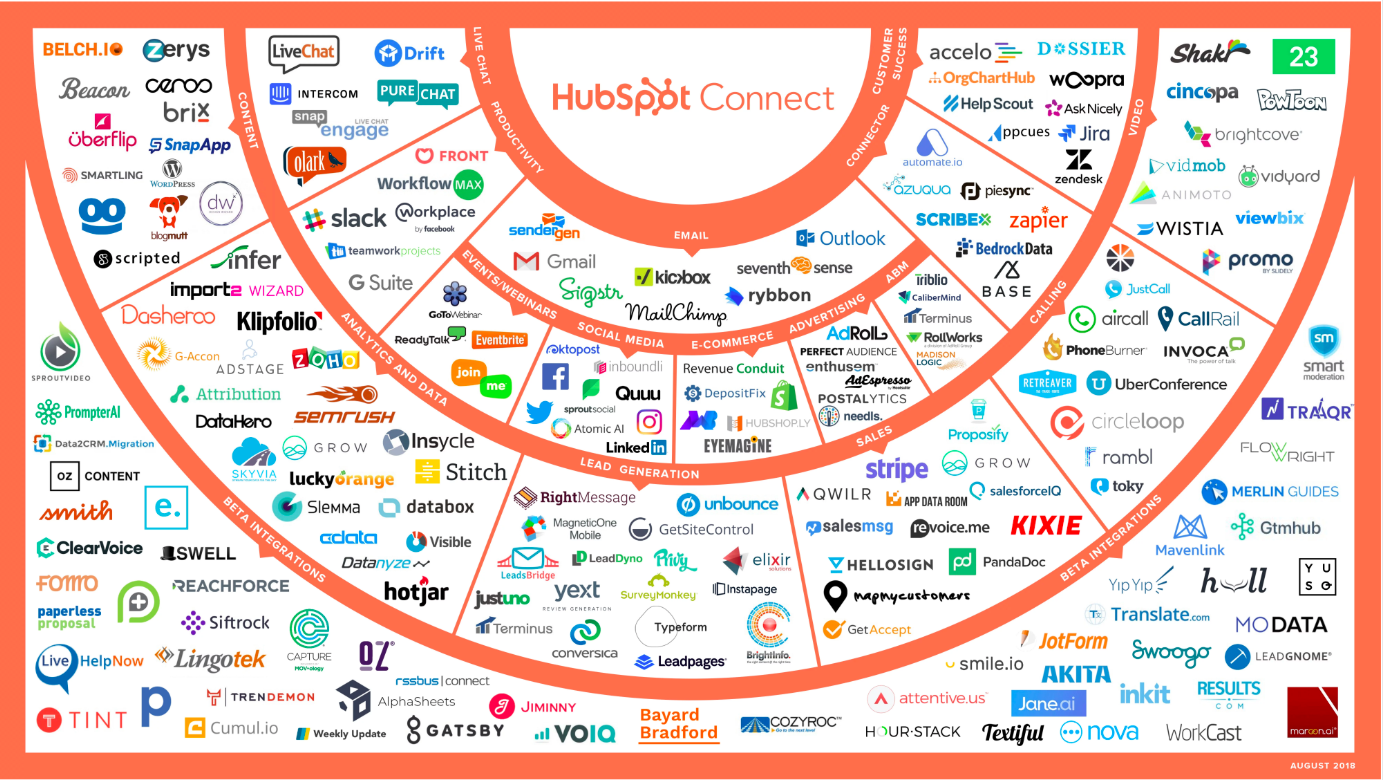 1. Zapier
Zapier is a solution that connects siloed applications into your data source of truth (ex: CRM, automation solution, list management tool) via automation. Both freemium and paid accounts are available.
Zapier connects thousands of apps to each other, with our team's top use case being HubSpot. Connecting the two is amazingly simple—like in a few clicks simple. You'll confirm your HubSpot ID, allow access, and send a quick test to ensure the two are talking to each other.
Across the board, Zapier has worked wonders to reduce the risk of siloed data. The integration allows you to easily connect outside data sources (think: social lead ads, event management platforms, Google Sheets, or payment processing / ecommerce tools) to your HubSpot portal to sync with new or existing contact records. No need to manually upload contact information, or piecemeal data sources together in hopes of getting a well-rounded contact record.
The Zapier and HubSpot integration doesn't stop with the list mentioned above—check out the 1,500+ connectable apps here.
2. NeverBounce
HubSpot prides itself on email deliverability—so much so that your account can get negatively flagged if your email sends receive too high of bounces, unsubscribes, or spam reports.
So how can you be sure your contact lists are properly scrubbed for old or unengaged contacts, without hours of manual work? The solution: NeverBounce.
NeverBounce is an email verification and list subscribing solution that essentially flags any bogus email address with 99% accuracy—whether it be fake, misspelled, or no longer in use. The solution recently announced a direct integration with HubSpot, too.
For HubSpot users, this means a significant drop in email bounces, unsubscribes, and spams, and a considerable increase in list accuracy and email engagements.
In the words of Elizabeth Juran (@Elizabeth_Juran):
"NeverBounce offers a great way to clean up your lists to improve email deliverability AND potentially save money on HubSpot. Since you can eliminate all the defunct contacts from your database, you only pay for the tier that really reflects the contacts threshold you need."
3. Seventh Sense
Continuing on the topic of email deliverability comes Seventh Sense, or a solution that intelligently optimizes your email send times. Using artificial intelligence and data on your contacts' habits (ex: what day or time they're most likely to open and read an email), Seventh Sense sends individual emails versus one huge bulk send to increase opens, clicks, and conversions.
Seventh Sense offers direct integrations with both HubSpot and Marketo. Emails are still drafted and sent in HubSpot's email editor. Once you're ready to send, it's as simple as selecting a delivery window in Seventh Sense. Pending all email sends are complete, you'll then get access to email success in both HubSpot or Seventh Sense.
4. Gmail / Office 365
We've talked about how marketing can benefit from HubSpot email integrations, now how about sales? With the HubSpot and Gmail or Office 365 integration, sales can send emails from their normal inbox, but gain more insight into performance.
The integration with Gmail or Office 365 collects performance data on opens and clicks—information you can't get from a simple one-to-one email send. Plus, all emails are logged within individual contact records, so sales can keep a pulse on communication cadence and previous message history. HubSpot also provides additional features like templates, sequences, and meetings to save the team time.
As Tim Anderson (@TimetoAnderson) puts it:
"The Gmail integration has been huge for getting buy-in from clients' sales team to use HubSpot Sales. Since much of their communication is done through email, the HubSpot/Gmail integration made tracking and recording emails with prospects little to no extra work."
Note that HubSpot does offer integrations outside of Gmail and Office 365, but those require more technical knowledge.
5. Facebook Ads
Most marketers are no stranger to the power of Facebook ads—especially lead ads, which provide users a lead form directly on Facebook versus sending them to a landing page for increased conversion rates.
The problem? The new lead information collected in Facebook is a gold mine, but it lives in a silo, away from your contact lists and automated follow-ups. The solution? HubSpot's ad tool.
Directly in your HubSpot portal, you can build your lead ad (copy, creative), set up targeting, and select your budget and ad schedule. Then, you're able to select or create a new form, directly from your HubSpot portal, to seamlessly connect all lead information to your contacts.
The Facebook lead ad editor can be found by navigating to Marketing > Ads, and then selecting Lead Generation from the dropdown.
6. Salesforce
Salesforce is one of the widest-used customer relationship management (CRM) platform in the marketing and sales ecosystem. So it comes to no surprise that a large amount of Salesforce users are also utilizing an automation system like HubSpot.
But if your systems aren't talking to each other, marketing and sales are missing out on valuable lead nurturing and lead-to-customer conversion opportunities. Luckily, HubSpot is a step ahead of us with a direct, bidirectional integration.
Taylor Radey (@TaylorRadey), who has strategized the HubSpot-Salesforce sync with a number of PR 20/20 clients, says this about the integration:
"It's invaluable to organizations that use Salesforce as their CRM and HubSpot as their marketing database. We've used it for lead handoffs, remarketing campaigns, sales enablement, and closed-loop reporting. And the integration was recently reorganized to make it easier than ever to map Contacts and Companies, fix sync errors, and more."
You also get an added bonus as a HubSpot user: Step-by-step directions to properly install the sync and tips to maintain consistent systems.
7. Typeform
Typeform empowers marketers to build interactive, survey- or quiz-style lead generation projects. And as interactive content becomes more widespread and powerful (it generates 2x more conversions than static content), marketers need this sort of easy-to-use platform to stay current.
With all of the rich lead data you can gain from Typeform, it comes at no surprise that HubSpot offers a simple sync. Users of both systems can send important data collected from Typeform—contact information, where it's performing best, and automated follow-up—automatically to HubSpot.
HubSpot users can also embed their Typeforms directly on website pages with a simple pasted code to ensure traffic stays on the site.
8. Databox
So, you've made it to the very last, but certainly not least, favorited integration. We've detailed simple app integration solutions, how to improve your emails, how to collect ad information, and more. Now, how do we tie it all together for performance reporting?
Enter Databox.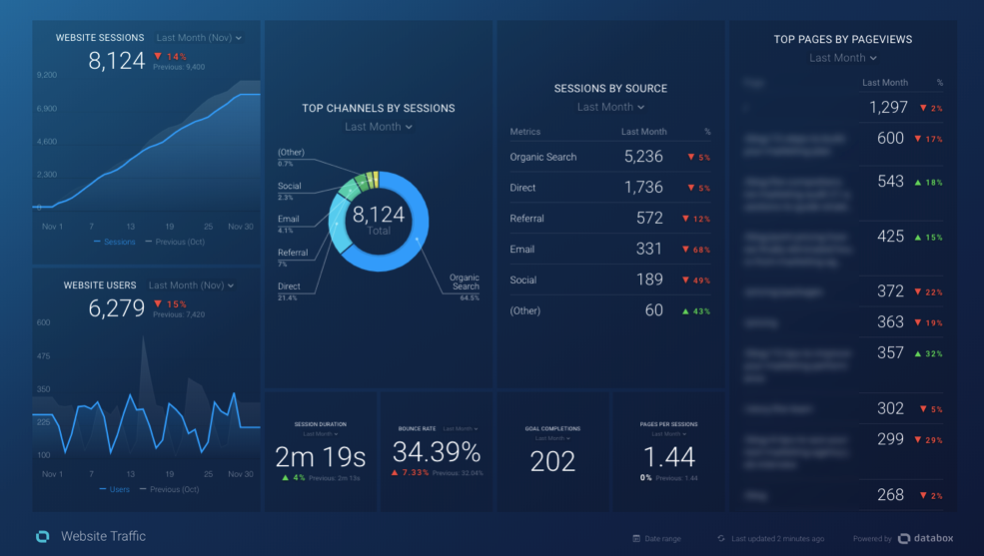 Databox is our team's preferred data visualization tool. It collects data from 70+ sources like Google Analytics, Google Ads, social media platforms, and yes, even HubSpot, and visualizes it in easy-to-read and understand dashboards.
The integration allows you to sync data from both HubSpot Marketing and HubSpot CRM. And once synced, you can drill down in endless ways:
Sessions
New contacts
New contacts by source
Contacts by static or smart list
Landing page performance
Top blogs by pageviews
CTA rate by landing page
For more on the benefits of Databox, learn how to build your own marketing tracking and reporting process.
Grow your business with HubSpot.
PR 20/20 helps clients grow using HubSpot.
Let our team of HubSpot certified professionals help. Let's discuss what's possible for your business.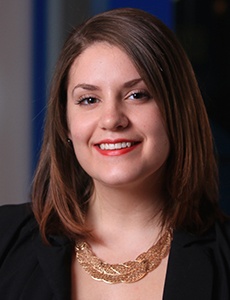 Shannen Laur
Shannen Laur is Ready North's director of growth and services. She joined the agency in December 2014 with a background in corporate communications and marketing. Shannen is a 2014 graduate of Kent State University's School of Journalism and Mass Communication.