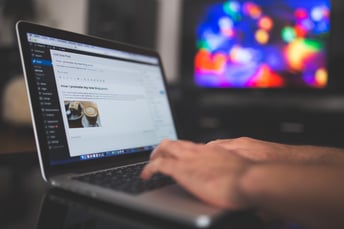 This post originally appeared on the Marketing Artificial Intelligence Institute's blog. The Marketing AI Institute was created and is powered by PR 20/20.
One of the top challenges marketers ask us about at Marketing AI institute is how to use artificial intelligence (AI) for blogging.
There's a good reason for that. Done right, blogging attracts and converts prospects for less money than traditional methods. Done wrong, it becomes a huge time investment that produces little return.
That means brands need a way to blog quickly, consistently, and at scale, without a loss of quality. They also need to blog intelligently, writing about topics that actually produce results. On top of it all, brands must hire and manage talented teams to execute this process.
That's a tall order for even the most adept of firms. And it's why only 34% of marketers say their content marketing strategy is very effective, according to Content Marketing Institute.
AI can help.
AI and related technologies can vastly simplify your blogging efforts. AI has the potential to augment human writers, taking some of the load off so they can focus on content creation. AI can also enhance content strategy and identify areas of improvement. AI could even write part of that next blog post for you.
In this post, we'll outline some of the top use cases and tools that use AI to make blogging easier. We've organized the post by use cases, describing how you'd use AI in each case, then offering tools that can help.
1. Intelligently brainstorm blog topics.
AI tools can provide insight into the best topics to blog about. That takes some of the guesswork out of content calendar creation. And it speeds up the process of brainstorming blog post ideas. Not to mention, it can help you identify successful topics you might have overlooked in the past.
One tool that can help is Crayon. Crayon uses AI to provide brands with competitive intelligence. The tool tracks competitors websites in real-time, noting changes. It also analyzes more than 100 different types of online data from seven million sources. Then, it tells you the most important findings, using AI to surface insights.
Crayon has many uses for marketers beyond blogging. But one immediate use case is using the tool to identify content gaps and opportunities. You can see what content your competitors are publishing and what messaging they use. In turn, you can improve on their strategies or address gaps they've missed.
BrightEdge can also help you produce content that converts. BrightEdge is a global leader in enterprise organic search and content performance. Its platform is powered by an AI deep learning engine that improves the traffic, conversions, and revenue produced by your content. The platforms provides real-time, web-wide measurement of content engagement across all channels, including search, social, and mobile.
Marketing automation platform HubSpot also offers a valuable AI-powered topic planning tool. HubSpot's Content Strategy tool uses AI to identify content themes and topics. These are entire content categories you can own in your industry. Each one also has information on competition and relevancy to your market.
Last, but not least, MarketMuse uses AI to advise writers, editors, SEO specialists, and content strategists what to write about to rank for certain topics. In the process, the platform offers recommendations on topics to target, ranking opportunities you might have missed, and automatically generated content briefs that guide writers on how to craft a particular post.
2. Automatically improve grammar.
Grammarly offers marketers an AI-powered grammar checking tool to improve the blogging. The tool automatically flags typos and grammatical errors. It then suggests ways to correct your errors. Grammarly also has a Chrome plug-in, so you can use it almost anywhere you're creating content.
Editing can become a full-time job if you're not careful. And when it does, it can feel like you're doing more rewriting than producing new content. Grammarly helps lighten the load. It'll catch pesky errors even when your human editors miss them.
3. Automatically improve content quality.
AI can also improve the quality of the content you're produce. Acrolinx uses artificial intelligence to help large organizations create content better. The platform uses a linguistics analytics engine to read and analyze content. Then, it gives you guidance on how to make it better.
What's more, Acrolinx will standardize content quality across teams and offices. That means it'll help each writer, even if there are hundreds, stay on-brand and consistent.
4. Write data-driven narratives in seconds.
In some cases, AI can even write blog content for you. Automated Insights uses natural language generation (NLG), an AI technology, to automatically write stories using data. Humans need to configure Automated Insights' templates. Then, the tool takes a spreadsheet of properly formatted data and uses that data to write an article.
Now, you may not be able to write a whole post start to finish just using this tool. But if you write articles about data, it could significantly shorten your writing process. With the right data, you could use this AI tool to generate most of your post, then rely on human editors to add color, write compelling introductions, conclusions, and transitions, and layer on insights.
5. Maximize content marketing ROI.
After you've started blogging, you need to make sure you're producing real ROI. And if you're not, you need to change things up. AI can take much of the guesswork and legwork out of this process.
Frase uses AI to audit your content and help you produce more of the content your audience is looking for. With Frase, you can use AI to create content briefs to aid research and identify SEO gaps. You can also use the company's AI Answer Engine to automatically respond to site visitor questions by serving up relevant content.
The result?
More ROI from the content you create.
Learn more about how AI can make your marketing better.
There's a conference for marketers who want to get started with AI: The Marketing Artificial Intelligence Conference, or MAICON.
MAICON is happening July 14-16, 2020 in Cleveland, Ohio, and will take you beyond the splashy headlines and industry jargon to explore the business and practice of AI through workshops, keynotes, and breakout sessions.