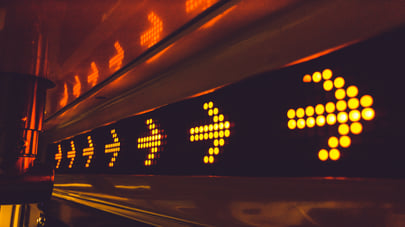 Unless you're a marketer stuck in the Stone Age, you've likely heard of marketing automation. At its core, marketing automation is designed to automate marketing actions, reduce repetitive tasks, better nurture leads and ultimately, close more sales.
While you may have heard of it, are you actually using marketing automation? According to CMO.com, nearly half of all companies use marketing automation, and 91% of the most successful users agree that the solution is "very important." Marketing automation:
Improves productivity

Automates manual workflows

Serves as a centralized hub for activities

Increases revenue

Improves customer retention

Tracks and monitors all campaigns
The best part? With best-in-breed solutions that offer a strong customer support team, it doesn't take a tech genius to reap the benefits of marketing automation. The hardest part is recognizing your marketing needs more automation, and diving in.
But while the CMO.com article referenced above sheds a positive light on marketing automation usage (and the benefits are impossible to argue with), what are the other half of companies doing that are not using marketing automation? We fear the worst— resorting to manual marketing tasks with a lack of data insights and revenue growth.
Don't fall victim to the archaic ways of non-automated marketing. Continue reading below as we uncover five ways you can tell your marketing needs more automation.
1. Your Day is Spent on Manual Tasks
Not bought into marketing automation? What if we told you this software could give you six hours back per week— on just one single manual task (social media management)?
Now multiply that six hours by every single manual task you do per week. You're left with a lot of free time to focus on more important, results-driving marketing activities.
If you're spending too much time on manual tasks, it's likely time you adopt a marketing automation solution.
With marketing automation, you can automate the following everyday activities:
Social media management:

Schedule shares across channels in a weekly, monthly or quarterly batch to reduce the time it takes to publish across Twitter, Facebook, Linked, Instagram, etc.

Emails:

Once an initial email template is built, clone it each time to keep branding consistent across materials and cut down on the time it takes to load and send emails. Plus, marketing automation allows you to automate email follow-ups to better engage leads, prospects in customers. Gone are the days of manual follow-ups with no data on email opens, bounces, unsubscribes or clicks.

Workflows:

Workflows allow you to set up a set of automated actions based on predetermined rules. For instance, with a tool like

HubSpot

, you can set up a workflow to send an automated set of nurturing emails every five days until a contact takes a specific action. Or, workflows help you automate lead nurturing and internal tasks.

Publishing

: Have you ever loaded a blog post and forgot to publish it? Marketing automation can take that stress out of your life by automatically publishing content like blogs, emails and social media shares. All you have to do is load the content, select the date and time it goes live and voilà!
2. You Login to Different Platforms for Different Tasks
Do you have different logins for your website content management system (CMS), email marketing solution, customer relationship management solution (CRM) and social media channels? If the answer is yes, you need marketing automation.
With an all-in-one solution like HubSpot, you get access to all marketing software needs, with only one login required, including:
CMS

CRM

Email marketing

Workflows

Social media (publishing, monitoring, reporting)

Landing pages

Trackable calls to action (CTAs)

Ads

Reporting
3. You Lack a Dynamic Database
IT community Toolbox says it perfectly:
"An effective customer database is your sales team's most useful tool — and your marketing department and service personnel's most useful tool, too. Building and maintaining the database with up-to-date and pertinent information is an investment that ensures your company can continue to grow."
We may agree that a customer database is important, but are you managing it correctly? If you're manually adding or removing contacts, not segmenting contacts or lack insight into individual contact records, you need marketing automation.
Marketing automation helps you take your contact database from static to dynamic by allowing you to:
Automatically add or remove contacts to your database.

For instance, if a new website visitor fills out a form, automation would automatically add them to a database. Similarly, if someone unsubscribes from email, the solution does it for you.

Segment contacts into lists or groups

based on demographic or professional information (job title, industry, location) or recent actions (subscribed to blog, opened an email, unsubscribed, downloaded content).

Dig into individual contact records

to understand recent actions and preferences to best market to each.
Your contact database is one of the most important assets to your marketing success. Don't let it get stale or require a manual scrub to gain accurate information or contact-level insights.
4. You Can't Tag Individual Projects on a Campaign Level
In an ideal world, marketing campaigns would have one, overarching SMART goal (ex: generate 100 leads by the end of the fourth quarter). To reach that campaign-level goal, you'd have individual projects that funnel up to it. Perhaps those projects are blog posts, CTAs, social media promotion, landing pages, workflows and ads.
Without marketing automation, tracking each individual project's performance and understanding how each affects overall campaign goals is a giant headache. With marketing automation, it's rather easy.
A solution like HubSpot allows you to easily tag projects by campaign. Campaigns may be grouped by:
Vertical market

Persona

Product line

Demographic
From there, HubSpot neatly packages all campaign data: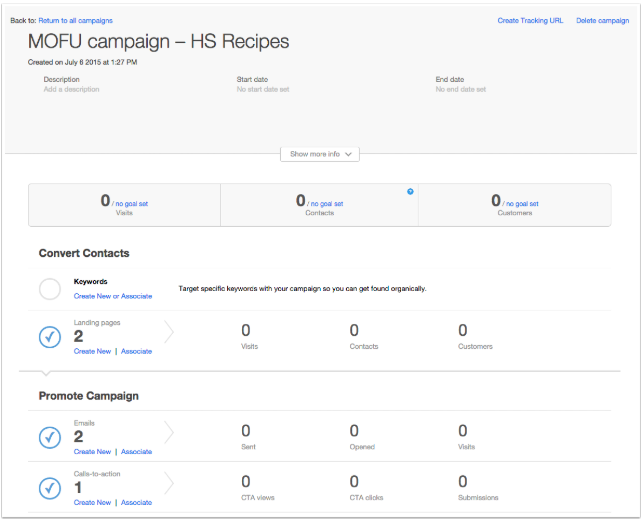 Photo credit: HubSpot
You're left with a high-level view of overall performance insights (visits, contacts, customers), and project data (landing page visits, email opens, CTA submissions, etc.) that was tagged with the specific campaign.
5. You Don't Have Access to Performance Data
At the end of the day, the only way to prove marketing success is to have data to back up what you implemented. While you may have data from your individual email, social, website or ad solutions, it's hard to piece it together to prove campaign-level ROI. Plus, remember that some platforms categorize common metrics (ex: sessions, impressions) differently, causing skewed data.
Marketing automation helps you gain a holistic view of all marketing performance. Track success by channel (organic, direct, referral, email, social), campaign or specific KPI (sessions, leads, customers).
HubSpot's reporting functionality allows you to customize the way you see your data with dashboards. As soon as you log into the system, you're greeted with the dashboard page, which has about 90 different reports to help you customize the data you'll see.

Sounds a lot easier than manually pulling numbers across various platforms, right?
Grow Your Business With HubSpot's Marketing Automation
Like we said before, one of the hardest parts of marketing automation is taking the first step. Let our team of HubSpot certified professionals help. Let's discuss what's possible for your business.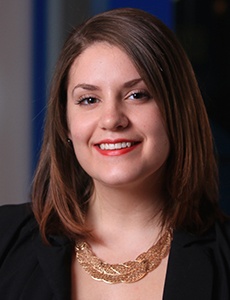 Shannen Laur
Shannen Laur is Ready North's director of growth and services. She joined the agency in December 2014 with a background in corporate communications and marketing. Shannen is a 2014 graduate of Kent State University's School of Journalism and Mass Communication.