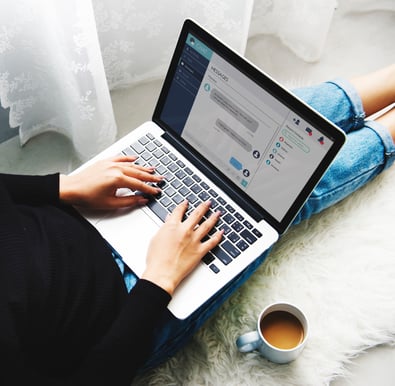 Take a second to think about the last interaction you had with a brand online. Positive? Negative?
If it was a positive experience, what stood out to you?
Let me guess… it was some type of seamless interaction that offers real-time messaging to ask and answer questions almost instantly? Sounds a lot like online chat.
The rise of online chat tools have opened up new lines of communication for customers, driving brands to rethink their online marketing strategies.
According to Twilio, consumers exchange more than 50 billion messages per day. Of those consumers, nearly 90% prefer to communicate with businesses through messaging.
HubSpot has defined this practice of immediate, online-based communication as conversational marketing. At its core, conversational marketing is:
" The ability to have 1:1 personal conversations across multiple channels—meeting customers how, when and where they want."
Thanks to helpful tools like chatbots, marketers are able to implement conversational marketing strategies into their everyday efforts... How, you ask? By answering questions and providing resources 24/7 via a seamless, online experience— without expecting a website visitor to fill out a bulky form or pick up a phone. And from the marketer's perspective: with the right online chat tool, we get access to the visitor's contact information and more to fuel lead generations efforts.
Conversational marketing is the core of any customer-centric strategy.
Are you interested in conversational marketing to fuel your team's efforts? Check out these three, free online chat tools to streamline lead generation below.
1. HubSpot Conversations
Did you know the average email response time is 12 hours?
According to HubSpot, "Businesses should strive to deliver the right message, at the right time, to the right person, with the right information, on the right channel, every single time."
With HubSpot Conversations, you can. The company recently launched its new tool to all HubSpot users to help teams manage, scale and leverage communications with contacts via the channel of their choice.
Conversations are housed in the Universal Inbox. This serves as a repository for all contact conversations, providing context to previous engagements. Within the inbox, teams can rely on canned snippets and sequences to streamline responses for chat and email.
Targeted Messages is HubSpot's live chat feature. Conditions can be applied to chat, dictating who sees it, when it's available and where it lives. Within the inbox, you can also route chats and emails to the team member most qualified to answer.
With the help of HubSpot's Chatbot Builder, you can also set up automated conversations based on conditional logic. Essentially, the bot initiates conversation for you by asking questions, providing answers, booking meetings and qualifying leads. Note that you can take control of a bot conversation at any time.
Image credit: HubSpot
From there, HubSpot creates contact profiles for each email generated, giving you a crystal clear view of every relationship.
2. Drift
Did you know Drift coined the term conversational marketing? It's no surprise then this conversational marketing platform is on our list of tools worth checking out.
With Drift's Account Based Marketing (ABM) functionality, your team can set up target accounts to ensure your highest valued customers are receiving personalized messages when arriving on your site.
Not online? That's OK. Drift's Leadbot will jump into the conversation when the account owner is away, reviewing calendars, booking meetings and qualifying leads in the meantime. Or, you can set a custom away message, so visitors know that they can still ask questions, but won't expect an immediate response.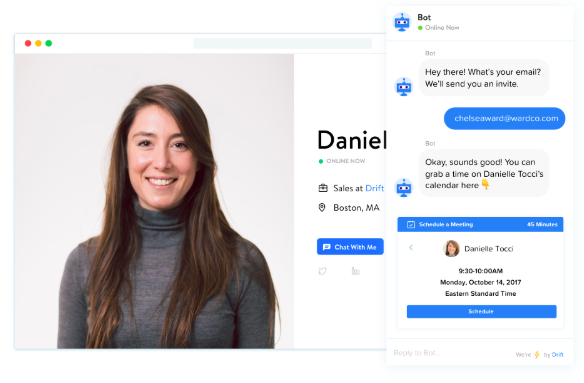 Image credit: Drift
Within chat, your team can customize online and offline messages to display on your website that coincide with your company's overall brand. In addition, Saved Replies allow you to standardize responses based on previous interactions. Instead of having to answer the same question over and over again, your team can pull from saved replies to answer questions in no time. In turn, you're able to convert more leads and close more deals.
If a message goes unread, Chat Fallback allows you to follow-up via email with prospects and leads.
Want to keep a pulse on the performance of these conversations? Drift's Reports make it easy for you to measure when and where conversations are happening on your website to fuel marketing and sales efforts.
3. Freshchat
Is your team looking for ways to sell smarter? Freshchat is a modern messaging software built for teams who want to engage website visitors for customer success.
With Channels, website visitors can pick and choose who they talk to based on the subject of their query. Your team can internally assign members, groups or bots to specific channels to ensure conversations are continuous. If a conversation is disrupted, both chatter and chatee can review Chat History to access previous messages.
A feature called Priority Inbox presents an ordered list of conversations for team members to act on messages that need immediate action. In the event that a customer is closing in on a product or service, the appropriate member of your team is notified to step in and initiate a conversation. All of this information funnels into a CRM, helping your team automate lead capture.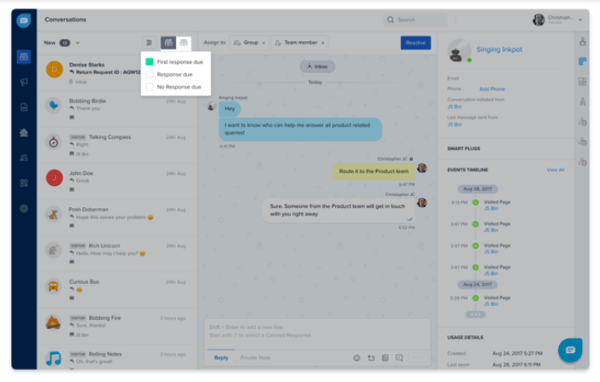 Image credit: Freshchat
These are just a few of the many live chat tools available today, transforming how conversations with consumers take place.
Welcome to the era of conversational marketing. Is your team ready?
Subscribe for additional marketing resources to fuel your team's efforts.
Get the latest marketing news, tips and best practices right to your inbox. Subscribe to our blog.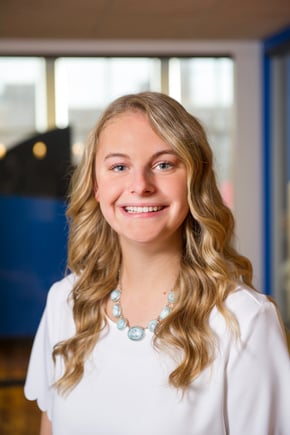 Libby Bradford
Libby Bradford is an associate consultant at PR 20/20 who is passionate about storytelling and brand marketing. She joined the agency in January 2017 with a background in strategic communication, marketing and social media.