"Is it okay to edit a blog post months or years after it's been published?"
This is a common question we hear as an inbound marketing agency. Our answer? Yes. Editing content is not only okay—it's preferred. In fact, this blog post you're reading right now will likely become a content edit in a year or two.
"Great, so how do I know if a post is worthy of being a content edit?"
All great questions—and if you continue reading, we'll be able to answer them and provide you with tips for jumpstarting your content edit strategy.
What is a content edit?
Content edits are when you edit an existing blog post to keep the content relevant. Once updated, you republish your edited post as a 'new blog.' The most common edits can include the following:
Making slight tweaks to the body copy.

Reoptimizing the title and subheads.

Adding new sections of content.

Implementing newly ranked keywords throughout the post.

Swapping or adding any relevant photos and videos.

Removing any broken links to support site health.

Adding new inbound and outbound links to relevant and timely resources.
We all should think of old blog posts like aged wine—the older it is, the more satisfying and valuable it becomes—and it takes a lot less time than writing a brand-new post. Editing old blogs allows you to refresh and revitalize what you may have written several years ago, all while adding updated information to keep your content recent and improving SEO.
What is the purpose of a content edit?
Fun fact: HubSpot almost tripled the number of leads they generated on a monthly basis by optimizing old blog posts. It's safe to say old content can bring in tons of website traffic.
There are countless reasons why you update existing content, but one of the biggest is that Google's search engine likes fresh content—and content edits are one of the best ways to keep Google satisfied. When you implement a content edit strategy, you're committing to content that will always be:
Relevant.

A sustainment plan and schedule are essential for keeping all of your hard work relevant. When updating content, add meaningful images, links, and information to your post—this makes readers less likely to click away.




SEO-optimized.

When it comes to SEO, keywords are incredibly important. You can't always rank for the best ones, but they still belong in your content. Identifying and tactfully repeating keywords throughout your content edit helps your post rank higher in reader's search results.

Updated with new trends.

Content edits provide the opportunity to add new or more pertinent content that maybe didn't exist or wasn't included during the initial draft. It also allows you to remove out-of-date data and pop culture references that may not be as trendy anymore.




Enhanced with new conversion opportunities.

Content edits provide the perfect time to update the CTA section with a more relevant conversion opportunity. For example, if you've just created a new ebook or launched an email newsletter, you can encourage readers to download or subscribe to that asset instead of what was previously there.




Monitored for large images and videos.

Having oversized images affects the load time of a blog post and the search engine ranking. Content edits allow you to upload properly sized images to your site and swap out any large ones.

*

Hot tip

: The proper sizing for images is 1200 px max width and 100 kB or lower.
How to write an effective content edit
The best way to determine which blog posts to update is by using tools like Google Analytics and Google Search Console.
Google Analytics will help you identify and sort posts by the number of page views. From there, you can refresh low-performing posts to gain more views or harness the power of an already popular article by updating it regularly.
Once you decipher what existing content needs to be updated, you can use Google Search Console to see the top search queries for a specific post and use those keywords to optimize your content edit better.
At Ready North, we build blog content calendars for our clients that span six or 12 months based on marketing objectives. This level of planning and organization ensures content edit strategies are comprehensive and implemented correctly.
Tweaking an old post takes far less time than writing something new. By opting to update existing content in addition to creating new content, you'll boost the quality of your blog site, and your posts will be easy to promote on social media. For more damn-good content writing tips like this, subscribe to our newsletter.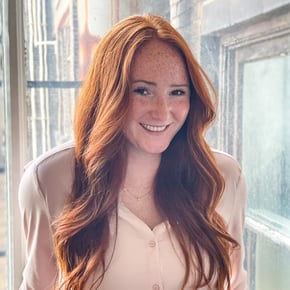 Macy Kittelberger
Macy Kittelberger is an associate consultant at Ready North. She joined the agency in January 2021 with a background in public relations and marketing. Macy graduated magna cum laude in May 2020 from Kent State University with her Bachelor of Science degree.