This is the first in a series of university spotlights, highlighting how higher education is bridging the marketing talent gap.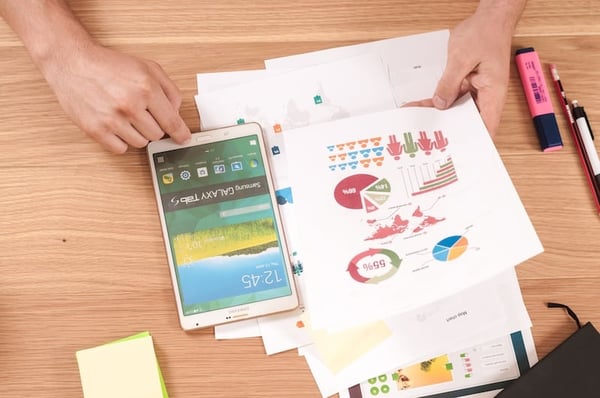 90% of the world's data has been created in the last two years. — IBM
For the first time in history, marketers have comprehensive, real-time insight into the buyer journey. As consumers, our actions can be tracked, plotted and aggregated to an unprecedented degree. Open APIs enable integrations with the click of a button, connecting data points across devices. Sophisticated advertising platforms and contextual content make it truly possible to deliver the right message, to the right person, at the right time.
And yet, marketers are underprepared, and underperforming. Possibly one of the greatest deficiencies in the marketing skillset is that of data analysis. With innumerable data points and a rapidly expanding technology toolkit, marketers struggle to integrate systems, interpret data and pivot strategy based on performance.
Marketers that began their careers yesterday are not prepared for the realities of today. And higher education is burdened with preparing future marketers for the uncertainties of tomorrow. Fortunately, universities across the country are up to the challenge.
Spotlight On: University of Montana
Leading the charge toward smarter, data-driven marketing strategies is the University of Montana. The university's School of Business Administration is hosting its inaugural QuestMT conference in Missoula, Montana.
The event will bring together academia, marketing professionals and students in a unique forum on marketing analytics. I spoke with Joan Giese and Jakki Mohr, professors of marketing at UM, to learn more about the intersection between marketing, data and analytics.
(Interested in the event? Click here to jump down to the event details.)
Q&A with the Professors: A Curriculum for Tomorrow
What was the drive behind University of Montana organizing this inaugural forum? And why keep the focus specific to marketing analytics?
There is a vast difference between demand for marketing analytics and the supply of well-trained analysts, as well as marketing professionals who can draw insights from data. We saw this forum as a unique venue and opportunity to create a link between professionals and students.
We focused the event on marketing analytics in part because it's obviously a rising trend and need in the industry. We also did research on existing events, and found that there was a gap of data science content and delivery among marketing conferences.
Finally, we surveyed marketers about their primary challenges in marketing, and likes and dislikes about existing conferences. Data analysis seemed to be an important topic that warranted its own discussion.
What's the biggest challenge or blindspot for marketers today, when it comes to marketing analytics?
Dr. John Chandler, who will be running a workshop with others on his analytics team at the event ("Learning to Talk the Talk with your Data Scientist"), has outlined three key challenges in regard to marketing analytics:
First, marketers struggle with data and analytics because they fail to frame data in a way that addresses the question they are seeking to answer. Many marketers aren't used to having vast amounts of data at their disposal, and have to familiarize themselves with how best to analyze data in way that drives strategy. They must learn to "sync" the data to their question.
Second, once you understand the question and hire your data scientist, how do you work with them? The two often have very different processes and lexicons, resulting in a kind of "lost in translation" scenario. This is a key obstacle that must be overcome in order to be successful.
Third, once you've analyzed the data, how do you convey insights to others in the organization? This handoff from data scientist to manager, and manager to organization, is essential to gain internal buy-in. Others in the organization must be willing to accept the data and its insights in order for marketing strategy to shift or organizational change to occur.
How can traditional marketers begin to think and operate more like data scientists?
Marketers must learn to ask questions that are more data-driven. Rather than making assumptions about, for example, why you've recently gained more Twitter followers, frame your assumption in terms of a hypothesis. Then, much like a scientist, determine what test or data you will need to reinforce or refute your hypothesis.
It's a different way of framing the question, and it's really a cultural and organizational change toward how we approach business questions.
What opportunities exist for academia to facilitate these conversations and better prepare students for rapidly evolving careers?
The job of any professional is to stay relevant and current in your skillset. This requires that professors keep up and "eat your own dog food." To keep up with marketing technologies and strategy, marketing academics must do more than just read about what is possible; they must translate that into hands-on projects in their classes, for example, by running campaigns, say, in Google AdWords, managing Facebook advertising accounts and analyzing data in some dashboard for insights. Partnering with practicing professionals in offering meaningful projects is another way universities stay current.
For example, at the University of Montana, students in the program are given opportunities for hands-on experiences, such as bringing in real clients and working with them in real-time. Professors also focus on critical thinking exercises in the classroom, so students are prepared for whatever awaits them after graduation.
How is the University of Montana evolving its marketing program to educate students in modern marketing?
Even in the traditional marketing courses we offer, the curriculum is being adapted to complement traditional material with a quantitative orientation. For example, students analyze information regarding revenue and marketing costs and use that to determine customer lifetime value and modifications to marketing strategy. And we're also offering a number of new courses with a more digital focus.
Four years ago, a very loyal alumnus and successful marketing professional approached us with an interest in doing something big at the university, and evolving our marketing program. Even since then, we've made changes to infuse the curriculum with digital marketing. Digital marketing is now a required course for marketing majors, and we offer sequences in marketing analytics and advanced marketing analytics. We're offering a new course in the fall, "Storytelling Through Big Data," which has already been very well received by students.
Lastly, we've submitted a proposal to UM's curriculum review committee for a Master of Science in Business Analytics with a marketing-specific track, which we're very excited about. The opportunities for students, and salary potential of these kinds of positions, are massive.
What is most unique and exciting about QuestMT?
The quality of the presenters and uniqueness of the content, combined with how carefully the sessions have been put together, mean that QuestMT will be a fast-paced, cutting-edge event.
Also, we plan to continue to host this event annually, and to create networks around this conference. Our hope is that marketers and students come away from this conference inspired, and continue the conversation long after they leave.
Join PR 20/20 at QuestMT
QuestMT: A forum on marketing analytics
September 17 – 18, 2015
University of Montana
Missoula, MT
Register for the event
Paul Roetzer (@paulroetzer) will be presenting "The Metrics that Matter: How to Build Performance-Driven Marketing Campaigns" at QuestMT.
To learn more about QuestMT visit questmt.co and follow #questmt on Twitter.
How else can marketers become more data-driven in their campaigns and strategies? Share your thoughts in the comments below.
Image source: Wilfred Ivan
Taylor Radey
Taylor Radey is the director of marketing and a senior consultant at PR 20/20. She joined the agency in April 2013 with a background in digital and content marketing. She is a 2009 graduate of the E.W. Scripps School of Journalism at Ohio University, where she received a Bachelor of Science in Journalism, with a focus in public relations. Full bio.