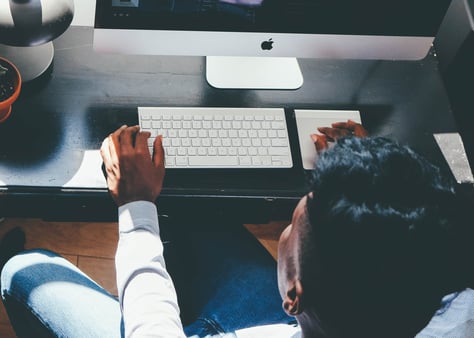 Managing your company's reputation online is one of the most important things you can do to protect your organization. Yet, despite how easy it is, many business owners and marketers ignore what's being said about their company online. The result of this ignorance could mean major losses in revenue.
Don Sorensen (@bigbluerobot) well-known speaker and president of Big Blue Robot, a reputation management firm, recalled in a Forbes.com article how he discovered that one of his clients was losing $2 million a year in sales due to negative reviews.
"Business owners are often taken off-guard by online reputation issues," Sorensen said. "Many don't even realize they need to be concerned about their reputation online."
The good news is that proactively managing your reputation will help protect your bottom line and create opportunities to better connect with customers.
David Meerman Scott (@dmscott) touches on the importance of this concept in his international bestseller, The New Rules of Marketing & PR.
"On the Web, customers, stakeholders, and the media can immediately see what's on people's minds. There's never been so good an opportunity to monitor what's being said about you and your products than the one we have now. The Internet is like a massive focus group with uninhibited customers offering up their thoughts for free!"
Following are four simple steps to boost your brand reputation online in under 60 minutes a day.
1. Monitor and respond to public reviews.
Google, Yelp and Foursquare make it incredibly easy for people to share thoughts about your business online. If you're not encouraging people to leave positive notes, and you're ignoring negative comments, then potential customers could be turned off.
Consider this example. If you're the owner of a local pizza shop, and someone performs a location-based Google search for pizza, your restaurant may show up in the results. That's good. But, under your shop's name that searcher will see your review rating, and the most recent photos added by you, or your customers.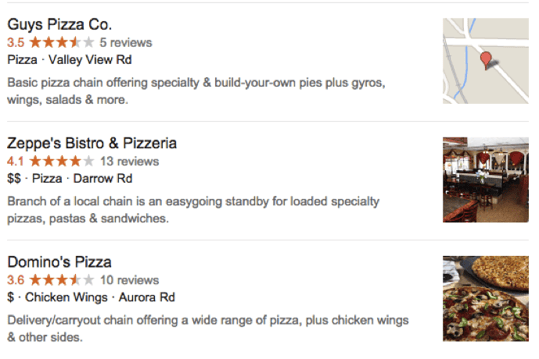 Example of a Google results page from a local search for "pizza."
If someone recently uploaded an unappealing photo of your pizza, and you only have four reviews, two of which are negative— then your business looks unappealing to the consumer looking for a new pizza place. Unfortunately for you, there is no way to track the business you're missing out on, so make sure you take reviews seriously.
Estimated time: 10 - 15 minutes.
2. Actively monitor social media mentions.
Monitoring your brand and other keywords on social media may seem like a costly, or time-consuming task, but you can actually do it very quickly for free. Facebook, Twitter and Google+ all have built-in search bars, and socialmention.com is an online site that scours multiple sources by keyword.
If you need to monitor multiple terms, manage teams and engage with customers, then consider a paid solution like Nuvi or Sprout Social. Both are easy to use and offer pricing options that fit budgets small and large.
In addition to monitoring mentions, it's becoming increasingly important for brands to respond quickly to consumers on social media. New research finds that 42% of consumers complaining on social media expect a response within 60 minutes. Ensure you have the right processes in place to meet this expectation.
Estimated time: 10 - 15 minutes.
3. Participate in online communities.
Message boards, forums, wikis and LinkedIn groups are all places where people come together to talk about common interests. If your business is in a niche industry, then finding these groups shouldn't be hard. If you work in a popular industry, search for groups that are the most active.
"If a company is dark, not saying a thing online, participants start wondering, 'What are they hiding?'" Meerman-Scott cautions. "Just having a presence on the blogs, forums and chat rooms that your customers frequent shows that you care about the people who spend money with your organization."
Answering questions online creates an opportunity to build credibility, as long as the advice you give is helpful and not just a sales promotion.
Here's a tip. If you need to monitor multiple online communities, then divide and conquer by assigning ownership of one or two to a handful of capable employees.
Estimated time: 10 - 15 minutes.
4. Setup media and blog alerts.
Setting up alerts to let you know when your company is being talked about in the media or on the web is another simple way to stay on top of your reputation. Also, positive comments can be shared on social media to further promote your business. Google Alerts is a free service you can use to capture important mentions, but keep in mind that it may miss content from smaller blogs. For something more robust consider purchasing Buzzsumo. A pro account is $79 a month, and it allow you to create alerts based on:
Keyword/brand name.
Links to a domain, subdomain or exact URL.
Content published by a particular author.
Content published on a particular domain that reaches a minimum number of total shares.
Buzzsumo also offers a lot of great features for discovering and writing content, and connecting with influencers.
Estimated time: 10 - 15 minutes.
60 Minutes Is All It Takes
In a time where everything is connected, and competition is fierce, you can't afford to ignore your online reputation anymore. Following these four steps every day should only take roughly 60 minutes and could end up saving you thousands.
Image source: Death To The Stock Photo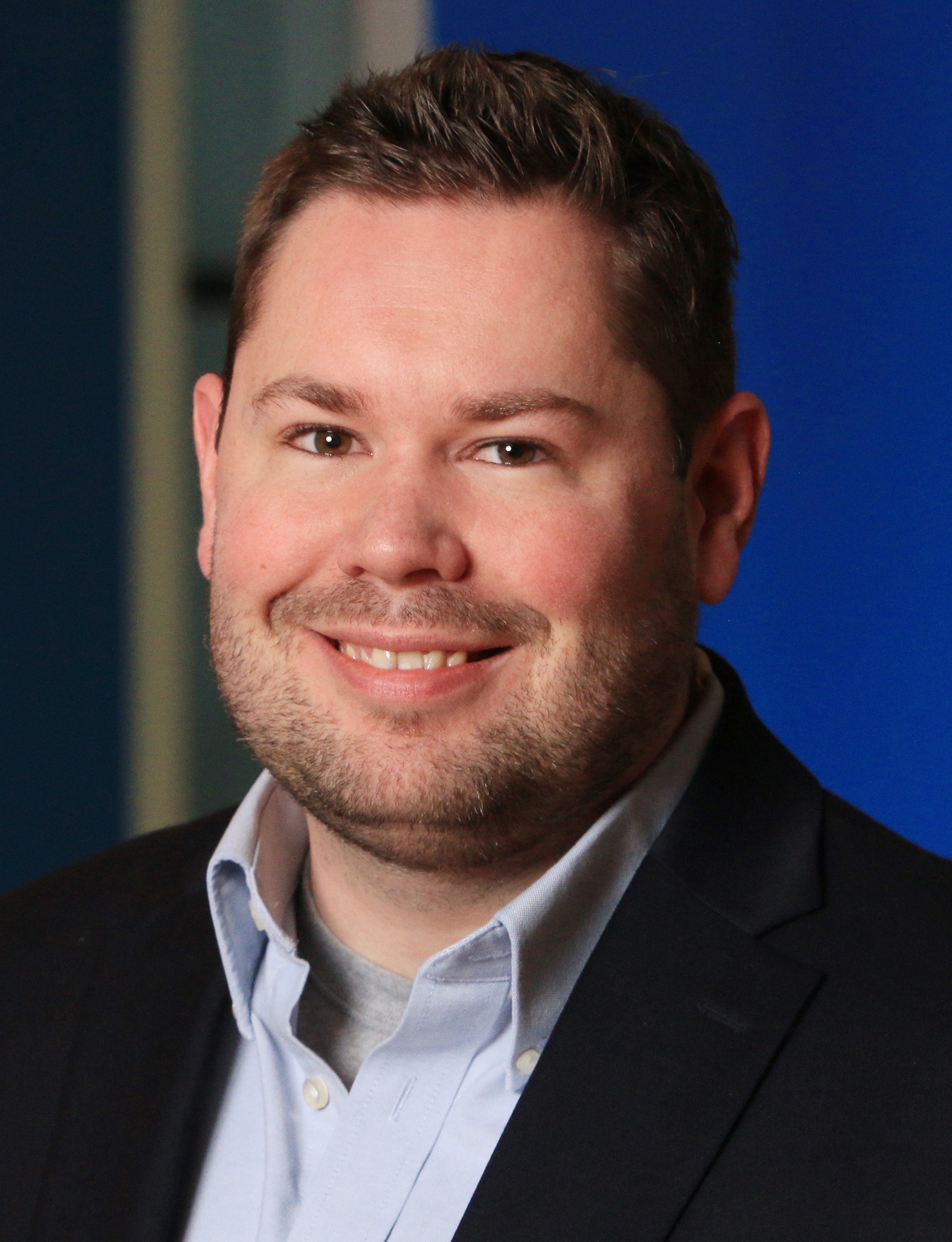 Anthony Hardman
Anthony Hardman is a senior consultant at PR 20/20 He joined the agency in December 2014, with eight years of experience in broadcast news and public relations. He has previously led PR strategy for national veterans rehabilitative sports programs, an information security company and an integrated ad agency. Full bio.